A timeline of The Conjuring universe

Digital Spy (UK)
6/14/2018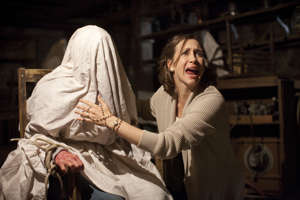 © Shutterstock The Conjuring With The Nun's trailer landing this week (and scaring the bejesus out of us), what better time to reorder The Conjuring movies into a chronological watch? No better time, that's when. 

Like the other spin-offs, The Nun is a prequel to the main Conjuring franchise, expanding on a character we first glimpsed through our fingers in The Conjuring 2.
This means it needs to be shuffled into the current timeline, like a cursed card being folded into a haunted deck. 

But, be warned, if you do want to watch these films in the proper chronological order, it's going to get complicated. Allow us to explain.
Annabelle: Creation (2017) – 1933 / 1945 / 1967

© Warner Bros. Annabelle: Creation first reviews Your chronological woes start almost immediately. Annabelle: Creation is a prequel to Annabelle, itself a prequel to The Conjuring. It expands on how the evil doll we first saw in James Wan's original movie came to be possessed, starting out with a car accident in 1933, before moving into an orphanage in 1945, where it gets REALLY good. Seriously, if you passed on this one because Annabelle was so bad, you're missing out on a treat. 

All very simple so far, but if you really want to see these films chronologically, you need to turn off the film a few minutes before the end, because it switches to a coda set in 1967, which directly leads into Annabelle. But why do you have to stop it before it leaves 1945?
The Nun (2018) – 1952

© New Line Cinema/The Safran Company/Atomic Monster - Warner Bros. The Nun trailer (2018) Well, because The Nun is set in 1952, which places it right in the middle of the two Annabelle films. Man, we're really hoping The Nun doesn't jump around too much timewise – so much as one flashback could really complicate our chronological movie night. 

If we have to watch half of The Nun before Annabelle: Creation, then stop Annabelle: Creation before the end, before going back to The Nun, before going back to Annabelle: Creation, before we can finally watch Annabelle… We're going to be more annoyed than Ed and Lorraine Warren after someone insults Elvis.
Annabelle (2014) – 1967

© Warner Bros. Annabelle (2014) Okay, after you've put the disc back in the machine and watched the end of Annabelle: Creation, you can now get through Annabelle, which sees the creepy doll making its first movements into the realm of the damned. Unfortunately, this is definitely the worst of the series – but watching it right after Creation does improve it somewhat. Man, that film is awesome. 

The Conjuring (2013) – 1971

© Provided by Hearst Communications, Inc Paranormal investigators Ed and Lorraine Warren work to help a family terrorized by a dark presence in their farmhouse. Forced to confront a powerful entity, the Warrens find themselves caught in the most terrifying case of their lives. Now we finally get to the first film in the series, which is also arguably the best. James Wan leant into his influences for The Conjuring, updating films such as The Changeling and Burnt Offerings for a modern generation. As with those films, the terrifying events take place in the '70s, in a film that sees Ed and Lorraine Warren helping out a large family who have moved into a haunted farmhouse.
It's based on a "true" story, if you believe ghosts and farmhouses are real (farmhouses probably are real, to be honest).
The Conjuring 2 (2016) – 1976 / 1977

© Provided by Hearst Communications, Inc Conjuring Another film that's based on a true story – if you think that ghosts making people levitate is more likely than a teenager jumping off a bed. The Conjuring 2 saw the Warrens investigate the Amityville house in 1976, before moving on to a case in the UK in 1977, which we knew as the Enfield Hauntings, which is where the potential bed-jumping shenanigans took place. 

Throwing in the aforementioned Nun for good measure, as well as a creepy dude known as The Crooked Man (who's getting his own movie too, what is this, The Avengers?) The Conjuring 2 marked a turning point for the franchise, where it really started to become the MCU of horror movies.
The Crooked Man doesn't have a release date yet, but as it'll be inspired by an old nursery rhyme (first published in 1842), your guess is as good as ours in terms of when it'll be set.
When we know, we'll add it to the timeline – as well as any decade leaps The Nun makes, so bookmark this page and keep coming back for the latest chronological updates.
Related: The creepiest celebrity ghost stories (Provider: StarsInsider)
A special message from MSN:
Nine million people across all age groups and walks of life in Britain are affected by loneliness. We've partnered with giving platform Benevity to raise funds for three charities - Mind, the Campaign to End Loneliness, and Wavelength – to tackle this debilitating and complex issue. You can help make a difference - please donate now.