Did The Golden Globes Completely Fail #MeToo, One Year On?

Grazia
1/7/2019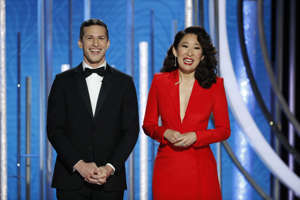 © Getty (Photo by Paul Drinkwater/NBCUniversal via Getty Images)

Just how badly did the 2019 Golden Globes live up to the promises made by #TimesUp campaigners, a year after the movement was launched at Hollywood's biggest precursor to the Oscars? It was all going so well, until the end...
The ceremony, which saw Olivia Colman, Glenn Close, Christian Bale and Lady Gaga win big awards, included many good nods to #TimesUp, the campaign to turn #MeToo's words into actions against sexual assault, harassment and inequality in the workplace. But all this fell by the wayside by the time the best film was announced.
Download the Microsoft News app for your Android or iPhone device and get news & live updates on the go.
Bohemian Rhapsody seems pretty woke from the outside. It's the Freddie Mercury biopic, a rousing, music-driven story of a bisexual Indian man who migrated to the UK and became one of the world's most iconic musicians in the 1970s, before tragically dying of Aids. The story centres on Mercury's band Queen's performance at Live Aid, an international fundraiser for those perishing in the Ethiopian Famine.
It's so utterly woke-on-paper that you'd be forgiven for wondering if the entire set was vegan or something (no, sadly, as Brian May, guitarist for Queen who acted as creative consultant on the film, is only a vegetarian because 'Cheese is a hard one' to give up).
While not exactly critically acclaimed, and refusing to retell various details of Mercury's life, like that time Mercury and comedian Kenny Everett took Princess Diana, in drag, to a gay bar in Vauxhall for night out, Bohemian Rhapsody was a globally popular film. The surprise winner was also directed, in the main, by Bryan Singer, a man who has been repeatedly accused by young men of sexual impropriety towards them. He denies all of the allegations.
Rami Malek, who won best actor in a drama for his role as Mercury, used his own acceptance speech to praise the 'authenticity and inclusivity' of Queen's surviving members, and dedicated his award to Mercury. He didn't mention Singer. Moments later, when Bohemian Rhapsody won best film, producer Graham King also thanked Mercury and Queen, explaining 'The power of movies is that it brings us all together'. He didn't mention Singer.
When asked backstage about Singer's departure from the film, following allegations of his unprofessional behaviour on-set (which he also denies), Malek responded: 'There's only one thing we needed to do and that was to celebrate Freddie Mercury in this film, he is a marvel…nothing was gonna compromise us giving him the love, celebration and adulation he deserves.'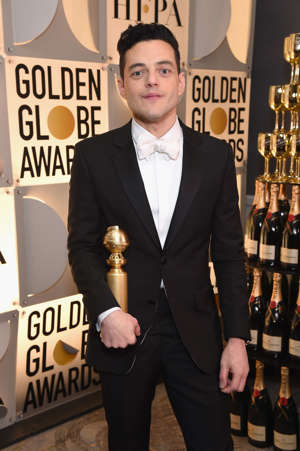 Perhaps no-one involved in Bohemian Rhapsody wants anything to do with Singer — he was, after all, booted from the production — but their silence can be read in other, more worrying ways. For the benefit of the doubt, wouldn't it have been easy, one year on from #TimesUp, for a bunch of rich and powerful men - the producers of Bohemian Rhapsody, the members of Queen, Mike Myers - to say, you know what, #TimesUp on Bryan Singer? It's not as if they're on good terms with the guy anyway. It's not as if Mercury's memory deserves the stain of this association.
The calling out of Singer was left to 31-year-old Westworld star Evan Rachel Wood, who tweeted:
This sad conclusion to the ceremony plays against the backdrop of a Hollywood carrying so much hope right now. On the red carpet, Julianne Moore, Debra Messing, Claire Foy, Amber Heard, Emma Stone, Rachel Brosnahan - who won for her role in The Marvelous Mrs Maisel, and many more, pledged their allegiance to #TimesUp with bracelets and ribbons, a visual promise that this issue won't be forgotten, at least not by them.
Julianne Moore matched her white #TimesUp wristband to her Givenchy gown
Emma Stone put a #TimesUp ribbon on her handbag
Costume Designer Ariane Phillips designed the #TimesUp x2 ribbons and bracelets
Amber Heard wore her #TimesUp ribbon on the red carpet
Charlize Theron's black #TimesUp ribbon complemented her monochrome outfit
Debra Messing highlighted her support for #TimesUp in an Instagram post
Rachel Brosnahan wore a white #TimesUp ribbon
Olivia Colman put a #TimesUp ribbon around her clutch bag
Lucy Liu paid tribute to #TimesUp with her accessories
Claire Foy turned up with a #TimesUp ribbon on her wrist
Amongst the nominees were The Favourite, featuring women playing roles we just wouldn't have seen 10 years ago. Box office hits Crazy Rich Asians, which had an all-Asian cast, and majority-black Black Panther, put respect for women at the core of their storylines.
Sandra Oh won for her performance in Killing Eve, a TV show depicting dynamic, messy, realistic women, also showing that an Asian woman in her 40s can be celebrated by Hollywood. And her opening speech as co-host with Andy Samberg, heralding the 'moment of change' she saw 'Because I see you. And I see you, I see all of these faces of change, and now, so will everyone else,' is testament to the fact that Hollywood's progress isn't only for white women.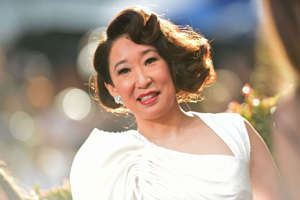 As for the big winners, Glenn Close, who won best actress in a drama for her role in The Wife and was endearingly shocked by her win, gave a barnstorming speech about women finding 'personal fulfillment…we have to say "I can do that and I should be allowed to do that."'
Regina King, in a heartfelt acceptance speech for best supporting actress in If Beale Street Could Talk, committed to working on productions that are 50% women. She called on 'Anyone out there who is in a position of power, not just in our industry in all industries...to challenge yourselves and stand with us in solidarity and do the same.'
And Olivia Colman, well, she chipped at the golden veneer of whatever is expected of Hollywood women's behaviour by being herself, boasting of how 'I ate constantly throughout the film, it was brilliant' on the winners' podium.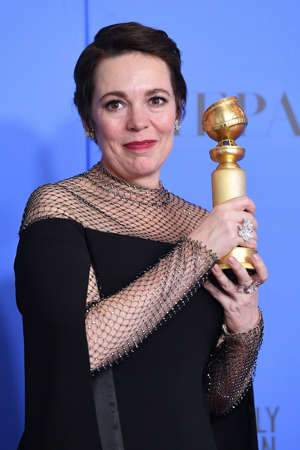 All this progress, all these tiptoes forward, toward a brighter future where oppressed people can shift out of the confines that have long shackled them is fantastic to behold. It's uplifting and exciting, which makes it all the more disappointing that Singer, still won. A man who wasn't even there, who didn't even finish the direction on his film - but still features in its credits - can now proudly lay claim to the biggest award of the night.
As well as not being mentioned at the event, Singer wasn't at the event, but he later posted to Instagram a photo of him in a director's chair on the set of the Bohemian Rhapsody, along with the caption 'What an honor. Thank you #HollywoodForeignPress'.
What is all this progress, made primarily by women, and marginalised women at that, if the wealthiest, most influential power-brokers of Hollywood can't even think to address it and do their bit? It's not enough to make a film like Bohemian Rhapsody, ostensibly all about difference, if the credits don't make any difference. And besides, if the Hollywood Foreign Press Association wanted to give a populist film an award, to upset all of our expectations (A Star Is Born was widely tipped to win), why not the tremendous Black Panther, which was also nominated?
Last year's Golden Globes was a must-watch moment, a symbolic change where Hollywood's leading performers said, in the boldest of ways, that enough was enough on abuses of power. Many continued to say that last night. But the doing of change, the real heavy lifting of progress, is in other people's hands, other people who just seem to…not care.
Related: These Pictures Are Proof The After Parties Are The Best Part Of The Golden Globes [Refinery 29]