Kim Kardashian Shows Off Her 20-Lb Weight Loss In Glittery Hot Pants As New Season Of 'Kardashians' Airs

SheFinds
9/22/2022
Kim Kardashian wowed her 330 million Instagram followers today in a glistening two-piece set from Dolce & Gabbana, and many are expressing that they were "taken aback" by her recent weight loss.
The reality star, 41, posed for several stunning images that show her donning a Fall/Winter 1991 full ensemble from the luxury Italian label, composed of a low-cut, halter, push-up crystal-encrusted top and high-waisted, matching hot pants-esque bottoms. To complete her curve-hugging look, the style icon added a black overcoat and pump heels, and tied her long blonde locks up into an elegant updo.
While Kardashian went without a caption, millions of fans liked the images, and thousands left words hyping up her outfit in her comment section. "This look is everything!" wrote one fan while another added, "love this vintage set!" Others added that they were "concerned" for Kardashian following her "drastic recent weight loss," and other fans in a recent Reddit thread and Instagram post pointed this out even more.
In a side-by-side image, fans via the IG account @kardashiansocial compared a photo of Kardashian at a 2017 taping of The Late Late Show with James Corden and a 2022 photo. Fans began noting that she looked as if she had "lost so much weight" while others commented that she "looks great."
Back in May, insiders close to Kardashian (who later confirmed herself) that she lost 21 pounds just to fit into her instantly viral 2022 Met Gala dress, originally worn by the iconic Marilyn Monroe. This garnered backlash from fans, with many deeming the way she spoke about her weight loss journey to be "toxic" and "insensitive" to those with eating disorders who feel as if her body is the "beauty standard."
Kardashian responded to this criticism in an Allure interview soon after, saying, "If I was starving and doing it really unhealthy, I would say that, of course, that's not a good message," she told the publication. "But I had a nutritionist, I had a trainer. I have never drunk more water in my life. I don't see the criticism for other people when they lost weight for roles — they are [considered] geniuses for their craft." She added, "There are so many things out there that are so not accurate and not true."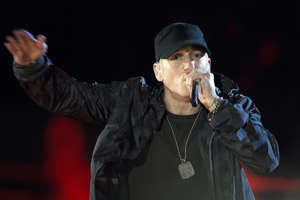 As fans continue to feel divided over the matter, Kardashian's outfit post comes just after the latest Kardashians trailer dropped. This shows the Hulu show's second season giving fans a closer look at her sister Khloe Kardashian and Tristan Thompson's second child, and the "pain" that the athlete's infamous cheating scandal caused both Khloe and her mom Kris.
In previous trailers for the upcoming season, we've seen Kim talk about finding her own "personal confidence" and a "season of independence," so we can't wait to see it! The first episode will be able to stream tonight, September 22nd, on Hulu.