29 Best Meal Delivery Services and Kits of 2021

Epicurious
8/16/2021
We live in a world of constant dinner innovation. Our always-updated list of the best meal delivery services reveals kits for all kinds of cooks—whether you're Paleo, keto, vegetarian, or just a really big fan of Martha Stewart. Amazon may be coming for every single one of these companies as it dives further and further into the world of groceries, but for now here's a big list of the best meal kit delivery services in 2021.
All products featured on Epicurious are independently selected by our editors. However, if you buy something through our affiliate links, we may earn a commission.
1. Home Chef
With 26 new chef-designed recipes available each week by email, easy-to-follow recipe cards, and fresh ingredients, Home Chef strives to keep things interesting. Each meal is $9.95 a serving (there's a lunch option sold at $7.99 a serving) plus a $10 delivery fee—delivery is free for orders over $40. They also offer fruit and smoothie add-ons for $4.95 as well as special occasion meals. There's a handy Recipe Categories page that includes lists of items "Without Nuts" or "Without Soy" and "Staff Picks."
Cost/Minimum Order: $45 a week for two meals with two servings each
Sample Meals:
Teriyaki ginger salmon
Creamy shrimp carbonara
Avocado and tofu sushi bowl
Customer Review: "We've really been enjoying the meals and there's such a wide selection so that anyone can find something they like. Their customer service is also exceptional! They are also the only meal delivery service I've found that provides a discount to healthcare providers and first responders." —Blair
Availability: 98% of the country
2. Sunbasket
Sunbasket boasts a health and sustainability angle, offering Paleo, gluten-free, pescatarian, vegetarian, vegan, carb-conscious, Mediterranean, "quick and easy," diabetes-friendly and "lean and clean" recipes developed by former Slanted Door chef Justine Kelly. All its meat ingredients are antibiotic- and hormone-free and the eggs are organic. When it comes to fish, they use only wild-caught seafood recommended by the Monterey Bay Aquarium Seafood Watch program. With more than 20 weekly recipes, you can choose between oven-ready plates, pre-prepped servings, and classic meals that still require you to do all the chopping; servings vary between two and four.
Cost/Minimum Order: $72 a week for two meals
Sample Meals:
Chicken cacciatore with spaghetti
Salmon and quinoa bowls with wilted greens and citrus dressing
Vegetables in parchment with green goddess dressing and soft-cooked eggs
Customer Review: "During this pandemic I am thrilled to receive nutritious meals. I don't have to worry about grocery shopping and I have learned to cook better by following these recipes." —Corinn
Availability: Currently ships to most zip codes in the United States, excluding Alaska, Hawaii, Montana, and parts of New Mexico
3. Gobble
All meals from the Gobble meal delivery service take 15 minutes to prepare. Boxed ingredients come to you peeled, chopped, and marinated, so all that's left to do is actually cook the meal. Gobble was voted the number one meal delivery kit by Parents Magazine, thanks in part, no doubt, to its quick prep time. Dinner kits are available in a two- or four-person plan. The two-person plan includes three recipes that each serve two people, and the four-person plan includes three recipes that each serve four people.
Cost/Minimum Order: $56 a week
Sample Meals:
Crispy chicken sandwich with Napa cabbage slaw
Sweet potato and poblano enchiladas with corn and black bean salad
Salmon with roasted root vegetables and balsamic reduction
Customer Review: "Gobble is the only meal kit I've stuck with, and it's been over two years now that I have been using Gobble weekly. I can't part with it! I hate cooking but love takeout, and these kits taste better than takeout, have large portions, and plenty of choices each week. They really do only take 10-20 minutes to make!" —Jenny
Availability: Continental U.S.
4. Green Chef
Green Chef makes it easy to eat well, no matter what nutrition plan you're on. Whether it's Paleo, keto, pescatarian, vegetarian or vegan, Green Chef can meet your needs. All recipes include step-by-step instructions, chef's tips, and photos. Plus, Green Chef is another time-saver: The recipes are designed to be whipped up in 30 minutes or less. Green Chef is a USDA-certified organic company that prides itself on using high-quality, sustainable, clean ingredients.
Green Chef offers a two-person plan and a family plan. A two-person plan box contains three dinners for two people, and the family plan box features two dinners for a family of four.
Cost/Minimum Order: $60 a box
Customer Review: "I like to cook, I like to shop, I like to prep and plan…up to a point. Green Chef lets me just cook and the results are incredible. We are on the keto-friendly plan and I do not (really) miss the potatoes and starch with all the great stuff that they include in each bag." —Russ
Sample Meals:
Chard salad with herb-roasted shrimp, roasted squash, sweet potatoes, and bell pepper
Lentil-walnut tacos with cashew crema, kale, pickled radishes, cabbage, and carrots
Cuban Pallomilla steaks with cabbage, carrots, and black bean slaw
Availability: All over the U.S., except for Alaska, Hawaii, and parts of Louisiana.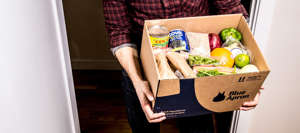 5. Blue Apron
A weekly box of everything you need to make at least two meals for two people or a family of four, customized based on your dietary preferences. Recipes are inspired by unique seasonal or hard-to-find ingredients and everything comes premeasured and precut—a plus for super busy cooks. Calorie counts for each recipe are included. Blue Apron even has add-on programs for wine delivery and a market feature to shop for kitchen tools.
Cost/Minimum Order: $60 a week
Sample Meals:
Miso-ginger rice bowls with mushrooms, kale, and watermelon radish
Cavatappi pasta and pork ragù
Spicy zucchini quesadillas with poblano pepper and fried eggs
Ponzu-sesame tofu and vegetables
Customer Review: "My boyfriend and I have been getting these every week for over a year and all I can say is wow! Amazing meals. They are consistently good—even the ones I thought I wouldn't like I always enjoy! They premium meals are worth the money. Who ever comes up with this stuff is a genius. Even if they forget an ingredient (which is rare) they always make up for it with credits for our next order. Great service! Keep it up!" —Brooke
Availability: Nationwide
6. Freshly
Freshly is a weekly subscription meal delivery service that delivers prepared meals developed by a team of chefs and nutritionists. Choose from four, six, 10, or 12 meals a week (you can change the number of meals you receive at any time). Deliveries come in a recyclable refrigerated box and each meal—free of artificial ingredients, preservatives, and added sugars—is ready to eat in three minutes. 
Cost/Minimum Order: $46 a week plus shipping
Sample Meals:
Sausage baked penne with sautéed zucchini and spinach
Pulled pork al pastor with cotija cheese and Mexican-style corn
White bean turkey chili with cilantro-lime rice
Customer Review: "We joined Freshly as we needed some gluten-free and vegetarian options for our household. Not only have the adults liked it, our high schooler is very happy to have Freshly for his lunch option as our schools are closed due to Covid-19." —Jennifer 
Availability: Nationwide
7. Martha & Marley Spoon
Berlin-based Marley Spoon hit U.S. soil in 2016 after operating two years in Europe and Australia. For its U.S. venture the company partnered with Martha Stewart to bring carefully tested recipes from Martha's archives. Martha & Marley Spoon tries to source sustainable and organic ingredients whenever possible. Like all of the best meal delivery services, you've got options: Choose from plans tailored to meet a variety of nutrition needs, including healthy eating, vegetarianism, and veganism. There are also plans that are family-friendly or ones where all meals are designed to be prepared in under 30 minutes. Each week Martha and Marley Spoon offers 20 new recipes, so you'll never get bored with the menu.
Cost/Minimum Order: $18 a week
Sample Meals:
Lemon-brown butter salmon with capers and cauliflower rice
Buttery ravioli with roasted squash, wilted arugula and toasted walnuts
Crispy Pork Schnitzel with Warm German Potato-Cabbage Salad
Customer Review: "This meal plan is wonderful! The food has always been delicious. The recipes are fairly easy to follow the most meals can be on the table in about an hour or a little less." —Melinda
Availability: Most of the continental U.S.
Sign up for Martha & Marley Spoon here.
8. Purple Carrot
Purple Carrot offers plant-based vegetarian meal kits. Choose from a Quick and Easy plan that boasts simple dishes designed to cook in 30 minutes or less. If you're short on time or a new home cook, the simple and straightforward recipes are the perfect introduction for learning basic skills.
Purple Carrot also offers a Performance Meals plan. This plan's meals all include at least 20 grams of plant protein per dish. Purple Carrot's protein-packed ingredients include quinoa, spinach, tempeh, and kidney beans. Lastly, there's the Chef's Choice plan that features gourmet dishes. The recipes feature seasonal ingredients and are designed to expand your culinary horizons.
Subscribers choose between a 1–2 servings kit or a 3–4 servings kit. Shipping is always free, and there's no time commitment required.
Cost/Minimum Order: $72 a week
Sample Meals:
Roasted red pepper shakshuka with za'atar tofu and crispy shallots
Pan-roasted Brussels sprouts with miso caramel & almond Farro Pilaf
Creamy cauliflower potato soup with thyme & lemon pepper chickpeas
Customer Review: "I recently decided to cut meat from my diet. I have a good grasp of cooking, but not vegetable-based recipes. Purple Carrot is a great place to start learning how to cook vegan. Their entrees are great-tasting. They add a ton of texture and flavor to each dish. The recipes are easy to follow. Purple Carrot is a big hit with my family." —MLC
Availability: Currently ships to most zip codes in the U.S., excluding Alaska and Hawaii
Sign up for Purple Carrot here.
9. Hungryroot
Upon signing up for plant-based meal delivery service Hungryroot, you fill out a questionnaire to personalize your experience for the best meal delivery service for you: Cooking for one? Trying to save time? Do you have allergies? You can cater the meals (and snacks!) to your dietary restrictions and preferences and select options that cover breakfast, lunch, and dinner. What really sets Hungryroot apart, though, is the emphasis on ease. Ingredients come prechopped, sauces are preprepared, and meals take about 10 minutes to assemble. Shipments come with ideas for combining the various prepped ingredients and sauces. Each serving costs about $8 to $10 and meals are delivered weekly (though you can pause at any time).
Cost/Minimum Order: $67 a week
Sample Meals:
Feta turkey burger with side salad
Tomato black bean enchiladas
Honey poppyseed salmon salad
Customer Review: "After moving into my apartment in New York post-grad, I was looking for an easy way to stay healthy without having to make a trip to the grocery store every week. I discovered Hungryroot through a friend and have been able to make lunches and dinners for myself in under 10 minutes. The ingredients are so easy to cook with and the food is delicious. I use Hungryroot to get my weekly vegetables and to give me those meals that make me feel better." —Marisa
10. Dinnerly
Dinnerly, a branch of Marley Spoon, launched in early 2017. Dinnerly boasts greater simplicity with fewer ingredients and less steps in its recipes than in those found in other meal kits. The delivery service, in which customers choose from six weekly recipes, also positions itself as cheap, and at $5 a serving, it certainly looks like the cheapest meal kit on the market. However, minimum orders are in place: Customers must order at least two portions per recipe and at least three recipes per week. There's also a shipping charge of $8.99.
Cost/Minimum Order: $39 a week
Sample Meals:
Pesto chicken over creamy risotto and peas
Shrimp tempura and broccoli with steamed rice
Loaded deep dish sausage and peppers pizza
Customer Review: "I just can't say enough about this service. I was a little worried that, given how affordable this service is, that the food would be bland or the ingredients poor quality, but I had nothing to worry about at all! Every meal thus far has been delicious, full of flavor and reasonable portions. Additionally, the ingredients are fresh, antibiotic-free. They have grass-fed beef and organic produce. Dinnerly meals have reminded me how simple cooking can be and how flavorful dishes are when made fresh. If you're considering signing up, just do it! You'll love it!" —Michelle
Availability: Currently ships to most of the West Coast, Midwest, and Southern states
11. Sakara Life
The Sakara meal delivery service is ideal for someone looking for refreshing, healthy meals. Cofounded by Whitney Tingle, a certified yoga instructor, and Danielle DuBoise, a holistic health coach, the service provides fresh plant-based organic meals delivered right to your door. There's no planning, meal prep, or cooking necessary. Plus, all of the meal programs include herbal detox teas and beauty water concentrates (think mineral- and antioxidant-rich drops) too. Choose the number of days you would like to receive meals (three or five days), and depending on your delivery zone, you may also choose which meals you would like to receive (breakfast, lunch, and/or dinner).
Cost/Minimum Order: $80 a meal program
Sample Meals:
Sticky date parfait with pecans, raspberries, figs, cashew-parsnip purée
Sweet beet and toasted cashew medley with tricolor quinoa and carrot-ginger glow dressing
Full heart brassica bowl with butternut squash smash, shredded Brussels sprouts, and everything bagel spice
Customer Review: "With Sakara, I am nourishing my body exactly how I want to, but in a way I never have time to." —Clo
Availability: Nationwide
12. Daily Harvest
If you're a smoothie enthusiast, this is the best meal delivery service out there. Daily Harvest sends you the ingredients to blend delicious and filling smoothies, soups, and bowls. If you want to work more fruits and vegetables into your diet and don't want to use a stove or oven, this is the meal delivery service for you. Daily Harvest's recipes are created by nutritionists and designed to nourish. All the ingredients (98% of which are organic) are frozen within hours of harvest, which locks in the flavor at its peak. You can order boxes with nine, 12, or 24 cups, mixing and matching soups, smoothies and bowls. Order nine cups and it breaks down to $7.75 a cup; 12 and it breaks down to $7.49 a cup; 24 breaks down to $6.99 a cup.
Cost/Minimum Order: $69.75 for a nine-cup box
Sample Meals:
Cold brew and almond smoothie
Mango and turmeric chia bowl
Tomato and bell pepper gazpacho chilled blended soup
Customer Review: "Fantastic products! The smoothies, flatbreads, chia bowls, oat bowls, etc. all have been wonderful. I love all of the good for you ingredients. I can't wait to get my third box in the mail. The shipments arrive on time and all products are still frozen. I would try them out." —Nina
Availability: 95% of the continental U.S.
Sign up for Daily Harvest here.
13. Crowd Cow
Crowd Cow isn't a full meal kit or meal delivery service. Rather, it's a place to buy meat and seafood online. The company started mainly as a purveyor of beef from small domestic farms—hence the name. Now it offers a variety of meat and seafood options from around the world, while maintaining a commitment to use only farms they know and can vouch for. Users can subscribe to get a customized monthly box of their favorite cuts. You needn't commit to chicken and pork every month, though. Each monthly box is customizable. You can also choose from predetermined box options, like a "Lean Protein" box or a "Taste of Everything" box. You can also order a one-time shipment, and don't have to sign up for the full monthly delivery service. The company is also committed to certain sustainability standards: Packaging is 100 percent recyclable and compostable and in 2020 the company committed to offset the emissions of each order, making it a carbon neutral meal delivery service option. 
Cost/Minimum Order: Prices vary; around $65–$140 a box
Some sample meats available: 
Wild Copper River Coho salmon
Wild Atlantic sea scallops
Whole chicken family pack
Grass-fed ground bison
Heritage bone-in pork chops
Customer Review: "We received our first order recently. The process was so easy, and the notifications were excellent. Best of all, the meat was amazing in quality and taste. We will definitely be ordering more in the future." —Robin
Availability: Everywhere in the U.S., except Hawaii and Alaska
14. Splendid Spoon
Splendid Spoon's meals are plant-based wonders. Its menu consists of high-quality, nourishing grain bowls, soups, flatbreads, and smoothies. All of its meals are guaranteed to be GMO-free and gluten-free. The extensive menu features more than 40 meals. At five bowls or smoothies a week, the cost is $13 a unit, but if you order 10 bowls or smoothies a week, it drops to $9.50 a unit. The more you order, the more you save.
Cost/Minimum Order: $65 for five bowls
Sample Meals:
Sweet potato quinoa bowl
Cauliflower potato chowder with navy beans and rosemary
Mint chip smoothie with cacao nibs and almond butter
Customer Review: "This service is top notch. The food is delicious (especially the soups). I've had no issues skipping weeks, cancelling, or reactivating service." —Darren
Availability: All over the U.S., except for Alaska and Hawaii.
Sign up for Splendid Spoon here.
15. Factor
Factor is another meal delivery service that does all of the cooking and prep work for you.  Simply select the meals you'd like and they come fully ready—reheating is all that's required. Factor meals are grass-fed and pasture-raised, gluten-free, antibiotic- and hormone-free, soy-free, non-GMO, and have no added sugars. Meals can be catered to the Paleo or keto diet. The cost varies from $11 to $15 a meal.
Cost/Minimum Order: $60 a week
Sample Meals:
Pesto salmon
Thai pineapple shrimp bowl
Roasted squash harvest bowl
Customer Review: "I'm a teacher and these meals have been a lifesaver for me. I was spending tons of money on low-quality food from DoorDash almost daily. Now I'm able to eat keto- and low-carb-friendly and it's not breaking the bank. And all I have to do is heat it up (I don't have time for meal prep)." —Caroline
Availability: Currently ships to every state except Hawaii and Alaska.
16. HelloFresh
HelloFresh offers three plans: classic, vegetarian, and family-friendly. All plans include complete nutritional information. Choose between meal kits that feed between two and four people. Omnivores get to choose from 15 recipe options; vegetarians get whatever they're given.
Cost/Minimum Order: $60 a week
Sample Meals:
Parmesan-crusted chicken with creamy tomato lemon spaghetti
Figgy balsamic pork with roasted green beans and rosemary potatoes
Greens farro bowl with roasted zucchini and asparagus
Customer Review: "I absolutely love HelloFresh. It is so convenient and delicious. I love coming from work and not having to think about what to cook and I get excited about my box each week. I recommend it often and look forward to continuing my subscription." —Carina
Availability: Nationwide and abroad
17. Veestro
Veestro is a plant-based meal delivery service. You can select from three meal options: Order à la cart; opt for chef's choice, where you're given the service's most popular options; or select an option optimized for weight loss. Meals are ready-to-eat, don't require any prep, and cost about $10 a pop.
Cost/Minimum Order: $30 a delivery
Sample Meals:
Enchilada casserole
Tuscan calzone
Pasta Bolognese
Customer Review: "Enchilada Casserole is the family favorite. So far all the meals have been tasty, and so convenient. I love knowing healthy meals can be so quick and easy." –Janice
18. EveryPlate
With EveryPlate, select three meals from an ever-evolving menu where the dishes change weekly. The easy-to-follow recipes generally take about 30 minutes to cook, require minimal tools, and have choices like spicy honey butter chicken or cheesy panko-crusted pasta. Plans offer recipes that serve two to four people. Sign up below and get $10 off each of your next three deliveries and free shipping on your first shipment.
Cost/Minimum Order: $39 a week
Sample Meals:
Garlic rosemary chicken with roasted root vegetables
Pork sausage stuffed peppers with pepper jack cheese
Gravy-lover's meatballs with broccoli and garlic mashed potatoes
Customer Review: "I really enjoy this meal delivery system. I struggle to cook for just my husband and I; I usually end up with too much food or expired food/spices. This is a good way to avoid waste and not have to eat the same thing for a week." —Rita
Availability: Most of the continental U.S.
19. Fresh n' Lean
These fresh ready-made meals arrive in an insulated box with ice packs. Add them to your freezer and then heat them for three minutes when you're ready for a delicious breakfast, lunch, or dinner. Fresh n' Lean's menu includes protein-packed, Paleo, keto, vegan, and vegan low-carb options. Notably, Fresh n' Lean is one of the few meal delivery services that lets you order a single meal if you want to just try it out with zero commitment.
All the meals are certified organic.
Cost/Minimum Order: $7.93 for one meal
Sample Meals:
Walnut pesto sustainable salmon with quinoa
Apple cage-free chicken sausage with brown rice and Sriracha vegetables
Dual bean taco bowl with mahi
Customer Review: "I'm really enjoying the food selection. I haven't had one disappointing meal. This program is excellent for a single individual who doesn't like to cook. The portion sizes are perfect for me. There's a different meal every day. It's like having my own personal chef who knows my taste buds!" —Andre
Availability: Nationwide
Sign up for Fresh n' Lean here.
20. Snap Kitchen
Snap Kitchen is a highly customizable meal subscription service. With three-, five-, and seven-day plans that reoccur on a weekly basis, each day of meals starts with a base plan that is either high-protein, low-carb, "balanced," Whole30, Paleo, or "camp gladiator." From there, you build your plan by selecting which breakfast, lunch, dinner, snacks, and drinks you'd prefer. All of their selections are gluten-free and contain no artificial preservatives, antibiotics, added hormones, or artificial colorings or flavorings. Ordering through Snap is also easily managed through its website or app.
Cost/Minimum Order: $25 a week
Sample Meals:
Bison quinoa hash
Black bean sliders
Butter chicken on broccoli rice
Customer Review: "There's a good selection of meals. They taste great and are super easy to heat up quickly. I grab them for breakfast on the way to work and for healthy lunches. Sometimes even dinner on the way home if I don't feel like cooking for my family. Highly recommend the bison chili. Try it for portion and calorie control too." —Curtis
Availability: Currently Snap provides free delivery within a specific zone and pick up from 35+ shops located throughout Austin, Dallas, Houston, and Philadelphia
Sign up for Snap Kitchen here.
21. FreshDirect
Though this is a more limited resource, this online grocer has a variety of meal kits that range from $9 to $18 a serving. Most of the kits serve two (a few serve a family of four), and range from salads and bowls to pizzas and steaks. FreshDirect's home delivery fees start at $5.99.
Cost/Minimum Order: $30 a delivery
Sample Meals:
Wild swordfish with chimichurri, smashed butternut squash, and roasted vegetables
Vegetarian tostada with quinoa, lentils and hot honey salad
Orecchiette with broccoli rabe, olives, and organic sausage
Customer Review: "Before, during and after the worst of this pandemic Fresh Direct was a 10 on a scale of 1 to 10—we depended on them and were never let down. This drivers and delivery and warehouse employees deserve Presidential Metals of Freedom." —Dana
Availability: New York metropolitan area, plus various locations within New Jersey, Connecticut, Pennsylvania, Delaware, Washington D.C., and seasonally to the Jersey Shore and Hamptons
Order a FreshDirect meal kit here.
22. Yumble
Yumble is a meal delivery service catered to families and people cooking for children; recipes are developed specifically with kids in mind. You select weekly menus that best fit your family's needs and the company even offers boxes specifically catered to picky eaters. Meals are delivered weekly in more sustainable packaging than is typical, and boxes include kid-friendly activities. Meals come fully prepared, so it's just a matter of reheating them. The company's overall objective is to increase time with family by eliminating the "chore" of cooking.
Cost/Minimum Order: $30 a delivery
Sample Meals:
Quesadilla with pineapple rice, peas, and carrots
Homemade meatballs with basmati rice and honey-glazed carrots
Creamy veggie empanada with corn and green beans
Customer Review: "I recently ordered Yumble for a dear friend who was recuperating from surgery. She lives out of state and normally I would have been there to help with her two children. I ordered 12 meals from Yumble and her children loved it. It was a big help to her. Yumble is a great gift for any mother that needs help during a trying time. I suggest their service—they are informative and professional" —Rosalie
Availability: Currently delivers to most of the East Coast, Texas, and parts of the West Coast and Midwest, with plans to expand nationwide
23. Home Chef's Fresh & Easy
This is the best meal delivery service if you hate doing the dishes and want your meal almost fully prepared for you: Ingredients come pre-portioned in an oven-safe tray. The company also sends grill-ready options that come in a grill-safe bag and dinner-worthy salads. You can choose from two dietary preference options: low-calorie or low-carb. The site also lets you select common allergens that you need to avoid in your meal deliveries.
Cost/Minimum Order: $35 a week
Sample Meals:
Chicken Parmesan penne
Pretzel-crusted chicken with carrots
Grilled salmon with salsa
Customer Review: "There's so much to choose from, and you can mix and match these family-friendly meals so everyone gets exactly what they want … It's so easy to pop them in the fridge and then heat them up when you're ready for a fresh, filling meal." —Ann
Availability: Nationwide
Sign up for Fresh & Easy here.
24. Amazon Fresh Meal Kits
Amazon launched its meal kit service shortly after announcing it had acquired Whole Foods Market. Unlike many of its competitors, Amazon can send its meals one at a time. Amazon also has an option for "attended delivery," which lets you choose the date and time slot that you'd like your meal dropped off; because of this, Amazon is able to use slightly less insulation to keep the meals cold, which makes it a tiny bit less environmentally unsound. At $8 to $10 a serving, Amazon's service is marginally cheaper than most other offerings, however you have to be a member of Amazon Prime ($99 a year) and Amazon Fresh ($14.99 a month). Delivery is free unless you order less than $40 of food; then you'll be charged $9.99.
Cost/Minimum Order: $38 a delivery
Sample Meals:
Mushroom risotto with spinach and truffle butter
Red lentil dal with sweet potato and cilantro chutney
Pan-roasted za'atar chicken with corn, zucchini, and couscous
Customer Review: "It is beautiful that I can get what I need safely delivered to my door. I have been an avid Amazon Fresh customer even before the Covid pandemic, but now I rely on it even more." —Gray
Availability: Currently Amazon Fresh delivery is available in Atlanta, Baltimore, Boston, Chicago, Dallas, Denver, Houston, Los Angeles, Las Vegas, Miami, Minneapolis, New York, Philadelphia, Phoenix, San Diego, San Francisco, Seattle, and Washington, D.C.
Amazon meal kits are available only to those that are members of both Amazon Prime and Amazon Fresh.
25. Little Spoon
Little Spoon is another meal delivery service designed for feeding kids. In fact, it started specifically as a delivery service for baby food because the founders were fed up with the lack of fresh and organic options on the market. They want to offer the convenience of jarred baby food, with the freshness and health value of homemade—all while aiming to provide affordable meal options for families. The company also just launched a separate line of foods geared toward toddlers and kids. They also sell supplements like probiotics and vitamins.
You can choose between baby foods that are single-ingredient blends or more complex multi-ingredient combinations like beet-banana-mango and carrot-apple-ginger. The meals for toddlers are vegetable-packed and you can sort the options by texture, from smooth to very textured. And, they have certain options labeled as picky-eater favorites and most popular meals. Meals and baby foods have no preservatives or additives, and everything is USDA-certified organic and allergen-friendly.  
Cost/Minimum Order: $3 per meal for baby food, $5 per meal for toddler/kid meals
Sample Meals:
Gluten-free cauliflower gnocchi with veggie marinara sauce
Veggie tender parm with peas
Penne and kale turkey meatballs
Availability: Continental U.S.
Sign up for Little Spoon here.
26. Territory Foods 
Territory Foods is another meal service crafted with wellness in mind. These oven-ready meals require no cooking, just reheating. Rather than preparing the meals in one central commissary, local chefs work from their own certified kitchens. You can choose to have your meals delivered once or twice a week, if you want them to be fresher (they do claim that all of their packaging is compostable and recyclable). Meals are made of "responsibly-sourced, nutrient-dense" ingredients and all are gluten-free, dairy-free, and refined-sugar free. You can customize your meals to cater to your dietary lifestyle, like Paleo, keto, or vegan. Territory Foods also has a team of nutritionists to consult on their meals; they change the menu "weekly and seasonally" so they aim to provide a lot of variety. 
Cost/Minimum Order: $11–$14/meal
Sample Meals:
Chipotle mashed black bean bowl with corn salsa
Hot honey sesame tofu stir fry
Keto tuna Cakes with pistachio crust, coleslaw and pesto sauce
Availability: DC metro area (plus Richmond and Coastal VA), New York City, Philadelphia, the San Francisco Bay Area, Southern California, Dallas-Fort Worth, Houston, and large part of the East Coast and NE Region.
Reviews:  "Honestly, if you're terrible at cooking (me) or just want healthy meals prepared fresh, check out Territory." —Kaila
Sign up for Territory Foods here.
27. ButcherBox
ButcherBox isn't really a meal delivery service; it's a butcher delivery service. Choose between a custom monthly delivery box or one that's curated for you. They offer pork, chicken, beef, and seafood. Classic boxes include 9–14 pounds of meat and big boxes contain 18–26 pounds of meat. Meat arrives frozen in temperature-controlled packaging, and shipping is free.
Cost/Minimum Order: $129-270/box 
Availability: Continental U.S.
Reviews: "I've had my subscription to ButcherBox for about a year now. The box saves me so much time at the supermarket. I love the fact that their chicken is organic. You are hard-pressed to find that quality elsewhere unless you shop at upscale grocery stores, and then you're paying double the price. When I've had to speak to customer service I've always found them to be helpful. I love that they have a range of options to choose from, from poultry to red meat to fish. For anyone with a really busy lifestyle like myself, this is a lifesaver." —Kristen
28. FoodFlo
This is a vegan meal delivery service for the hip Los Angeles set. Everything is gluten-free, alkalized, high-protein, and packed with copious amounts of vegetables. Meals are prepackaged and already cooked; they can be reheated in the oven or on the stovetop. Choose between a weekly delivery of 6–18+ meals called the "Reboot" or a short-term option to get four weeks of meal deliveries, called "Restore." 
Cost/Minimum Order: Reboot meal pack: $113/week or $119 for a one-time order
Restore four-week meal pack: $479 
Sample Meals:
Chilled zucchini & basil soup
Veggie pot pie
Lemon blueberry poppy seed bread
Availability: The majority of Los Angeles County and Orange County. Also ships overnight to metropolitan cities in CA, AZ and NV.
29. Very Good Butchers
Don't be fooled by the name—this is a vegan food delivery service. Like a butcher, though, they offer boxes of plant-based "meats." Choose from three boxes for delivery: A Big Box of Meat, the Charcuterie Pack, and A Very Good Pack, and a Very Good Family Barbecue Box. Boxes include items like veggie burgers, "ribz," pepperoni, taco filling, barbecued jackfruit, and a variety of sausages. They also have vegan cheeses available for sale on their site. 
Cost/Minimum Order: Boxes $50–$101
Availability: Canada, the United States and U.K.
More from Epicurious

Epicurious