Best Top-Freezer Refrigerators

Consumer Reports
3/15/2019
Best Top-Freezer Refrigerators From CR's Tests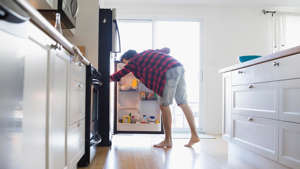 Consumer Reports has no financial relationship with advertisers on this site.
Consumer Reports has no financial relationship with advertisers on this site.
In Consumer Reports' most recent member survey, top-freezer refrigerator brands earned high predicted reliability ratings, often higher than the same brands' ratings for other fridge configurations. This style might not be trending—it accounts for just 12 percent of new refrigerators purchased by CR members—but if dependability is your priority, this is the place to start. 
"Top-freezers are more reliable because most of them lack the one component that seems to break most frequently—an icemaker," says Joe Pacella, CR's test engineer for refrigerators. And while top-freezers might not offer the latest and greatest features found on French-door and side-by-side refrigerators, they're also undeniably wallet-friendly. 
We outfit each refrigerator we test with thermocouples in a climate-controlled chamber and monitor it for a month, collecting more than 5.4 million temperature readings that identify warm and cold spots to determine which models will keep your food fresh longer. 
We also factor in survey data from tens of thousands of CR members to judge brand reliability and satisfaction. All of that data—and then some—informs CR's refrigerator ratings and each model's Overall Score.
CR members can read on for ratings and reviews of the five best top-freezer refrigerators from our tests, a list that includes models from Frigidaire, LG, and Samsung.
To see even more highly rated top-freezers, check out our full top-freezer refrigerator ratings of more than 50 current models.
Consumer Reports is an independent, nonprofit organization that works side by side with consumers to create a fairer, safer, and healthier world. CR does not endorse products or services, and does not accept advertising. Copyright © 2019, Consumer Reports, Inc.