Pea milk is coming to the UK, here's how it compares to other plant-based alternatives

Evening Standard
1/30/2019
A special message from MSN:

The UK's most vulnerable children and young people face unimaginable challenges. We've partnered with giving platform Benevity to raise funds for two charities - the NSPCC and The Children's Society – to try to help turn things around for them. You can help make a difference - please donate now.
As the popularity of veganism continues to rise, so too has the availability of plant-based alternatives to non-vegan favourites.
We have abundant vegan cheeses, fine vegan wines, you can now even find a "completely vegan" hotel suite in London. Naturally, the offering of dairy-free milk drinks has also vastly improved. There's almond milk, oat milk, coconut milk, rice milk, hemp milk and, of course, our old friend soya milk.
In fact, in 2017 UK plant-based milk sales were up almost a third since 2015 according to Mintel, as reported in Wired.
Now there's a new kid on the block. Whole Foods revealed in its UK food trend predictions for 2019, that it would be introducing the first pea milk product to the UK. The Mighty Society's pea milk will be appearing on the retailer's shelves as of next month.
So how does pea milk compare to other plant-based alternatives already on the market?
What they say

8g of protein per glass (8x more than almond milk)
40 per cent less sugar than cow's milk
Twice the calcium of cow's milk
Free from dairy, nuts and soy whilst being high in fibre and low in saturated fat
It takes 100x more water to farm almonds than peas and 25x more water to farm dairy
Before you picture a green juice-like liquid curdling your morning coffee, pea milk isn't actually green.
It's creamy in colour and is made from yellow split peas, which are naturally high in the amino acid lysine (a building block of protein) as well as iron.
We spoke to Dr Hazel Wallace, aka The Food Medic, for the launch of her Little Boosts collaboration with Boots in which she selected her top "wellness ingredients for 2019." The author, podcaster and medical doctor regularly shares recipes and nutritional advice with her followers, so we asked her how pea milk measures up to other dairy-free alternatives.
How to pick the right milk for you
"The claims are that it's high in protein, calcium and lower in fat than normal dairy milk, and compared to other plant-based milks, it is quite high in protein with around 8g per serving, but that's very similar to things like soy milk," Wallace told the Standard.
There's no right or wrong when it comes to choosing a milk to suit your lifestyle, "it's a judgement call," she says, pointing out that some products are more environmentally friendly than others. For example, almond milk, which is primarily grown in California where droughts are common, requires lots of water to produce. "So things like oat milk can be a good alternative [to the former], because it doesn't require all the water and energy to grow," she says.
But generally speaking, Wallace says she advises people to drink cow's milk unless there's a reason they can't.
"If you have no problem consuming dairy, i.e. you don't have any intolerances or ethical issues with it, then I would say drink cow's milk, because it's such an important source of protein, calcium and iodine, but I'm very aware that lots of people are going towards a plant-based diet for health and environmental reasons, which is absolutely a positive thing," she says.
The one thing you should always look for when picking a plant-based milk
According to Wallace, there's one thing you should always consider when choosing a plant-based milk.
"Plant milk doesn't offer us all of the nutrients that cow's milk does, so for people who are vegan or can't consume dairy because they're lactose intolerant, it's really important that we encourage them to check the labels for fortification," she says. "Plant-based milks are not required to be fortified, but they should be."
Fortification is the process in which vitamins and minerals are added to the base product. The Mighty Society's pea milk, for example, has been fortified with calcium, Vitamin D and B12, but this doesn't mean to say all pea milk products will be.
Homemade plant-based milks lack nutrients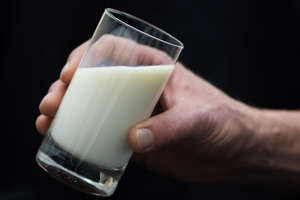 © Getty Milk This also means if you were to make almond milk at home, without fortifying it, you wouldn't actually be getting much goodness from it, she explains, "It would really just be a lot of water, minimal nutrients, and definitely not as much protein or calcium as what you'd find in cow's milk."
To highlight the importance of the role of fortification, Wallace points to the ongoing campaign from health experts for the mandatory fortification of flour with folic acid to prevent fetal abnormalities.
"Folic acid is really important for pregnant women especially in the first trimester to help develop the neural tube of the baby," she explains. "Most women get pregnant and don't realise that they don't naturally get this from their diet and what we're finding is that it's often too late to tell them to supplement their diet with it."
Choosing a plant-based alternative to cow's milk is highly personal, but while a dash of "pea milk" might sound a bit silly with your next Starbucks order, its high protein and calcium content, and the fact that it's nut free is bound to get a thumbs up from at least some of the plant-based crew.