3 Ways to Spiffy Up Hot Dogs into Family Dinners, Well Beyond the Cookout

Food52
10/25/2016
Sure, hot dogs are a quick-to-prepare crowd favorite, but can they be a nutritious and interesting family dinner, too? The answer is—thankfully!—yes.
Today, there's a wide variety of farm-raised, grass-fed, all-beef hot dogs that make for speedy, satisfying, and anything-but-boring meals.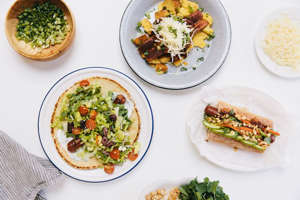 Left to right: gyro dog, cornbread chili dog, banh mi dog. Photo by
Elizabeth Cecil
So, let's plan a modern hot dog dinner, one perfect for a busy weeknight. First, visit your farmers market and pick out some locally-grown dogs. If you don't have luck finding a local source, see the list of quality national brands below.
Next, tell the kids it's hot dog night and pat yourself on the back when they actually jump up and down in excitement (rather than scowl) over the dinner plans. Pick a cooking method and topping combination from the suggestions below. Maybe you crisp the dogs on a griddle and slather them with leftover chili, or grill them and top with tangy Greek salad. Look to your leftovers and needy produce for hot dog topping and sauce inspiration.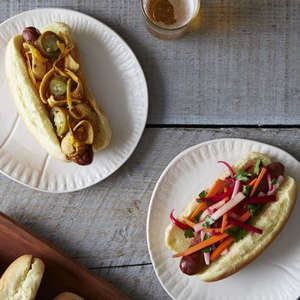 The Truth About Hot Dogs—Plus 2 Ways to Dress Them Up
by Cara Nicoletti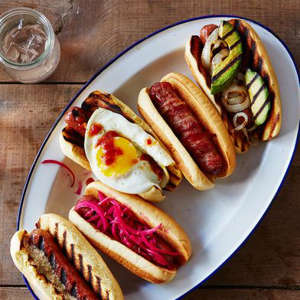 5 Ways to Hit Your Hot Dogs out of the Park
by Riddley Gemperlein-Schirm
Equipment & Cooking Options:
Sure, the outdoor grill makes a delicious dog, but there are many other pieces cooking options to consider when preparing a hot dog dinner at home.
Flat Top Griddle: If you want to maximize caramelization and crispiness, break out the pancake griddle for hot dog night. Slice the dogs lengthwise, being careful not to cut all the way through, and place skin side up. Griddle until crisp, then flip and crisp up some more.
Panini Press: A college favorite, the simple panini press can heat up a number of dogs quickly, with grill marks and all.
Sandwich Weight + Cast-Iron Skillet: For a crisp-skinned hot dog, simply weigh them down as they cook, rotating often to create evenly crisped skin. Experiment with scoring the skin for even more surface area to crisp.
Grill Pan: A simple way to bring the classic grilled hotdog to the table anytime of the year.
Steam: For a tender, fluffy hot dog, fill a medium saucepan halfway with water and place a steamer basket on top. Place hot dogs in the basket, cover with a lid, and bring to a boil. Steam for 10 minutes.
Boil: For a plump and juicy hot dog, bring a medium pot of water to a boil, drop them in, and cook for 6 minutes. The hot dogs are precooked, so you are just warming them up. Be mindful to remove the dogs after 6 minutes or the casings could split.
Topping Ideas: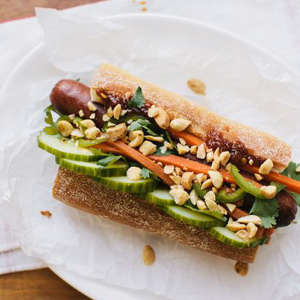 Banh Mi Hot Dogs
by Sarah Waldman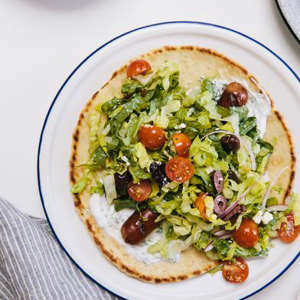 Greek Gyro Dogs
by Sarah Waldman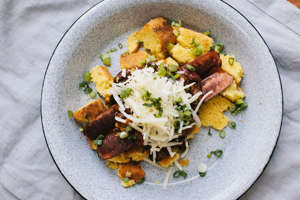 Chili Cornbread Dogs by Sarah Waldman
Selecting Your Hot Dogs:
Not all hot dogs are created equal. Although the packaging may look similar, it is worth reading the fine print when selecting a dinner dog. The quality comes down to the meat, the processing, and added ingredients. Seek out hot dogs that are...
Uncured or "no added nitrates." Cured hot dogs have been treated with nitrates and nitrites (additives to help extend shelf life), which have been linked to cancer and other health problems.

All-beef dogs. Per USDA guidelines, hot dogs that list "by-products" or "variety meats" on their ingredient labels need only contain 15% muscle meat to be called hot dogs. You want an all-beef dog made of quality meat for optimum flavor and nutrition.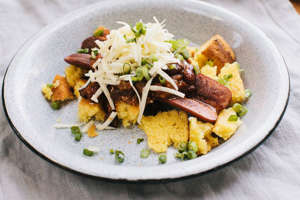 Behold! The cornbread chili dog. Photo by
Elizabeth Cecil
High-Quality Hot Dog Makers:
There is an impressive variety of small batch, grass-fed hot dogs on the market. If you don't have luck at your local farmers market, these products can be ordered online or found at national and regional markets.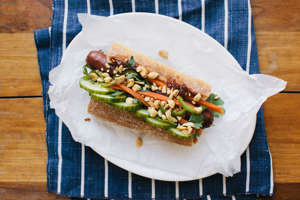 The banh mi dog, in all its glory. Photo by
Elizabeth Cecil
Get the recipes!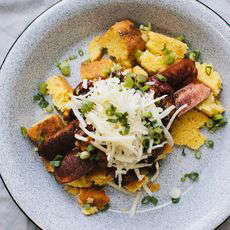 Chili Cornbread Dogs
4 hot dogs
2 cups chili (see headnotes for our favorites)
4 large slices cornbread (see headnote for our favorite)
Toppings: sour cream, shredded cheese, sliced scallion, minced onion, cilantro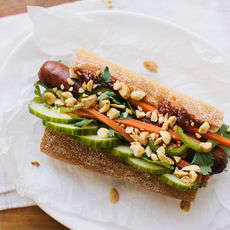 Banh Mi Hot Dogs
4 hot dogs
4 tablespoons mayonnaise or butter
2 tablespoons chili sauce
1/2 cucumber, sliced thin
1 cup cilantro leaves, roughly chopped
1 cup pickled carrots, sliced or roughly chopped
1 jalapeño pepper, sliced thin
1/2 cup roasted and salted peanuts, roughly chopped
1 baguette, cut into quarters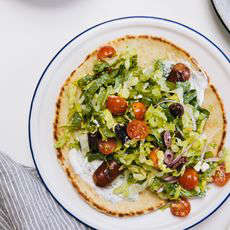 Greek Gyro Dogs
For the dressing and yogurt sauce:
3 tablespoons pepperoncini juice
1 tablespoon red wine vinegar
4 tablespoons extra-virgin olive oil
Big pinch salt
Few grinds black pepper
Big pinch dried oregano
1 cup plain Greek yogurt
2 tablespoons dill, chopped
1 lemon, juiced
1 clove garlic, minced
Big pinch salt
Few grinds black pepper
For the gyro dogs:
4 hot dogs
2 cups shredded romaine lettuce
1 cup chopped tomatoes
1/4 cup chopped tomatoes
1/4 cup chopped white or red onion
1 cup cucumber, chopped or sliced into matchsticks
1 cup feta cheese
1/2 cup pepperoncini
1 cup kalamata olives
Dressing (from above)
4 pita or flatbreads
Yogurt sauce (from above)
1 lemon, sliced into wedges, for serving
What's your favorite way to fancy up a hot dog? Tell us in the comments below!