Air-Fryer Doughnuts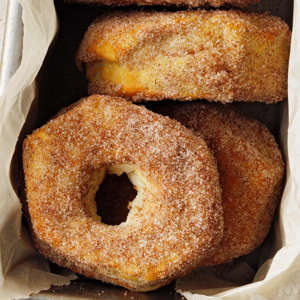 My sons and I love doughnuts, but in the Florida heat I rarely want to deep-fry them. I tried making this easy air-fryer doughnut recipe, and it turned out so well—with no mess! —Christine Hair, Odessa, Florida
Total Time
Prep/Total Time: 25 min.
Makes
8 doughnuts + 8 doughnut holes
Ingredients
1 tube (16.3 ounces) large refrigerated buttermilk biscuits (8 count)
3/4 cup sugar
2 teaspoons ground cinnamon
1/4 cup butter, melted
1 teaspoon vanilla extract
View Recipe
Directions
Preheat air fryer to 375°. Separate biscuits. Cut out centers using a 1-inch cutter; save centers. In batches, place doughnuts in a single layer on greased tray air-fryer basket. Cook until golden brown and puffed, about 5 minutes, turning once. In batches, cook doughnut holes until golden brown, 3-4 minutes.

Meanwhile, in a shallow dish, combine sugar and cinnamon. In a separate bowl, mix melted butter and vanilla. Brush doughnuts and doughnut holes with butter; toss in sugar mixture. Serve warm.
Air-Fryer Doughnuts Tips
What are some variations of these air-fryer doughnuts?
Put together a simple
confectioners' sugar glaze
to drizzle or spread over your doughnuts once they're cooled. Sprinkles are always a good idea. Make the doughnuts even more fun by adding candies (gummy bears are a favorite) or nuts on top, too.
How do you store air-fryer doughnuts?
You can keep the doughnuts in airtight containers at room temperature for 1-2 days, but not longer than that. These are best enjoyed fresh, like many other air-fryer desserts.
How do you serve air-fryer doughnuts?
Serve your air-fryer doughnuts with any brunch spread, or keep it simple with a satisfying cup of coffee (or one of these indulgent
copycat coffee shop drinks
). Blend up a
smoothie
to add some fruit to this sweet breakfast.
Air Fryer Cook Times
In our testing, we find cook times vary dramatically among brands of air fryers. As a result, we give wider than normal ranges on suggested cook times. Begin checking at the first time listed and adjust as needed.
Nutrition Facts
1 doughnut and 1 doughnut hole: 280 calories, 15g fat (8g saturated fat), 23mg cholesterol, 684mg sodium, 33g carbohydrate (11g sugars, 1g fiber), 4g protein.