Celebrate Summer Fruit With This Peach and Cherry Shortcake Board

Delish
8/16/2022
Strawberry shortcake is cool and all, but we've all done that dozens of times. Make the most of late-summer fruit with this peach and cherry shortcake. Serving everything on a large cutting board or platter makes this perfect easy dessert to share with a crowd. The best part is that you can tailor it to your favorite fruit all year round and get a unique and delicious result each time. Try these combos to get you started:
—Pineapple + mango + passion fruit juice
—Pomegranate + grapefruit + honey
—Pear + apple + apple cider
To get the absolute best biscuits, keeping the ingredients cold is key. Toss a stick of butter in the freezer for a few hours before you make the biscuits to ensure that it stays nice and cold while you fold and shape the biscuit dough. Grating the butter on the large holes of a box grater will make small, even pockets of butter in the dough. The butter pockets will steam from the heat of the oven and help your biscuits rise to their full potential. If you don't have self-rising flour, substitute with 2 1/2 cups all-purpose flour, 1 tablespoon plus 3/4 teaspoon baking powder, and 1/2 teaspoon kosher salt.
The biscuits are best eaten the same day they're baked, but the fruit and whipped mascarpone cream can be made up to 3 days in advance. The fruit will get even better as it sits and soaks up the lime juice and sugar.
For more ways to use up your favorite stone fruits, check out more of our favorite peach and cherry summer desserts.
Yields: 8 servings
Prep Time: 20 mins
Total Time: 40 mins
Ingredients
Sweet Biscuits
2 1/2 c.

(283 g.) self-rising flour, plus more for surface

1 tbsp.

granulated sugar

7 tbsp.

frozen butter, plus 1 tbsp. melted butter

1 c.

buttermilk

1/2 tsp.

turbinado sugar
Board and Assembly
1

large yellow peach, chopped

1 c.

cherries, pitted, halved

2 tbsp.

fresh lime juice

1 tbsp.

turbinado sugar

1/2 tsp.

chopped mint, plus more for serving

4 oz.

cold mascarpone cheese

1 tbsp.

granulated sugar

1/2 c.

cold heavy cream

1/3 c.

toasted, slivered almonds
Directions
Sweet Biscuits
Preheat oven to 425°F and line a baking sheet with parchment paper. In a large bowl, whisk flour and granulated sugar. Grate frozen butter into flour mixture and toss gently with a fork to combine.
Make a well in the center of flour mixture and pour in buttermilk. Mix until just beginning to come together, then turn out dough onto a lightly floured work surface. Working quickly so butter doesn't melt, using a bench scraper, form dough to a rectangle 3/4" thick, about 10"-by-7". Arrange so shorter end is facing you. Fold bottom third up and top third down into the center, like folding a letter. Using a rolling pin, gently pat dough to a 3/4"-thick rectangle. Repeat folding process 2 more times, then roll to a (3/4"-thick) 10"-by-7" rectangle.
Using bench scraper, cut dough into 8 squares and arrange on prepared sheet, spacing about 1/2" apart. Brush tops of squares with melted butter, then sprinkle with turbinado sugar. Bake until golden brown, 15 to 17 minutes.
Board and Assembly
In a medium bowl, toss peaches, cherries, lime juice, turbinado sugar, and mint to combine.
In another medium bowl, using an electric mixer on medium speed, beat mascarpone and granulated sugar until combined. With the mixer running, slowly stream in cream and beat until light and fluffy, 3 to 5 minutes.
Arrange bowls of whipped mascarpone cream, fruit mixture, and almonds on a board or platter. Serve with biscuits alongside. Top fruit with mint.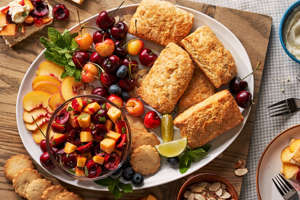 More from Delish

Delish