Easy Friendship Casserole! Eat One Freeze One!

Cook Eat Go
6 days ago
Friendship Casserole is a huge hit in my house! The kids have loved it every time we have made it!! The second time I did up two larger casserole dishes instead of these three smaller casserole pans pictured and we froze one and cooked one!!!
 (I have included affiliate links to products I love. As an Amazon Associate, I earn from qualifying purchases.) In addition, this post contains affiliate links that will make me a small commission when used to order online. 
Kylie is obsessed with any pasta dish so this is one of our busy weeknight go-to recipes! Plus this is a super cheap dinner, since it makes two casseroles I always have dinner in the freezer to pull out if we didn't take one somewhere.  We first made this back in 2013 and it still gets made often!
 FRIENDSHIP CASSEROLE INGREDIENTS:
HOW TO MAKE FRIENDSHIP CASSEROLE:
Preheat your oven to 350 degrees.
In a frying pan start to brown your ground beef, or pull out frozen cooked ground beef. (see my post on tips for this -> here)
Start a pot of water to boil and start to cook the egg noodles. 
Strain the ground meat and egg noodles when they are done.  
Place the browned hamburger back into the frying pan and allow the meat to simmer with the pasta sauce and seasonings.  
When your noodles are strained place them back into the pot and mix with butter and the parmesan cheese until the butter has melted. 
Spray your casserole pans with a nonstick spray.
Spread half the sauce mixture over the bottom of both pans, so 1/4 of the sauce is covering the bottom of each of the pans.  I prefer to use pryex casserole pans they clean so much easier. Plus they are perfect for freezing your casseroles in as well for eating later on or passing on to another family.
Divide buttered egg noodles over the sauce mixture of both pans.
Spread the remaining sauce over the noodles in both pans.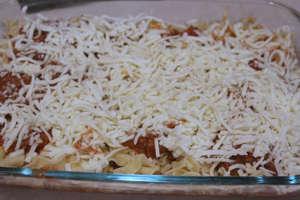 Top both of the pans with mozzarella cheese, if freezing skip topping with cheese
If cooking right away covers the pan with foil and place it in the oven to bake for 10 minutes. 
If freezing is sure to allow the casserole to be fully thawed for baking and top it with cheese.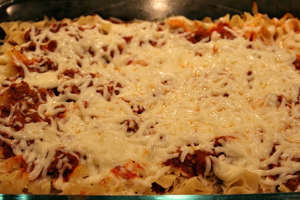 WHAT TO SERVE WITH FRIENDSHIP CASSEROLE: 
Be sure to follow Cook Eat Go on MSN, Facebook, Instagram, and Pinterest, for all of our recipe posts. You can also grab her free e-book and get her emails -> here.
Cook Eat Go

Cook Eat Go