Iva's Peach Cobbler

Taste of Home
8/30/2022
My mother received this peach cobbler recipe from a friend of hers many years ago, and fortunately she shared it with me. Boise is situated right between two large fruit-producing areas in our state, so peaches are plentiful in the summer. —Ruby Ewart, Boise, Idaho
Total Time
Prep: 15 min. Bake: 45 min.
Ingredients
6 to 8 large ripe peaches, peeled and sliced
2-1/2 tablespoons cornstarch
3/4 to 1 cup sugar
CRUST:
1 cup all-purpose flour
1 cup sugar
1 teaspoon baking powder
2 large egg yolks. room temperature
1/4 cup butter, melted
2 large egg whites, room temperature, stiffly beaten
Vanilla ice cream, optional
View Recipe
Directions
Preheat oven to 375°. Combine peaches, cornstarch and sugar; place in a greased 13x9-in. baking dish. For crust, in a bowl, whisk together flour, sugar and baking powder. Stir in egg yolks and butter. Gently fold in egg whites. Spread over peaches. Bake until the fruit is bubbling around edges and top is golden, about 45 minutes. If desired, serve with ice cream.
Peach Cobbler Tips
What kinds of peaches can you use to make peach cobbler?
Now, we all know there are lots of apple options out there, but there are also many
types of peaches
. For baking, stick to yellow peaches (the kind you're most likely to find at the supermarket), Babcock peaches, snow peaches or Belle of Georgia peaches. White and donut peaches don't work quite as well. If you can't find peaches at the store, you can substitute another
stone fruit
like nectarines or plums.
Do you have to use peeled peaches when making peach cobbler?
If you're looking to save time or don't mind a little fuzz, you don't have to peel the peaches when making peach cobbler. The skins will soften up during baking. However, if you have the time, our Test Kitchen does recommend peeling. It'll make for a better dessert experience. Plus, once you learn our method for
how to peel peaches
, the process will be very easy.
Can you make peach cobbler with canned peaches?
You sure can make cobbler with canned peaches! Drain the peaches of any syrup and use the same amount called for in the recipe. The end result will be softer, but this method will work in a pinch. And don't sleep on
frozen peaches
! These frozen fruits will also work. You don't even need to defrost them before stirring the mixture together.
Can you make peach cobbler ahead of time?
Cobbler is one of those desserts (like
crisps and crumbles
) that's really best served warm from the oven. For best results, serve the peach cobbler the day you bake it.
How should you store peach cobbler?
Because peach cobbler is better the sooner you eat it, we don't recommend keeping it for long. To store, cover and refrigerate for up to 2 days.
—Lisa Kaminski, Taste of Home Editor
Nutrition Facts
1/2 cup: 224 calories, 5g fat (3g saturated fat), 46mg cholesterol, 83mg sodium, 44g carbohydrate (33g sugars, 1g fiber), 3g protein.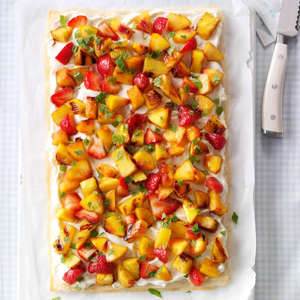 MORE FROM TASTE OF HOME

Taste of Home