Mamaw Emily's Strawberry Cake

Taste of Home
8/25/2022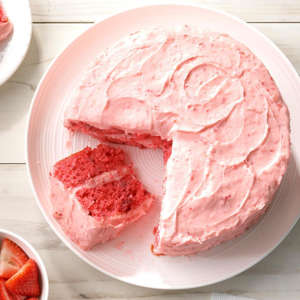 My husband loved his mamaw's strawberry cake recipe. He thought no one could duplicate it. I made it, and it's just as scrumptious as he remembers. —Jennifer Bruce, Manitou, Kentucky
Total Time
Prep: 15 min. Bake: 25 min. + cooling
Ingredients
1 package white cake mix (regular size)
1 package (3 ounces) strawberry gelatin
3 tablespoons sugar
3 tablespoons all-purpose flour
1 cup water
1/2 cup canola oil
2 large eggs, room temperature
1 cup finely chopped strawberries
FROSTING:
1/2 cup butter, softened
1/2 cup crushed strawberries
4-1/2 to 5 cups confectioners' sugar
View Recipe
Directions
Preheat oven to 350°. Line the bottoms of 2 greased 8-in. round baking pans with parchment; grease parchment.

In a large bowl, combine cake mix, gelatin, sugar and flour. Add water, oil and eggs; beat on low speed 30 seconds. Beat on medium 2 minutes. Fold in chopped strawberries. Transfer to prepared pans.

Bake until a toothpick inserted in center comes out clean, 25-30 minutes. Cool in pans 10 minutes before removing to wire racks; remove paper. Cool completely.

For frosting, in a small bowl, beat butter until creamy. Beat in crushed strawberries. Gradually beat in enough confectioners' sugar to reach desired consistency. Spread frosting between layers and over top and sides of cake.
Strawberry Cake Tips
How do I make a cake more moist?
First, make sure you're following baking best practices! Don't overbake, measure ingredients carefully, and if the recipe calls for butter, make sure you're using the real stuff instead of margarine or a butter substitute. Then, try some of these tricks for upping the moisture:
If you're making a box cake, a small amount of mayo (1/4 to 1/2 cup) added to the batter will make your cake more tender and moist without interfering with the chemistry. And you won't taste the mayo, we promise!
Try mixing flours. If the recipe calls for all-purpose flour, try replacing half of it with cake flour for a more tender crumb. Or, replacing 25% of the all-purpose flour with almond flour or coconut flour—the higher fat content adds moisture.
Brush baked layers with liqueur or a simple syrup. Let the liquid soak in before adding frosting; if you use this trick, it's more vital than ever to use a crumb coat.
Can I put fresh fruit in a cake mix?
Yes, but you do need to be careful to avoid adding too much liquid to the batter. Cut the fruit into small pieces, and pat it dry with a paper towel. Toss the fruit with a little bit of flour before folding it gently into the batter. The flour coating will keep the fruit from leaking into the cake and help prevent the fruit from sinking to the bottom of the pan. You can add pureed fruit to a cake mix; a mix is much more tolerant of that kind of fiddling than a scratch cake.
Can I add fresh fruit to my cake frosting?
Pureed fruit makes a great addition to
classic buttercream frosting
; just increase the amount of powdered sugar and reduce the amount of milk as needed to keep a spreadable consistency.
What can I do with strawberries that are getting old?
If you're eating berries straight in a bowl, the fresher the better! But if your berries are overripe, they're still great for baking and using in
strawberry recipes
.
Research contributed by Hazel Wheaton, Taste of Home Book Editor
Nutrition Facts
1 piece: 532 calories, 21g fat (7g saturated fat), 51mg cholesterol, 340mg sodium, 85g carbohydrate (69g sugars, 1g fiber), 4g protein.
MORE FROM TASTE OF HOME

Taste of Home