The Best Air Fryer You Can Buy on Black Friday Is Actually a Toaster Oven

By Nicole Papantoniou, Good Housekeeping Institute
of Good Housekeeping
|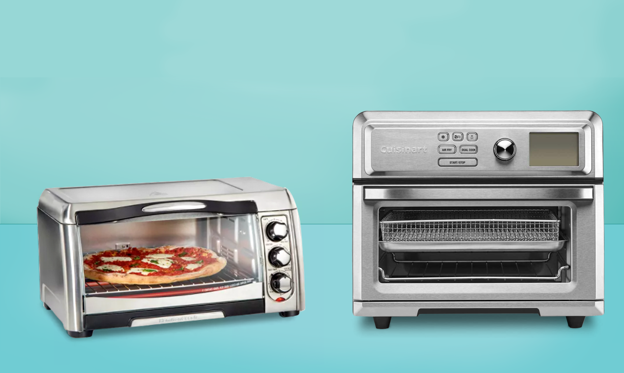 This article was updated in October 2021 to update winners and replace any sold out or discontinued picks, including our previous Best Value pick. We also added new-comers including the Ninja Foodie Smart XL Air Fry Oven, Power XL Air Fryer Grill, June Premium Oven and the Instant Pot Omni Plus Air Fryer Toaster Oven. Our picks are still based on most recent tests led by Nicole Papantoniou, deputy director of the Good Housekeeping Institute Kitchen Appliances Lab.
Air fryer toaster ovens are truly multifunctional, combining the best of air fryers and toaster ovens; most can typically bake, roast and broil in addition to air frying to make food super crispy with less oil than traditional frying methods. These do-it-all appliances offer a large cooking space on one or more racks for air frying in a single layer (great for proteins), and some even come with rotisserie attachment for whole chickens and other roasts. That means fresh-made chicken wings in about 20 minutes and crispy, air-fried doughnuts in less than ten.
Air fryers and convection ovens both cook food faster than traditional ovens by relying on a fan to circulate hot air, but the main difference between the two is that air fryers make food crispier and work even quicker than convection ovens, thanks to the placement and size of their fans. Though marketed as air fryers, not all air fryer toaster ovens are equipped with the same high-heating elements and large fan needed to circulate hot air quickly and efficiently — and they're not all created equally.
In the Good Housekeeping Institute Kitchen Appliances Lab, we tested 15 different air fryer toaster ovens for their ability to air fry, bake, broil, and, of course, toast. That means we air fried more than 15 pounds of wings and frozen fries to see how well they crisped up, as well as how quickly and evenly. In each one, we baked a cake, roasted a chicken, broiled a steak, and toasted more than 180 slices in total to make sure each model could live up to all of your toaster oven needs.
Here are the best air fryer toaster ovens you can buy in 2021, including picks from testing and brands we trust:
© amazon, target