The Lemony, Capery, One-Pan Fish We Can't Stop Eating

Food52
5/8/2018
As a child of the Gulf South, I grew up thinking everyone loved seafood. From juicy shrimp and salty oysters to buttery catfish and tender crab, my mom and dad were pros at preparing anything that once lived under the sea. It wasn't until later in life that I learned fish dishes could be considered bland, smelly, or fussy. That—gasp!—not everyone loves seafood.
Maybe it's naive, but I still think it's possible to win over the haters—they just need the right recipe.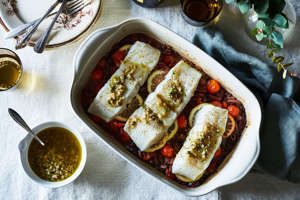 This salty, bright fish bake from Jodi Moreno's newest cookbook More with Less: Whole Food Cooking Made Irresistibly Simple checks off all the boxes. It's hands-off, with minimal cutting and just 45 minutes in the oven. It's a multitasker, cooking not just fish but also a side of lentils (all in the same pan!). It's a crowd-pleaser, either for a party of six or tomorrow's lunch. And it's flexible, adapting to whatever fish you have on hand.
But most importantly, it's flavorful. Tender roasted tomatoes melt into a warm, olivey lemon brine that keeps the fish succulent. Al dente lentils give the dish heft, while a salty lemon-caper vinaigrette zips up the volume. It's the kind of dinner that will have you looking for bread to mop up all the sauce.
Maybe you're the type of person who's on the fence: Sure, you might order shrimp or flounder at a restaurant, but no way are you going to cook it at home. But that fence can't be comfortable! Jump down on the seafood side, make this dish, and soon you'll be spreading the gospel of fish dinners, too.
For the cod bake:
1/2

cup black lentils

1

pint cherry tomatoes, halved

1/2

cup kalamata olives, halved

3

scallions, white and light green parts only, thinly sliced

1

lemon, thinly sliced

1 1/2

cups vegetable broth or water

4 to 6

six-ounce cod fillets (or other thick white fish), skin removed

Sea salt and freshly ground black pepper, to taste

1/2

cup lemon-caper vinaigrette (below), for serving
For the lemon-caper vinaigrette:
1

tablespoon rinsed capers, minced

1

tablespoon minced shallots

1

garlic clove, minced

1/2

teaspoon Dijon mustard

1/2

teaspoon whole-grain mustard

1

lemon, juiced (about 2 tablespoons)

1

tablespoon chopped parsley

Sea salt and freshly ground black pepper, to taste

1/4

cup extra-virgin olive oil
Related gallery: 7 Genius Recipes for Cooking the Finest Chicken of your Life