This Sweet And Spicy Mulligatawny Soup Will Be Your New Vegetarian Go-To

Delish
1/28/2022
With roots in India, Sri Lanka, Pakistan, and England, there are endless iterations of Mulligatawny soup, a brightly colored blended lentil soup with the perfect balance of spicy, creamy and sour with a hint of sweetness. Some are unblended or contain rice, chicken, coconut milk, tomato, bell pepper or even sweet potato. Most of these additional ingredients caught on as the dish spread to England, but the most crucial elements of Mulligatawny (which is derived from the Tamil for "pepper water") are a blend of south Indian spices, creamy lentils, and a subtle sour punch from Granny Smith apples and lemon (or tamarind if you have it!)
Variations
This protein-packed version is completely vegetarian and can easily be made vegan by swapping the butter for canola oil and the Greek yogurt for your favorite soy or nut-based plain yogurt. Add an extra squeeze of lemon juice to mimic the sourness of Greek yogurt. For a heartier version, start the soup by cooking 4 bone-in skin on chicken thighs with a tablespoon of olive oil, patted dry and seasoned with salt and pepper, skin down in the Dutch oven over medium-high heat. Cook until the skin is a deep golden brown and the thighs are cooked, about 7-9 minutes per side. Pour off the excess oil and continue the soup from step 1 below. While the soup simmers, discard the skin (or snack on it) and chop the chicken meat. Return to the pot just before adding the yogurt mix, stirring to heat through. You can also swap the veggie stock for homemade or store-bought
Cook it quicker
Since this soup is almost completely blended, it may seem counterintuitive to really work your knife skills into getting perfect, pretty chopped veggies. While they don't need to be award winning, cutting the onions, carrot and celery into small, uniform pieces will help the soup base cook evenly and quickly. Making sure you've got the right knife for you and the job will help!
As always, you should prep your mise en place (all that chopping and measuring) before getting started. To crank through this recipe even quicker and save a few dishes, combine the following ingredients:
- chopped onions, carrot, celery, and chiles
- chopped ginger and garlic
- curry powder, cumin, coriander, turmeric and cayenne pepper
- Greek yogurt and lemon
Make Ahead
Cool this soup completely before storing. (Pro tip: To cool soup faster, pour into a large container and set the container into a baking dish filled with ice water, stirring often until soup has cooled.) Once soup is no longer warm, cover with an airtight lid and store in the refrigerator for up to 5 days. This soup can also be frozen for up to 6 months.
Made this? Let us know how it went in the comments below.
Yields: 8-10 servings
Prep Time: 20 mins
Total Time: 1 hour 20 mins
Ingredients
3 tbsp.

unsalted butter

2

medium onions, finely chopped

1

large carrot, finely chopped

1

celery stalk, finely chopped

1

red serrano, finely chopped

Kosher salt

1/4 tsp.

freshly ground black pepper

4

cloves garlic

1 tbsp.

fresh ginger, minced

1 tbsp.

curry powder

1 tsp.

ground cumin

1 tsp.

ground coriander

1 tsp.

turmeric

1/4 tsp.

cayenne pepper

1

Granny Smith apple, peeled, cored, and finely chopped

1 1/2 c.

split red lentils

6 c.

low-sodium vegetable stock

2

bay leaves

1

(14.5-oz.) can chickpeas, drained and rinsed

1/2 c.

plain, full-fat Greek yogurt, plus extra for garnish

Juice from half a lemon

Lemon wedges, for garnish

Freshly chopped cilantro, for garnish

Cooked rice, for serving

Naan, for serving
Directions
In a large Dutch oven over medium-high heat, melt butter until it stops foaming, Add onions, carrot, celery, and red chile, and season with ½ tsp of salt and ¼ teaspoon pepper. Cook for about 6 to 7 minutes, or until onions are translucent and the vegetables are starting to brown lightly on the edges.
Add garlic and ginger and cook, stirring constantly, for 1 minute. Stir in spices and ½ teaspoon salt and cook for another 30 seconds. Reduce heat to medium and stir in apple until completely coated.
Rinse lentils in a fine mesh strainer and shake off excess water. Stir in lentils, vegetable stock, and bay leaves. Increase heat to medium high and bring to a boil, then reduce to a simmer and cook, covered, for 30 minutes.
Discard bay leaves. Using an immersion blender (or transfer to a regular blender in batches), blend until smooth. (It should be smooth but not like baby food; a few bits of texture are okay.)
Add chickpeas and 2 ½ tsp of salt, and simmer, covered, for 15 minutes or until chickpeas are heated through and completely tender.
Meanwhile, combine yogurt and lemon juice in a small bowl.
When chickpeas are done simmering, stir in yogurt mixture until no more streaks of white remain.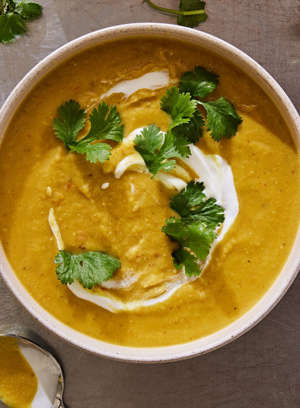 More from Delish

Delish