Michelin inspectors give Washington DC its first three-star restaurant

Relaxnews (AFP)
9/14/2018
Washington DC has been awarded its first triple Michelin-starred restaurant. 
After two years of being deemed unworthy of the ultimate dining experience, the city unlocked a three-star rating with the promotion of The Inn at Little Washington in the latest guide for 2019.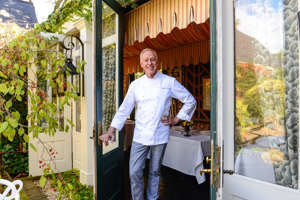 © Dixie D. Vereen/For The Washington Post via Getty Images VIENNA, VA - SEPTEMBER 20: Chef/Owner Patrick OConnell at The Inn At Little Washington. (Photo by Dixie D. Vereen/For The Washington Post via Getty Images)
Helmed by self-taught chef Patrick O'Connell, who has been described as the "Pope of American cuisine," the restaurant menu features dishes like grilled squab with seared foie gras, sour cherries and caramelized endives or roasted veal tenderloin with Taleggio cheese, cracked pepper ravioli and tomato cream. 
The Michelin designation also coincides with the restaurant's 40th anniversary this year. What began as a gas station and garage was converted into a luxury inn (and Relais & Chateaux member) and fine dining destination. 
Three Michelin stars denote an exceptional restaurant worth the journey. 
Other new designations this year also include Bresca and Siren by RW, which both unlocked their first Michelin star, bringing the one-star club to 13. 
Restaurants minibar and Pineapple and Pearls maintained their two-star ratings. 
The Michelin guide Washington DC hits shelves September 17.