5 Romaine Lettuce Health Benefits That Will Surprise You

Medical Daily
8/20/2019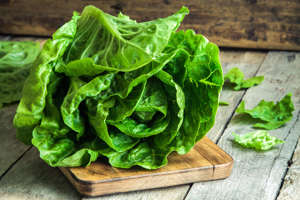 © wmaster890/Getty Images Romaine lettuce may be present in the salads you eat, and yet you completely ignore why it's there. Unbeknownst to you and many salad eaters out there, this variety of lettuce actually offers the body a variety of health benefits.
A member of the Longifolia/Asteraceae plant family, romaine lettuce or Lactuca sativa or "cos lettuce" is a type of lettuce available in certain parts of the world. Its signature firm ribs and sturdy leaves give it a crisp texture. Its mild taste is also one of the reasons why it's used in various salad dishes.
Romaine lettuce may not be classified as a superfood, but it does offer a number of nutrients that will benefit the body, according to Dr. Axe. It is also a good source of vitamins like vitamin A and vitamin C that are important in certain bodily processes.
Check out five of the most surprising health benefits romaine lettuce offers the human body.
Prevents Vision Problems
The vitamin A, vitamin C, and carotenoids present in romaine lettuce help protect the eyes from certain disorders. Its zeaxanthin content also comes in handy against certain eyesight disorders.
There have been studies that proved the efficiency of vitamin A in preventing macular degeneration. Deficiencies in the vitamins and antioxidants present in this variety of lettuce are also found to lead to the development of glaucoma, cataracts, and other eyesight problems.
Protects Bones
Green leafy vegetables like romaine lettuce are an excellent source of vitamin K, which helps build bones. Vitamin K2 is also known to improve bone density and prevent diseases like osteoporosis.
Prevents Signs of Aging
As mentioned earlier, romaine lettuce contains vitamin A and vitamin C. Alongside these, the vegetable also has potassium and B vitamins. All of which promote skin health and protect against signs of aging.
Vitamin C plays a big part in this health benefit since it is the one that helps in building collagen, the structural protein that is needed in creating firm and healthy skin. It also gives the skin its elasticity.
Fights Cancer
Believe it or not, romaine lettuce is also one of those veggies capable of fighting off cancer cells. Certain studies have shown that the pigment chlorophyll in leafy greens like romaine lettuce actually reduces the risk of developing liver and colon cancer.
Promotes Weight Loss
As a key ingredient of salads, it's not surprising that romaine lettuce is being marketed as a healthy ingredient of weight loss diets. The reason for this has to do with the fact that this lettuce variety contains very minimal carbs and extremely low calories. It's also quite filling, so you feel full faster when you eat it.
Gallery: 15 easy ways to transition to a more plant-based diet (Eat This, Not That!)