How Kori lost more than 30 lbs. after the birth of her 3rd child

PopSugar
2/27/2018
After Kori gave birth to her third child, she felt like she was ready to change up her diet and get her body back. While some people may follow a strict diet in order to lose weight, Kori didn't follow any diet whatsoever. All she did was cut back on certain foods (which you'll read more about below) and start working out more regularly. She's lost over 30 pounds already, and she feels better than ever!
POPSUGAR: When did you start your weight-loss journey? What made you decide to?
Kori Burland: I started my weight-loss journey at Shred415 in January of 2017 after a long break during the pregnancy of my third child. He was 3 months old, and I was ready to feel good, be healthy, and get a version of my old body back.
PS: What was your starting weight?
KB: My starting weight was 157 pounds.
PS: How much weight have you lost so far?
KB: I have lost 34 pounds, and it took me about eight months to lose it.
PS: How did you do it? Did you follow a specific diet?
KB: I didn't follow a specific diet but started making more conscious and healthy choices. I began by minimizing unhealthy snacks and processed foods.
PS: Did you do a specific workout type or schedule?
KB: I take classes at Shred415, which is a 60-minute interval training class switching between treadmill and strength training. When I first started my fitness journey, I would go to Shred415 two to three times a week. Now I go to Shred415 three to four times a week, as well as attend Pilates and yoga classes whenever possible. I started at Shred415 in January with an ending treadmill warmup pace of 5.8 mph and told myself to increase my starting speed by 0.1 mph after one or two weeks. Setting small goals like that for myself helps keep me motivated.
PS: What are some nonscale victories you've experienced?
KB: It's fun shopping for clothes and getting dressed again. I also feel like an athlete, which is a great victory for me, and I'm able to run much faster than when I started.
PS: How do you stay motivated?
KB: The instructors at Shred415 are the best at what they do. I hear them in my head all the time when I'm running and working out: "You are stronger than you think you are" and "You never know what you can do until you try!" I also make sure to remind myself often that I'm the only person who can do this for myself. Throughout this journey, my sister has been a huge motivator for me; we help each other stay committed to working out. The whole Shred415 community is extremely supportive!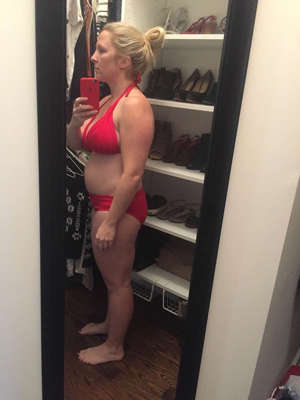 Kori: Before PS: What does a typical day of eating look like for you?
KB: I usually wake up and have something small, like half of a banana or half of an RXBAR. After attending my Shred415 class, I enjoy a Daily Harvest smoothie made with a plant-based protein powder. For lunch, my routine varies. I either eat vegetables or something fast, like rolled-up deli turkey. In the afternoon, I usually have a snack of beef jerky or popcorn. For dinner, I usually eat a lean protein, berries, and a vegetable, but truthfully, I am working on this area. With three kids five years old and under, it can be difficult to cook a meal for the whole family. I just started working with a nutritionist to find easy, healthy, fast meals that everyone will like.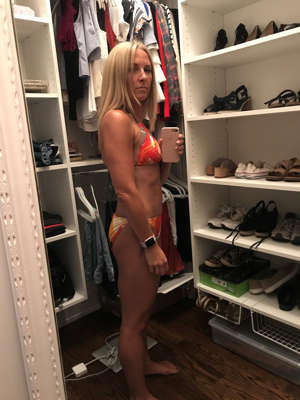 Kori: After PS: Any advice or tips for people on their own journey?
KB: I think my advice is just to start. Find something you enjoy doing and that has a good community and try it. When I took my "before" picture last January, I was embarrassed. I understood I had three kids, one of whom was a little baby, but still you see so many pictures on social media of moms who have a baby and are able to rock a bikini by three months postpartum. However, that wasn't me, and I didn't feel good about myself. I found myself motivated to make a change, so I jumped right in. I'm so lucky I had Shred415 to guide me through. I know that as long as I can get myself to the class and follow what the instructor says, I will feel amazing when I leave - and I do!
PS: Anything else you want to share?
KB: I want everyone to know that the reason I am sharing my story is to give someone else the confidence that they can make this change as well.
Slideshow: More than 50 tips to help you lose weight (Courtesy: PopSugar)