Do You Need a Testosterone Booster?
Consumer Reports
6/15/2018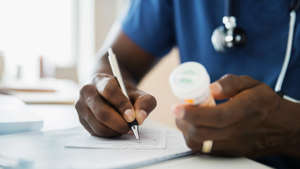 Consumer Reports has no financial relationship with advertisers on this site.
If you're a man of a certain age, you've probably noticed all the ads for supplemental testosterone, hinting that taking the male hormone could cure all that ails you, from waning sexual performance to dwindling muscle mass and strength.
And the ads have been working: The number of prescriptions written for testosterone have skyrocketed by more than 300 percent since 2001, reaching 7.2 million in 2013, according to a report published in 2016. Another study, published in JAMA in 2017, found that between 2009 and 2013, testosterone testing and treatment rose substantially in areas of the U.S. where such ads were very common.
An estimated 70 percent of these prescriptions for testosterone boosters are written for men between ages 40 and 60, though a study published in 2017 in the Journal of Urology found a fourfold increase in the rate of testosterone use among 18- to 45-year-old men between 2003 and 2013.
Other research suggests that all those prescriptions are good for the drug companies that make and sell the pills: Testosterone sales topped $2.2 billion in 2013, according to a 2017 editorial in JAMA.
But is extra testosterone good for you, too?
The Testosterone Problem
Although some men who take testosterone report better sexual function, most don't. That's in part because erectile dysfunction usually stems from low blood flow to the penis, caused by high cholesterol levels or high blood pressure, not low testosterone, according to the American Urological Association.
And taking a testosterone booster doesn't improve physical stamina or energy, either, according to a 2016 study of men 65 and older funded by the National Institutes of Health.
"My patients come in all the time asking for it after seeing all the direct-to-consumer ads telling them they absolutely need to take it," says Adam Cifu, M.D., a professor of medicine at the University of Chicago and co-author of "Ending Medical Reversal."
"Since there is so much demand, physicians feel pressure to prescribe it not to lose patients." Some doctors may believe what Cifu calls "marketing hype­—that testosterone will make a 60-year-old man with slightly low testosterone feel better. But it's medicalizing natural aging."
Real Risks
Most older men won't feel better or see health benefits from taking a testosterone booster. In fact, older men who are prescribed it may have a higher risk of dying from any disease as well as from a heart attack or stroke, according to several published studies and the Food and Drug Administration.
Other research suggests that testosterone boosters might fuel the growth of prostate cancer, and reduce sperm counts. Established risks include blood clots in the legs, sleep apnea, an enlarged prostate, enlarged or painful breasts, and swollen feet or ankles.
In addition, the gel forms of testosterone, applied under your arm or on your upper arm and shoulder, can be transferred to others if you don't wash the area after applying it. Children exposed to the hormone have experienced enlargement of the penis or clitoris, growth of pubic hair, increased libido, and aggressive behavior. Women can experience acne and the growth of body hair and, if they are pregnant or breastfeeding, can transfer the hormone to their babies.
What to Do Instead
If you're feeling as though you have low energy or are having sexual problems, don't assume that low testosterone is the cause or that a testosterone booster is the solution. 
Stress, lack of sleep or exercise, and feelings about your partner can also sap your vim and vigor. Plus, diabetes, obesity, and pituitary tumors can contribute to low testosterone, as can some drugs. So they should be ruled out first.
"There's nothing romantic or age-defying about a drug that comes with long-term risks to you and the people you live with," says Marvin M. Lipman, M.D., Consumer Reports' chief medical adviser.
Instead, try safer ways to bring back that lovin' feeling: Eat right, exercise, reduce stress, and have a long talk with your partner and your doctor. If you start treatment, reassess after a few months and watch for worrisome side effects in you and those around you.
Consumer Reports is an independent, nonprofit organization that works side by side with consumers to create a fairer, safer, and healthier world. CR does not endorse products or services, and does not accept advertising. Copyright © 2018, Consumer Reports, Inc.