44 Vogue Editors Share Their Hero Skin-Care Products, From Multitasking Oils to Do-It-All Creams

Vogue
12/7/2021
The season of re-emergence is here, but the best skin-care products and routines we leaned on during quarantine might not be going anywhere just yet. And as we get back to dinners, events, and outside activities, the sturdy top shelf we curated these last few months still holds its place.  
Below, 44 Vogue Editors detail the holy-grail products for their re-emergence skin-care routines, from hydrating ampoules to transparent sunscreens. Less is always more! 
Virginia Smith, Fashion Director
When I can't get to Rescue Spa for a facial with Diana, Augustinus Bader's The Rich Cream still works magic.
Tonne Goodman, Sustainability Editor 
I met Joanna Vargas through Vogue in 2006, before she became a celebrity to celebrities, and I have been devoted ever since. She is known for 'hands from heaven' for her facials, and her products are flawless. I'm now committed to her new nighttime serum. It's a retinol serum that smells delicious, is hydrating, stimulates collagen, and tightens (important for me!). Say no more, it ticks all the boxes.
Steff Yotka, Senior Fashion News Editor
In the spirit of Gwyneth "I use organic products, but I get lasers" Paltrow, I try to keep my skin-care routine pretty clean and minimal, however the one thing I can't give up is my NuFace. It's a microcurrent tool that comes with a soothing gel to lift, firm, and tone. I find that a thrice-a-week regimen keeps my skin looking taut and glow-y—even if the only people seeing it are on Zoom.
Chioma Nnadi, Editor of Vogue.com
I've always taken a less-is-more approach to my beauty regimen. And now I'm beginning to whittle down my routine even further. These days my skin tends to respond best to facial oils. I use one by Lumity to lock in moisture. I like that it contains rich macadamia oil and manuka too.
Hamish Bowles, International Editor-at-Large 
In a pre-COVID-19 world I was on a plane several times a month, and in the interest of not inducing a second hernia I had to pare down the panoply of products ranged on far too many of my bathroom shelves at home. Luckily, my Paris- and London-based dermatologist, Dr. Antoni Calmon, made life very easy for me when he told me that I could get away with a morning application of SkinCeuticals C E Ferulic serum, a generic sunblock SPF 50 (although I barely set eyes on the sun through most of the spring of 2020), and the cutaneous Differin cream at night before bed. (If I really wanted to spoil myself at home, I might mitigate the tingle with a luxurious moisturizer: La Mer's The Moisturizing Soft Cream is my first choice here, but after one of the jars broke in my luggage, I decided not to travel with it, although I'm sure the clothes it was packed with have never had a silkier softener!)
Samantha Sussman, Associate Director, Social Creative
I recently had a colleague ask me where I had been over zoom, the reality is in my apartment, but Chanel's healthy glow bronzing cream had people convinced I had been on a vacation! Since I have in fact just been stuck inside with the recent heat wave you will also find me ice rolling obsessively. This one from Amazon is the absolute best and takes all of the pressure off my poor AC!
Janelle Okwodu, Senior Fashion News Writer
Like most people I haven't been able to get much sun lately and it's left my skin looking less than stellar. One of the ways I've been trying to combat that is by using the Dr. Barbara Sturm brightening range. The serum has become a holy grail for me as it helps with hyperpigmentation while restoring some of the vibrance my complexion has been lacking. The dullness I was struggling with has greatly improved since I began using it, and it's gentle enough that my increasingly sensitive skin doesn't get irritated.
Daisy Shaw-Ellis, Jewelry Director
I've been using SK-II's Facial Treatment Essence religiously morning and night, winter and summer for years now. It's a lightweight serum (so much so it feels like water), doesn't clog or irritate my fussy skin, is next to scentless, and works to give me a healthy glow with all the moisture I need in the summer and a trusty layer in the winter. (I always layer moisturizing products in the cold months, as one is never enough.) Although it's got a hefty price tag, a bottle lasts me exactly a year—not something I can say often.
Liana Satenstein, Senior Fashion Writer
I will go to my grave scrubbing my face with the Neutrogena bar soap. I've been using it since high school. Basically, it makes me feel like a fresh newborn baby and injects a coat of chill onto my skin with every wash.
Chloe Schama, Senior Editor
I've vaguely followed the benefits of vitamin C and retinol, so when I came across Kate Somerville's two-in-one cream, I was intrigued. Apparently, using the two ingredients in tandem can cause irritation, but that hasn't been the case for me—in fact, the moisturizer seems to preempt the drying that can sometimes occur with retinol. An added bonus: Subtracting a step from my routine means one less thing to worry about, means less stress, means better skin—or so I like to think!
Lilah Ramzi, Features & Commerce Editor
My facialist Raquel at Joanna Czech (where skin miracles happen) instructed me to incorporate this gel into my regime as I have very redness-prone, sensitive skin. It feels great on and the ingredients—which include Green Tea, vitamin C and vitamin E—really help to even out my complexion. I'd consider it one of my best skin-care products discoveries. Thanks Raquel!
Ella Riley-Adams, Senior Living and Beauty Editor 
Especially after a recent skin-cancer scare, my top beauty priority is sunscreen. I apply it every morning, even when I'm not going outside. My favorite is SuperGoop's Unseen Sunscreen, a clear formula that rubs in easily and has a nice matte feel. Occasionally I'll switch things up and use their Glow Screen or Matte Screen, but I find I always gravitate back to the simple, tried-and-true Unseen.
Kiana Murden, Beauty Commerce Writer
Since I try a remarkably high quantity of beauty products, it's so hard to pick just one holy grail. I've been obsessed with Drunk Elephant lately—notably the glycolic acid body lotion to exfoliate all over and the C-Firma vitamin C serum to soften and brighten my complexion (especially stubborn dark spots). If you want a quick facial exfoliation treatment, I highly recommend Doctor Babor's AHA facial pads, which leave my skin feeling soft immediately after use. Finally, The Ordinary's Caffeine Solution has been my go-to eye serum for years now to reduce under-eye puffiness.
Sarah Spellings, Fashion News Editor
I love the process of using this product just as much as I love the results. This powder-to-foam exfoliant sloughs away my uneven texture, and leaves my skin feeling clean and soft. A truly luxurious experience from beginning to end, and I hear Meghan Markle is also a fan! 
Rickie De Sole, Executive Fashion Director
I am pretty low-maintenance when it comes to my skin-care routine. I do not use a lot of products, so the few that I do use have to do the heavy lifting. I use Creme de la Mer every morning and night after I wash my face and apply Biologique Recherche Lotion P50. The creme leaves my skin feeling hydrated and soft.
Nic Burdekin, Visual Director 
I grew up in Australia and spent a great deal of my youth in the sun. All those years outdoors made for a wonderful childhood, but less than wonderful photo-aging as I hit my thirties. Now I live by sunscreen by day and Dear Brightly by night. This retinoid is the best anti-aging product I've come across AND it's subscription based, so just as you're running out the new bottle arrives at your door.
Alexandra Gurvitch, Market Editor
I love the Sisley Black Rose Cream Mask. I have been really honing in on my skin care because I feel like being stuck inside is the time to really work out problems, and this mask is my luxurious mainstay. I typically keep one in my desk at work and one in my travel bag because I love it so much.
Lauren Valenti, Senior Beauty Editor 
For years, Renée Rouleau's cult-favorite Triple Berry Smoothing Peel has been my go-to treatment, both as part of my regular weekly maintenance regimen and if I need an instant glow before a big event. It's technically an at-home chemical peel, but fear not if you have sensitive skin (and/or rosacea) like me. In just five minutes, its potent yet gentle blend of five fruity AHAs, BHAs, and enzymes leaves my skin smoother and more luminous. No redness or irritation, ever! Bonus for the senses: It looks, feels, and smells like fresh raspberry jam.
Celia Ellenberg, Beauty Director
I fell in love with Vintner's Daughter Active Botanical Serum when it first launched six years ago, just as face oils started peaking in the U.S. Its grape-seed oil base, which founder April Gargiulo comes by honestly (she is, in fact, a vintner's daughter), is light and noncomedogenic, which means unlike so many other face oils now on the market, it will not cause you to break out. Also unlike so many other face oils now on the market, its blend of potent essential oils actually helps repair your skin while providing hydrating nourishment. I've gone back to it sporadically over the past few years, but it's now back in my daily quarantine rotation because it scores high marks in the only categories by which we should be judging products right now: It makes me feel good, and it works.
Atalie Gimmel, Social Media Manager
I like to keep things as simple as possible when it comes to my skin-care routine, and this cleanser fits that bill. I've been using it every morning for the past five years or so, and my skin has stayed consistently moisturized and overall clear, give or take the occasional stress breakout, of course.
Willow Lindley, Accessories Director
I can't live without Naturopathica. The line has saved and continues to save my very sensitive and reactive skin. This white tea mask is a staple in my routine for added moisture or to calm any redness or inflammation. It's magic: I put it on at night, go to sleep, wake up, and my face has self-soothed.
Puja Prakash, Senior Social Media Manager
I have extremely sensitive and dry skin from having eczema most of my life, and it's been difficult to find a body lotion that actually does the job for me. I've been using the Lipikar Balm AP+ from La Roche-Posay for a few months now, and it's one of the very few products that leaves my skin feeling moisturized all day long without having to reapply it every few hours. Plus, it's really affordable! Win-win!
Naomi Elizée, Market Editor
The two skin-care lines that are heavy in my rotation are Dr. Barbara Sturm and Epi.logic by Dr. Jeanniton. I religiously use the Vitamin C serum from Epi.logic to help with my hyperpigmentation, which I've struggled with for over 10 years now. I've been using it for about six months and have seen a major improvement in my dark spots and an evening out of my skin tone. My go-to product from Dr. Barbara Sturm is hands down the face cream from their Darker Skin Tones line. This moisturizer never feels too heavy or oily and gives my skin just the right amount of hydration it so desperately needs.
Christian Allaire, Fashion and Style Writer
Right now I have insanely dry skin, and if I don't use a few drops of this Drunk Elephant facial oil after my moisturizer, I notice a huge difference. It gives the skin a nice, natural glow. I also like it because it adds an extra boost of hydration without leaving me greasy, like many other oils that I've tried.
Julie Tong, Senior Commerce Editor
I'm a big fan of Aesop's skincare line. Once a week, I like to use their Primrose Facial Cleansing Masque for a luxurious spa-like experience. On the day-to-day, their Primrose Facial Hydrating Cream is a go-to staple of mine to keep my skin fresh and hydrated. 
Madeline Fass, Fashion Market Editor
I don't love wearing tinted moisturizers or foundations during the day so Dr. Jart's color-correcting treatment is the perfect alternative for that no-make-up glow (and it has SPF30!). It gives me that even tone I'm after without looking like I am wearing anything at all– I'm obsessed! And for after long days in the sun, I love treating myself to Dr. Barbara Sturm's calming serum, it's soothing and great for sensitive skin.
Alexandra Michler, Director of Fashion Initiatives
This may sound sort of left field, but I would have to say classic Dove bar soap is my all-time hero item. I never break out when I cleanse my face with Dove, and it is gentle enough to not strip my skin of moisture. My mother always recommended Dove soap to me, and it turns out she was right!
Mark Guiducci, Creative Editorial Director
I only consistently use two products after washing my face: Biologique Recherche P50 toner and this incredible stuff by SkinCeuticals. Morning and night, winter and summer. 
Alexis Bennett, Commerce Writer
If you want your pores to completely disappear and your face to look as smooth as a dolphin's fin, then you have to try these wipes. They are a holy grail in my skin-care routine. I'll never forget the first time my BFF witnessed me using one. She immediately complimented my skin and ordered a container for herself. I might switch up my serums and cleansers from time to time, but these wipes are a constant in my skin-care routine.
Jorden Bickham, Contributing Editor 
Connie at Christine Chin Spa has saved my face from mask-related breakouts (and general exhausted, dull, tired-looking skin)! I swear by both the facials and products at Christine Chin Spa. I love the Hydrating Facial Cleanser, Hydrating Toner, and Pollution Solution Mist, which helps neutralize the effects of smoke, smog, and other airborne pollutants. For someone with ultra-sensitive skin who has been searching for solutions for years...I have finally met my match. 
Emily Farra, Senior Fashion News Writer
I think it's a common misconception that you shouldn't use ultra-hydrating products in the summer, but I reach for my Soft Moisture Mask year-round. It's super adaptable: I'll use it as an overnight mask, as a day cream if my skin is feeling dehydrated, or as an after-sun at the beach. It has turmeric extract to soothe inflammation, so it's incredible for calming down a sunburn, too!
Chloe Malle, Contributing Editor 
Mila Moursi's sunscreen is my summer go-to. I love the quick dissolving gel texture and I treat this as my full summer skincare routine.
Concetta Ciarlo, Special Events Assistant 
I love makeup, and low-maintenance is not in my vocabulary. I look for products that address my skin concerns without compromising the longevity of the contour that I spent 15 minutes painting on my face. I always come back to this Youth To The People moisturizer because its lightweight under my foundation and leaves my combination skin feeling silky. Plus, this vegan moisturizer already has hyaluronic acid in it, and takes at least one step out my beauty regimen!
Jill Weiskopf, Vice President of Communications 
I'm not exactly sure what to call this—a toner? a cleanser? a makeup remover? (I've used it for all of the above)—but I do know this refreshes my face, brightens my skin, and preps it for moisturizer and sunscreen like nothing else, with no irritation. It's one of the very few items that I use to the last drop, and then re-stock immediately. 
Charlotte Diamond, Associate Fashion Editor 
I have been on Accutane for the last four or so months (masks really did a number on me), and while it has helped clear up my skin, I have been suffering from the dreaded dry, cracked lips. Aside from my trusty Aquaphor, my solution for this decidedly unsexy problem has been Laneige's Lip Sleeping Mask. I apply it quite liberally before I go to sleep and wake up the next morning with quenched, soft lips. A good solution indeed!
Carolina Gonzalez, Assistant to the Editor-in-Chief 
I've been a big fan of anything Glossier since day one, but I always feel that their real hidden gem is Futuredew. Both serum and oil, it's moisturizing but not too heavy for my dry skin, unlike other thick oils. Just one pump on my face and there's an instantaneous dewy glow! 
Fabbiola Romain, Associate Visual Editor
Recently, I learned the importance of sunscreen use every day, even when not exposed to the sun. I stumbled across Black Girl Sunscreen which specifically caters to melanin skin and protects from hyperpigmentation and sun damage. I love how lightweight and gentle it goes on with no residue! Also, perfect under makeup! Now that's Black Girl Magic! 
Michelle Ruiz, Contributing Editor 
According to my dermatologist, daily sunscreen is the most essential skincare and the crux of all anti-aging efforts. EltaMD UV Clear is my go-to  light, blend-able sunscreen (with necessary zinc!) that doesn't trigger breakouts. I panic when I run out, then buy two more.
Eliseé Browchuck, Production and Marketing Manager of Experiences
I'm a recent convert to Youth to The People everything. From the Superfood Cleanser, which is packed with kale, spinach, and green tea, to the creamy air-whip moisturizer, my skin has never felt healthier. 
Keaton Bell, Entertainment Associate 
Growing up, my family used Biafine the same way that the family in My Big Fat Greek Wedding used Windex. Sunburn? Put some Biafine on it. Cuts and bruises? Nothing Biafine can't fix. I was so used to using it as a topical ointment that I never even realized it was a French beauty staple until later in life. Now I use it as a moisturizer during colder months when my face could use an extra layer of protection, but it's also my go-to when I'm having a bad break-out or just feel like my face could use a tune-up. 
Helena Suric, Senior Director of Talent Casting
Furtuna Skin's Face and Eye serum is my all season, all weather, all in one go to! I will be traveling again soon and this paired down serum works for face, eye, day, night and airplane!
Clarissa Schmidt, Commerce Producer
I am obsessed with the women of color-founded skincare brand, Topicals. I've struggled with chronic skin conditions my whole life (acne, eczema, and hyperpigmentation to name a few!) and I have tried nearly everything under the sun to help combat them, but nothing has made a difference for me like this duo. The Like Butter Mask helps keep my face moisturized all day long, while the Faded Serum drastically reduces my scars, discoloration, and post-acne marks.
Anna-Lisa Yabsley, Executive Director of Content Strategy
Ampoules, ampoules, and more ampoules. There's something about those little glass vials. Easy to store, easy to travel with, and their individual single-use guarantees no gunk or bacteria is getting in. I recently discovered this hyaluronic acid set by Irene Forte. I can feel my skin soaking the liquid up. And they have a lovely, slightly oily (in a good way) consistency, which I just love. They're a splurge, but worth it.
Michael Philouze, Menswear Editor 
While spending time in my second home in Paris, I met dermatologist Loubna Khenissa. Crossing paths with each other seems pre-destined as her practice and beauty products cater to everything my skin needed at the time: hydration from long flights, rebalancing from the constant change in temperature, and stimulation from the long days of wearing a mask. I believe in her philosophy and have seen results almost immediately. Unlike others where you can find products all over the web, Khenissa's are bespoke. They are made for your skin specifically and require a personalized consultation. The way skincare should be! My specific personal protocol includes a "silispray" for optimized efficiency for other uses of products and a cream that reinforces the mico-circulations in the lymphatic cells.
Video: Iman Shares Her Beauty Secrets—Including Her DIY Face Mask Recipe (Vogue)
More from Vogue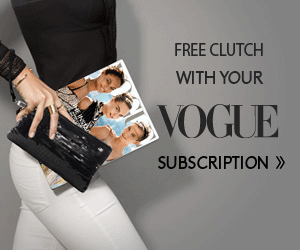 Vogue