Fun and Spooky Mummy Crafts for Kids

Kim Ritter
10/5/2022
Looking to wrap up Halloween in style with some fun kids crafts? Create these spooky mummy crafts for kids with your ghouls and boys.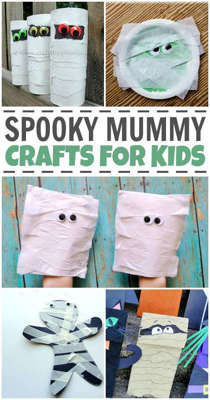 Halloween is almost here and we've had lots of fun sharing lots of fun Halloween crafts for kids here on Two Kids and a Coupon!
Hopefully you've found lots of great ideas to celebrate the holiday with your little ghouls and boys and we have a few more fun Halloween crafts to share before the big day. Up next is some spooktacular mummy inspired crafts for kids.
Fun and Spooky Mummy Crafts for Kids
So why are mummies part of Halloween? 
Because they are creepy! Preserved for thousands of years, these carefully wrapped creatures provide scary inspiration for what it might be like to come back from the dead. Much like zombies, many have imagined mummies need to return to take care of unfinished business. This has made them a staple in many horror movies and part of Halloween fun. 
Simple Mummy Puppet Craft for Kids - Artsy Momma
Cardboard Tube Mummies - Crafts by Amanda
Yarn Wrapped Mummy Craft - Two Kids and a Coupon
Masking Tape Mummy Halloween Craft For Kids - No Time For Flash Cards
Halloween Mummy Balloons - Design Improvised
Yarn Wrap Mummies - LalyMom
Mummy Halloween Candy Holder Craft - Parents
Halloween Craft: Paper Bag Puppets - Crafts by Amanda
A Mummy - My Life of Travels and Adventures
Repurposed Toilet Paper Roll Mummy - My Teen Guide
As a general rule, these cute wrapped crafts are easy to make. You'll need something to wrap an item like yarn or tissue paper, googly eyes are also a nice touch, since they tend to make your mummy extra spooky! 
Disclosure: This author may receive commission through recommended links in this content. As an Amazon Associate, I earn from qualifying purchases. All opinions and love of saving money are completely and totally our own.
Kim Ritter

Kim Ritter