14 Bedroom Lighting Ideas to Illuminate Your Space
Better Homes and Gardens
3/24/2023
Discover our best ideas for bedroom lights that are both stylish and functional.
Lighting has the power to completely transform the look and feel of a bedroom. While it serves the practical function of illuminating the space, light fixtures also provide an opportunity to add a decorative element and make a design statement. Using multiple sources of light can produce different levels of illumination and allow you to control the brightness and atmosphere of the room.
There are countless types and styles of bedroom lighting options available, from minimalist wall sconces and traditional table lamps to statement chandeliers and understated flush mounts. Some are better suited for tasks such as reading in bed, while others create a soft glow that provides a cozy ambience. When choosing your bedroom lighting, think about the room's size, ceiling height, and architectural style. Consider how much natural light comes in and what tasks you need lighting for. Answering these questions will help you narrow down the type, style, and number of light fixtures you need. To help you choose the best lights for your style, we're sharing our favorite bedroom lighting ideas.
Swing-Arm Sconces
These rattan-inspired swinging sconces are as visually appealing as they are practical. Aesthetically speaking, they inject the bedroom with instant charm, a warm texture, and vintage style. On a functional level, the sconces are adjustable so you can position them to your liking. And since they're mounted on the wall, they don't take up any valuable nightstand space.
Bedroom Chandelier
A beaded chandelier makes a striking statement and complements the layers of texture and color in this glam bedroom. Constructed from beaded strands suspended from a jute-wrapped base, its detailed design has a sculptural quality that immediately draws the eye. Placing a statement piece on the ceiling can make a room look taller, which combats the dark, moody feel of this bedroom accent wall.
Nightstand Table Lamp
A cool industrial-style table lamp contrasts the warmth of the wood furniture in this midcentury modern bedroom. A classic bedroom lighting choice, a table lamp serves as a beautiful accessory you can use to continue a color theme or introduce a new design style. Depending on the size and material of its shade and the type of bulb you use, it can produce soft, diffused light or illuminate the whole room with a bright glow.
Related:The 13 Best Floor Lamps of 2023 That Are Stylish and Practical
Ceiling Fan with a Light
When it comes to practical bedroom lighting options, a ceiling fan with a light is a popular choice. While you may think of it as more functional than beautiful, there are many stylish versions available. This semi-flush mount style light has a brushed nickel finish and three wood blades for a minimalist look that fits the bedroom's contemporary style.
Related:13 Modern Bedroom Ideas to Help You Create a Relaxing Retreat
Minimalist Wall Sconces
A pair of downward-facing wall sconces creates symmetry and adds warmth to the moody seafoam green walls in this bedroom. Their metallic finish dresses up the room and ties in a gold-framed seascape print. The simple cone-shaped sconces direct light down, rather than out—which is ideal for evening reading or soft mood lighting when you don't want the brightness of a harsh overhead light.
Accordion Light Fixture
A matte black accordion wall sconce adds a vintage touch to this modern farmhouse bedroom. Sometimes referred to as a scissor arm sconce, this style of wall lamp dates back to the 1940s and its unique design has made a comeback in recent years. Not only does its exposed mechanical construction add visual interest, the sconce is more functional than most. You can pull it out for direct task lighting while reading, or push it back towards the wall when it's not lit. And since it's mounted on the wall, it doesn't require a nightstand.
Related:8 Feng Shui Ideas for a Small Bedroom to Create Extra Restfulness
Bedroom Pendant Lights
Sleek pendant lights suspended from the ceiling perfectly complement this rustic gray bedroom. Their understated presence allows the wood paneled accent wall to shine without bulky lamps obstructing it, and the combination of glass shades and black metal hardware continues the room's neutral color scheme. Typically, you'll see pendant lights hanging over a kitchen island or dining table, but they can work just as well in a bedroom. If your nightstands are too small to hold a table lamp, or you don't have the space for a floor lamp, pendant lights are the way to go.
Sputnik Chandelier
An icon of midcentury modern design, the Sputnik chandelier makes a bold statement and provides multi-directional light in this calming bedroom. This type of light typically consists of a central orb with any number of metal arms, each of which has a vintage-style lightbulb at the end. Layered with colors and textures for a cozy and relaxed feel, this matte black and brass fixture ties in the modern black window frames and contrasts some of the more traditional furnishings and decor.
Adjustable Wall Sconce
A polished chrome backplate and crisp white shade make this adjustable wall sconce the epitome of timeless elegance. Its fresh and clean design looks classic yet modern paired with white bed linens and an upholstered headboard. A tiny wood shelf mounted on the wall replaces a traditional nightstand, adding extra value to the wall lamp.
Table Lamp with Linen Shade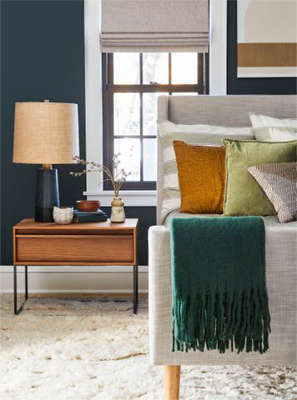 An oversized table lamp with a ceramic base and linen shade is a simple but stylish decorative accent in this contemporary bedroom. Textured layers and deep jewel tones make the space extra warm and inviting, so a linen shade that softly diffuses light for an ambient, cozy glow is a perfect fit. Linen's natural texture and subtle color makes it a versatile choice for different bedroom styles, from traditional to modern.
Multiple Sources of Light
Using different types of lighting in a bedroom gives you the opportunity to get creative while utilizing multiple sources of light. A ceiling chandelier can add a cool sculptural element to a room while providing overhead lighting. A floor lamp brings in some height and its diffused light creates a cozy atmosphere. A table lamp on the nightstand provides task lighting and is easy to switch on and off without getting out of bed. Each light fixture has a different look, serves its own purpose, and sets a unique mood.
Double Wall Sconces
A stylish double wall sconce features a bare-bulb design and antique brass backplate for a modern-meets-vintage look. If you're looking for a minimalist bedroom lighting option that doesn't take up too much visual or physical space, a wall sconce without a bulky shade is a great choice. It can be mounted vertically or horizontally, depending on your lighting needs.
Sculptural Chandelier
Treat a bedroom light fixture like a piece of art. Installing a sculptural chandelier doesn't just illuminate the space, it makes a design statement as well. A round brass fixture with oversized vintage-style light bulbs is a fitting addition to this eclectic bedroom. Mixing vintage elements—such as a rustic bench and antique oil paintings—with more modern pieces creates a collected, lived-in space that exudes character.
Plug-In Wall Sconces
If you love the look of a wall sconce above a bedroom nightstand but don't want to deal with the hassle (or price tag) of electrical work, a plug-in wall sconce is an excellent solution. Hang it at your desired height—no wiring necessary!—and plug it into an outlet as you would a regular table lamp. Don't worry about the visible cord; as long as it is pulled taut and any extra cord length is hidden, this method creates a clean, simple look.
For more Better Homes & Gardens news, make sure to sign up for our newsletter!
Read the original article on Better Homes & Gardens.