20 Tips For A Lifetime of Craft Room Organization
Craft supplies are fun until you start tripping over them. Here are 20 tips for keeping your craft supplies organized for the long haul.
In my opinion, crafting is more than a hobby. It relaxes me and forces me to think outside the box. Plus, it allows me to do a little shopping just for me.
While I love shopping for craft supplies, those items can also pile up and create other messy problems.
These organization tips will help you keep your craft room in great shape while also making it beautiful to look at!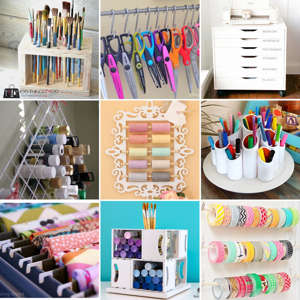 More Craft Idea Posts:
Idea posts are awesome because they give you lots of ideas all in one place! Here are a few more idea posts that I think you might like: 20 Ways to Repurpose Crystal Light Containers, 20 Closet Office Design Ideas, and 20 Tips for Keeping Your Home Clean and Organized.
Be sure to look around the blog for more Organization Ideas!
Craft Room Organization Ideas:
Visit the website for the step-by-step tutorial.
Take a tour as I clean up my Craft Room and share some DIY Storage Solutions and how I organize my crafting supplies. Simple DIY craft tutorial ideas.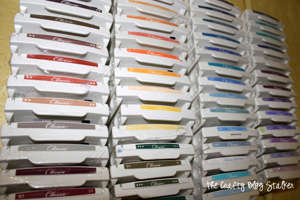 How to make a custom craft table using Ikea Kallax shelves and a tabletop. This is a DIY table that you can make for your craft room. An easy DIY craft tutorial idea.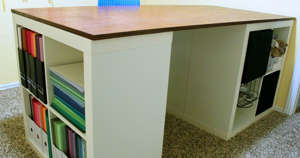 Make a simple ribbon roll storage solution using wood dowels and cafe rod brackets that will look great in your craft room!
This technique is a simple way to sort and organize your jewelry-making supplies so you know exactly what you have so you can make your jewelry without stopping to search!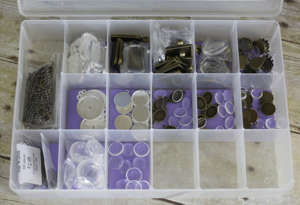 5. Filing Fabric from The Thinking Closet
I needed to come up with a new organizational system for my fabric.  My "system" (if you could call it that) was starting to look like three mini-leaning-towers-of-Pisa. 
This is the most efficient way to organize scrapbook paper and cardstock! Plus, I'll show you how to organize scrapbook paper scraps. Use these storage ideas for 8.5×11, 12×12, and scrap paper! You'll love how little space it takes up!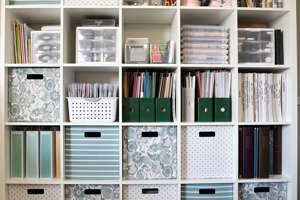 Use this ultimate guide for craft room organization and to declutter the unnecessary once and for all.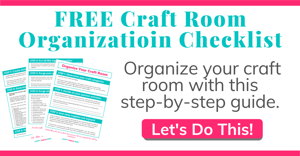 Make this easy-to-hang large DIY pegboard for craft room storage – with a popular Ikea large picture frame.
Craft paint bottles. Everywhere. So much paint. That was the state of my craft room before my dad and I worked together to build a set of handy PVC and wire shelf paint storage units to house all my paint.
I have been wanting to put a measuring tape on my craft desk.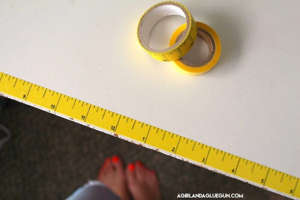 Today I'm sharing part of my new office and craft room renovation! Learn how to organize your Cricut and party supplies with these handy tips and tricks.
While most would argue that a filing cabinet is not that special, Joey and I knew that we could turn the dumpy filing cabinet into a stylish storage solution.   All it took was a few coats of chalkboard paint.
I've got a super-simple build for you today;  this paint brush storage rack will take you a grand total of 20 minutes to build and will use up 4 pieces of scrap wood from your pile.
I was pretty excited to reveal the big picture of the craft room/guest room, but I'm even more excited to show you how I organized everything!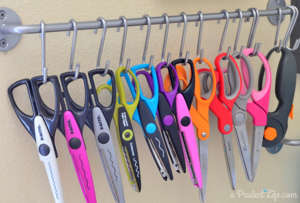 I'm sharing this fabulous washi tape storage project I made for my craft room.  Not only is it completely functional in organizing my washi tape; but it's so pretty, it doubles as wall art!
I've tried many different yarn storage systems over the years. Shelving in my craft space, baskets by my bed, laundry baskets in my closet, and Rubbermaid bins to name a few.
You can make this super cute and functional rotating craft supply storage crate with just a few supplies.  It's an easy way to get a lot of craft supplies stored in a unit that has just a 12″x12″ footprint!
The pile of baker's twine spools took up residence in the middle of our floor. Very pretty to look at. Very messy. Very annoying to husbands who don't quite understand the awesomeness of baker's twine. One day, he will learn.
Storage that is easily accessible and easily hidden.
Today, I bring you instructions on how to make this darling Lazy-Susan Marker Caddy for that creative tot in your life!
Our Crafting Essentials List: