At 50, Jennifer Garner Debuts Daring New Look and Fans Are Losing It
Town and Country
4/3/2023
Jennifer Garner stunned in an all-black low-cut jumpsuit at the premiere for season 3 of STARZ's Party Down.
The 50-year-old also sported a daring new hairstyle that has everyone talking.
Garner's ever-evolving tresses have kept us on our toes after her dramatic chop last Fall.
Jennifer Garner always looks glamorous. From her chic street style to her stunning red carpet looks, her fashion never ceases to impress. In the past, she's shared her favorite running shoes, her must-have workout leggings, her beloved cozy hoodie, and even her go-to travel bag. But no matter what she's wearing, she always manages to look put-together. Most recently, the 50-year-old turned heads in a low-cut, all-black jumpsuit and side bangs—and the look was stunning.
The 13 Going On 30 actress attended STARZ's Party Down season 3 premiere, and her black carpet appearance didn't disappoint. Garner stunned in the sexy jumpsuit with classic cap sleeves. While her ensemble didn't require any added embellishment to make a statement, she chose to accessorize the plunging neckline with shiny silver jewelry, including some jaw-dropping dangle earrings.
But her outfit and accessories weren't the only things causing a stir: the star showed off a new hairstyle, featuring beautiful, face-framing side bangs.
Make no mistake: Garner is no stranger to bangs. You may remember that back in the early oughts the star wore a wispy-yet-full fringe, often in front of an adorable ponytail. If it's still not ringing a bell, Garner reminded us with a recent throwback Instagram post of an appearance on The Ellen Degeneres Show, bangs and all.
This latest cut comes a few months after she chopped her long tresses to a beautiful shoulder length, which she announced in a surprise video on Instagram. Fans were shocked at the considerable amount of hair that the star decided to trim but ultimately loved her transformation.
"Stunner! I want that hair too!!," one fan wrote. Another chimed in: "Oh you look too sleek and beautiful! It really suits you and compliments your lovely face!" Another commented "you just took at least 10 years off your look. The length and style is PERFECT!!!!!!!"
Along with the "Short hair, don't care!" announcement of her dramatic chop, Garner explained to followers the "Easy. Peasy." haircare routine she likes to use to bring her "shorter hair to life," via an Instagram Reel.
In the video, she said that she uses a three-step routine with some of her favorite Virtue products. She uses the Virtue 6-in-1 Styler, a multitasking styling cream, to bring out her "natural texture." Garner then sprays her tresses with Virtue Texturizing Spray which is a "dry shampoo and a hairspray all in one," Garner explains. This product also "adds some lift and volume." Lastly, the actress applies Virtue Healing Oil, a hydrating and lightweight hair oil meant to deliver strong, shiny locks.
Garner adds a few drops of the oil to her hands, rubs it between her palms, and works it into the ends of her hair. In the video, she explains that this product "won't get rid of your curls or texture," but instead, will "bring them up and happy!"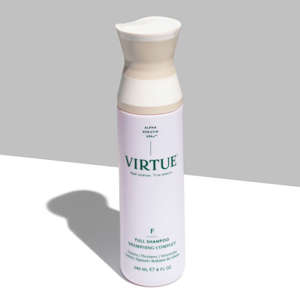 No matter her hairstyle, Garner always looks fabulous. We can't wait to see what daring new look she sports next!