What Does "Bubblegum Pink" Mean on TikTok? Men Are Using the Term to Discuss Young Girls

Distractify
1/30/2023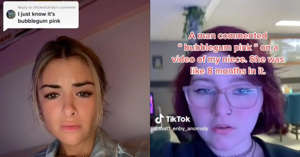 Another day where I have to delete my browser history because in no way do I ever want to be associated with this completely inappropriate and illicit term.
Lately, males have been tossing around the term "bubblegum pink" on TikTok. Before you ask, no, they aren't using this beloved shade of blush to refer to nail polish, lipstick, or paint color. Instead, the term is being used in a way that harasses and exploits young girls.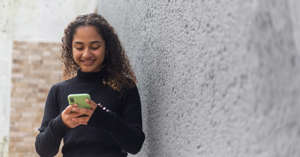 What does "bubblegum pink" mean on TikTok?
If you google bubblegum pink, you'll see that most search results define it as a color — as it should be. But according to Urban Dictionary, it also has another completely horrifying meaning that makes you want to hold your daughters tight and forbid them to ever talk to a man.
Bubblegum pink is a term rooted in pedophilia that's used mostly by boys and men to refer to the color of a female's genitalia. Scientifically speaking, when a girl is young, her vulva and vagina take on a bright shade of pink that diminishes as she gets older, or as some men write, becomes "roast beef brown."
On TikTok, men have since been tossing around the derogatory term left and right. Young women are specifically receiving comments like "it's bubblegum pink," or "def bubblegum pink" on videos that weren't meant to be sexual in any way whatsoever.
Many of these ladies have replied to these uneasy comments by revealing their real age — which is more often than not under 18 years old.
But it isn't just teenage girls who are receiving these disgusting comments. As creator Tylor Lynne (@that1_enby_anomaly) wrote in a video, "A man commented 'bubblegum pink' on a video of my niece. She was like eight months old in it."
TikTok is working to remove "bubblegum pink" videos from the platform.
The good news is that there are many of normal-minded people who understand why calling young women "bubblegum pink" is extremely offensive, creepy, and not funny. In response to the uptick in the term's usage, one user opined that TikTok is "truly a place full of vile creatures."
Others have questioned how this term isn't regarded as sexual harassment.
As of writing, TikTok appears to be taking steps to rid the platform of videos that reference bubblegum pink. Some phrases like "I bet it's bubblegum pink" are no longer searchable. The following message then generates: "This phrase may be associated with behavior or content that violates our guidelines. Promoting a safe and positive experience is TikTok's top priority. For more information, we invite you to review our Community Guidelines."
But the fact of the matter is that there's an abundance of videos that use the term. It's unknown if TikTok will be able to locate every single video.
If you are a woman, the best thing you can do is turn off your comment section and report any and all online harassment you may have been a victim of. And if you're a man who has used the term, please stop.