The most amazing finds under $35 on Amazon, according to shopping editors

Mic
3/12/2023
When you're looking for the perfect products to add to your life, who better to consult than shopping editors? The team at Mic has rounded up some of the best pieces you can find on Amazon, from beauty to home decor — and every single one costs less than $35. It's not just the editors who love them, either; each piece has countless five-star reviews, so you can buy with the knowledge and confidence that they're fan favorites.
These seaweed sheet masks with hyaluronic acid
LAPCOS Seaweed Sheet Mask (5-Pack)
Amazon
Of these seaweed sheet masks, editor Karen Belz says: "I'm a huge fan of sheet masks, and these are the best I've tried. Not only is the mask itself easy enough to unfold, but each one has plenty of product included to give you the best possible at-home spa experience." It's made with hyaluronic acid, which soothes and protects skin, If seaweed isn't your preferred scent, you have tons of other options, from charcoal to escargot. "With so many different varieties to check out, you'll never get bored," Belz adds.
These soup bowls that are stylish & stackable
Lareina Salad Pho Soup Bowls Set (3-Pieces)
Amazon
"I'm truly obsessed with this bowl set," says Belz of these soup bowls. They're made of durable porcelain that lasts over time, and they're large enough for bigger portions of your favorite meals and snacks, be they soup, salad, or even ice cream. According to Belz, "you can stick them in the microwave and the dishwasher without worrying about them fading or cracking. They're a fun way to add a little more color in the kitchen."
This supportive sports bra with a strappy back
RUNNING GIRL Criss-Cross Sports Bra
Amazon
Finding the right workout gear can be a challenge, and that's where this supportive sports bra comes in. "When it comes to yoga, these sports bras are perfect. Comfortable enough to wear all day — and not just to class —they keep everything where it needs to be," says Belz. As a bonus, it's available in tons of colors, so you can switch up your look whenever you like; "I own about five of these, and that collection will likely grow," says Belz.
Available colors: 40
Available sizes: X-Small — 3X-Large
These flat spatulas that come in handy when you're baking
Yetene Silicone Cookie Spatula Turner (2-Pack)
Amazon
Belz loves these flat spatulas for their unique design: "There's something special about these spatulas. Since they're smaller, you'll feel more in control of what you're cooking." Their flexible ergonomic design makes them super easy to hold, and the holes at the ends of the handles let you hang them up on the wall when you're finished. Says Belz, "They're easy to store and handy for everything from omelets to cookies. I literally use them every day."
These reusable jumbo straws made of stainless steel
HIWARE Jumbo Reusable Smoothie Straws (2-Pack)
Amazon
When it comes to drinking smoothies and shakes, editor Jen Fiegel swears by these reusable jumbo straws. "These extra-wide straws make drinking shakes so much easier, I can't believe it took me so long," she says. They're made of food-grade stainless steel, which makes an amazing alternative to single-use plastic, and they come with a carrying case you can stash in your bag. "Plus, they're dishwasher-safe", says Fiegel, which is always a bonus.
This hot water bottle with a cozy knit cover
Samply Pain Relieving Compress Water Bottle with Cover
Amazon
Okay, not only is this hot water bottle a must-have for pain relief, but its cozy knit cover looks like it's wearing a little sweater. Made with durable polyvinyl chloride, it'll stand the test of time. You can use it hot or cold to treat soreness, cramps, and injuries. "A hot water bottle has added a nice dose of coziness to my winter," shares Fiegel.
A soothing salve that'll save your dry skin
Lanolips Golden Dry Skin Salve
Amazon
"There are cheaper options out there, but when it comes to cracking cuticles, wind-chapped noses, and any other seriously dry places, I haven't found a cream that works better," says Fiegel of this soothing salve. Ingredients like Vitamin E, manuka honey, and beeswax work together to hydrate and heal dry skin all year round. As a major bonus, it's certified as a cruelty-free product, so you can apply with peace of mind.
These gold hoop earrings that are hypoallergenic
17KM Gold Chunky Hoop Earrings (6-Pack)
Amazon
Sensitive ears won't mind these gold hoop earrings, as they're plated with hypoallergenic 14-karat gold. Editor Amanda Fama knows how versatile an accessory they are: "I love wearing hoop earrings with pretty much every outfit, and this six-pack is under $15," she says. "What's great is that each pair is different (some have twists and others are oval-shaped), so you can mix and match with various styles." Is gold not really your color? "They're even available in silver," Fama adds.
These pimple patches that stay on all night
Mighty Patch Original Hydrocolloid Acne Pimple Patches
Amazon
"I've said it before and I'll say it again: These acne patches seriously work miracles," shares Fama of these pimple patches. They're made with an adhesive that's strong enough to stay on all night but gentle enough not to irritate sensitive skin. "If I'm trying to heal a pimple fast, I'll add a patch at night — and by the time I wake up in the morning, it's basically flattened. I wish I knew about these sooner!"
These furniture covers that protect against cat scratches
Stelucca Amazing Shields Cat Scratch Deterrent (6-Pack)
Amazon
The secret to these furniture covers? Their transparent material, which is unnoticeable once applied to your gorgeous upholstery and stays put with its strong adhesive. Says Fama, "I recently purchased a brand new couch and was super nervous about my cat clawing at it, so I bought these protectors. They were simple to apply and created a barrier so that my cat wouldn't tear the fabric." Each protector can cover a large area, and they're flexible, so they can bend around corners.
An exfoliating towel that's soft enough for sensitive skin
GOSHI Exfoliating Shower Towel
Amazon
Those of us with sensitive skin may hear the word "exfoliation" and run — but, this exfoliating towel is a gentler option that sloughs away dead skin cells without irritation. Editor Lauren Beach agrees: "This exfoliating towel is worth every penny. It dries quickly between uses and leaves your skin so smooth." As a bonus, its tightly woven fabric is specifically designed to resist rips and tears.
This hair wax stick that softens while it styles
Samnyte Hair Wax Stick (2-Pieces)
Amazon
This hair wax stick is made with ingredients like beeswax, avocado oil, and vitamin E that make hair happy, so it actually softens while it styles. "[It] smoothes down flyaways without leaving a weird residue," says Beach. "One quick swipe and you're done — and they smell good, too." Thanks to their monocotyledon wax formula, which won't leave behind grease or residue, they're a cut above your average styling wax.
A desktop dry erase board that keeps important details at hand
Varhomax Desktp Dry Erase Board
Amazon
"I'm trying to cut down on using Post-Its," shares Beach, noting that this desktop dry-erase board "is easy to write on and cleans up without getting scratched like a regular whiteboard." With an included marker and eraser, you can jot down the little things, even the ones you tell yourself you'll remember regardless. Plus, its interior compartments make a great home for pens, pencils, and paper clips; "The extra storage is a bonus," says Beach.
A pet grooming brush designed for dematting
Maxpower Planet Pet Grooming Brush
Amazon
If your best friend's fur tends to mat easily, pick up this pet grooming brush. Says Beach, "Our puppy is shedding her winter coat and the house was a mess until I bought this." Even grooming-averse dogs won't mind the spa treatment: "Although it looks a little scary, it doesn't hurt at all — our pup gets excited to be brushed out," Beach adds. On one side, it comes with nine teeth, which detangle mats, and on the other, it features 17 teeth which help to thin fur and control the amount of shedding.
A microfiber mop that's so easy to wring
O-Cedar EasyWring Microfiber Spin Mop
Amazon
The mopping process can be incredibly tiresome; pick up this microfiber mop for an upgrade. It's been a lifesaver for editor Anna Anderson: "I truly dread cleaning the floors but this spin mop has been a game-changer," she says. "It's much cheaper than constantly re-upping on one-use mop pads or spray, and mopping takes about half the time. Plus, the spin feature is just fun to use." As a bonus, one mop head replacement gives you three months of cleaning, so you'll be able to stretch out your dollar while you actually have fun cleaning the floor.
These drywall hangers that hold 15 pounds each
3M Claw Picture Hangers (6-Pack)
Amazon
According to Anderson, "These drywall hangers make putting up pictures easy as can be — you just press the 'claws' into the wall with your thumb (no hammer or anything)." Each kit includes six hangers and six spot markers, so you can map out exactly where you want to hang your favorite photos, posters, and pieces of art. If/when you move out, you won't have to deal with huge gaps in the wall; "They leave behind much smaller holes too — win-win," Anderson adds.
A mini space heater that's deceptively powerful
Amazon Basics Ceramic Personal Mini Space Heater
Amazon
"This mini space heater does a great job of close-up heating, and it's so small, it's easy to stash away when you're not using it," says Anderson. "It's simple and straightforward — I keep it on my desk to stay cozy on workdays." This heater has tip-over protection to add safety while it's in use. Use it in any smaller space where you could use a little extra warmth; it's available in four colors, so you can match it to your home or office decor.
A memory foam pillow for an incredible night's sleep
DreamyBlue Memory Foam Premium Pillow
Amazon
This memory foam pillow combines softness and support for the best night's sleep you've had in a while. According to Anderson, it's "super cushy and huggable," and "you can adjust the loft by taking out as much shredded memory foam as you like. The mega-soft quilted cover only adds to the comfort." Unzip the pillow if you'd like to add or remove any memory foam to customize your comfort.
These fingerless gloves that keep your hands free
Tatuo Cashmere Fingerless Gloves (4-Pack)
Amazon
Editor Kate Miller loves the way these fingerless gloves keep out the cold: "My hands are always freezing and these soft, warm fingerless gloves are my trusted companions while I work. I love how streamlined the fit is — perfect for typing and phone use." That means you'll be able to text, navigate, and perform any tasks that require dexterity without sacrificing any warmth. They're made of a luxurious fabric that you might just mistake for cashmere.
These glass bowls perfect for meal prepping
OXO Good Grips Glass Prep Bowl Set (8-Pieces)
Amazon
Meal preppers and recreational chefs alike will benefit from these glass bowls; according to Miller, they "make cooking so much more fun and organized." They're made of pressed borosilicate glass, which is shock, stain, and temperature-resistant, and their wide rims help you pick them up with ease. "Plus, they come with lids and are dishwasher safe," Miller adds. They easily nest together, making storage a breeze.
These reusable towels that are sustainable & stylish
KitchLife Reusable Bamboo Paper Towels (3-Pack)
Amazon
Not only do these reusable towels come in the cutest colors, but they're also a sustainable choice that just might take the place of your usual paper towels. Says Miller, "The value is shocking — you get 20 uses out of just one sheet, and there are 40 sheets in every roll. When one gets dirty, just toss it in the wash. They're perfect for wiping down counters and tables and keeping your kitchen clean without all the waste." Water, grease, and food stains are no match for their absorbent, high-quality material, which also happens to be biodegradable.
These immune-boosting supplements with elderberry & ginseng
KORESELECT Natural Immunity and Energy Supplement (10-Pack)
Amazon
These immune-boosting supplements are a great addition when fruits and vegetables aren't quite cutting it. They come highly recommended by editor Cassandra Seale, who says, "I'm a beginner to ginseng products, and this formulation makes it easy to sip down this superfood!" It's formulated with all the active ingredients you love, like ginseng and elderberry, and none of the ones you don't. Says Seale, "I still like to mix it up in some lemon water with a touch of honey, especially if I'm coming down with something. I feel like this gives me a boost of energy and helps my body feel better with a quickness." Each pack comes with 10 sticks.
A portable sewing kit with all the essentials
Artika Sewing Kit
Amazon
"OK, it may not be the 'coolest' find I've ever made, but I was truly impressed by the usefulness and value," says Seale of this portable sewing kit. With over 130 sewing and knitting supplies included, from needles and thread to spools to scissors, you'll be well-prepared for any wardrobe or furniture malfunction. "If a dog rips a throw pillow or my cat snags the duvet (yes, too many animals) I have all the tools and perfect thread color to fix everything right up," says Seale.
These crunchy mushroom chips that are fully vegan
Popadelics Crunchy Mushroom Chips (6-Pack)
Amazon
If you're looking for a vegan snack that's tasty and satisfying, these crunchy mushroom chips should fit the bill. According to Seale, a self-proclaimed "snack fanatic," "they're literally whole shiitake heads dusted with flavor and are crunchy and delicious. Also, they're a lot more satisfying than a handful of chips." Their delicious flavor options include rosemary and salt, truffle parm, and thai chili — need I say more?
A pet hair remover that'll replace your lint roller
ChomChom Roller Pet Hair Remover
Amazon
"This odd little pet hair remover has revolutionized my general tidiness," says Seale. "Despite regular brushing, my cat leaves veritable clouds of medium-length fur wherever she goes, and the ChomChom easily cleans my couch, carpets, and even clothes." You can use it in place of a lint roller for a more sustainable choice when there's cat hair all over your clothes, and your vacuuming process will become significantly easier. Seale isn't the only fan — this cool device has over 103,000 five-star reviews on Amazon.
These shower slippers that won't get waterlogged
Joomra Quick-Drying Shower Slippers
Amazon
These foam-soled shower slippers are beyond comfortable — take it from editor Carolyn Menyes: "I was a little skeptical of cloud slides, but boy, did these prove me wrong... unlike other slippers, these don't make my feet warm, which is great for summer. Best of all, after just one wear, these molded to the shape of my feet, making them even comfier." Bonus: you can choose from 16 stylish color options to go with your bathrobe or PJs.
These exfoliating foot peel masks for super soft feet
Dermora Foot Peel Mask (2-Pack)
Amazon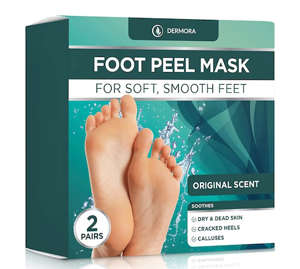 "These foot peel masks are way cheaper than others on the market, but they work just as well in my experience," says Menyes. "They work just as advertised: Wear them once, soak your feet every now and then, and within two weeks all of that dry skin and painful calluses simply peel away." They're formulated with fruit acids and extracts that clear away dead skin cells, and they'll fit feet that are size 11 and smaller.
This raised cat food bowl that makes mealtime easier
Necoichi Raised Cat Food Bowl
Amazon
Not only is this raised cat food bowl super cute, but it actually helps reduce muscle and joint strain for your four-legged friend. According to Menyes, "This wide, raised bowl has solved most (not all) of [my cat's] incessant need to eat off of the floor, and I've noticed he barfs less often since using this bowl, too. The feature I love the most about this cat bowl, however, is that it's made of porcelain, which is a skin-friendly material for my acne-prone kitty." It's even microwave and dishwasher-safe, so you can easily take care of it with your other kitchen essentials. You can get it in five purr-fect designs, including one that's tilted forward.
This toast lamp that's absolutely a-dough-rable
QANYI Desk Decor Toaster Lamp
Amazon
Editor Mallory Moreno is obsessed with this toast lamp, and for a good reason: "It sits adorably on my kitchen countertop, but you could also use it as a nightlight. I love how it has adjustable brightness settings and the soft, warm glow it gives off. There's also an automatic shut-off timer." Its soft, flicker-free light prevents strain and discomfort, and its built-in battery boasts a six-hour lifespan. It comes in three colors to best complement whatever room you choose to use it in.
A travel blanket & pillow made with fuzzy microfiber
EverSnug Travel Blanket and Pillow
Amazon
"I got the EverSnug travel blanket and pillow as a gift, and it's since become a travel essential of mine," Moreno shares. "It unfolds into a soft and snuggly blanket. If I'm sitting in a window seat, I like to use it as a pillow. The best part is that it's super travel-friendly and slides right onto my carry-on to free up space inside my luggage." Its fuzzy microfiber fabric is so soft, you might find yourself reaching for it long after takeoff and landing. If pink's not your color of choice, it comes in five other great shades as well.
This chic lap desk with a convenient cup holder
LapGear Cup Holder Lap Desk
Amazon
"In a perfect world, I'd have the discipline to sit at my desk all day while working from home," says Moreno. "But sometimes, I prefer to work from the comfort of my cozy bed or the couch." That's where this chic lap desk comes in: "It's ideal for laptops up to 15.6 inches and even has a convenient cupholder," Moreno notes. Its device ledge prevents your tech from sliding away, and its ergonomically curved edge makes it a comfortable choice for long-term use. It's also easy to store when not in use.
These food storage containers with airtight lids
Joseph Joseph Nest Lock Plastic Food Storage Container Set (10 Pieces)
Amazon
Editor Amy Biggart raves, "These nesting food storage containers are so easy to store that I'll never go back to traditional containers. These also come in a bunch of sizes so it's easy to find the perfect one for whatever I'm storing." Their airtight lids prevent food from prematurely going bad, and their stackable design saves precious kitchen space; they're even freezer, microwave, and dishwasher-safe.
This rechargeable electric toothbrush with a built-in timer
Philips Sonicare Electric Rechargeable Power Toothbrush
Amazon
"My dentist actually recommended that I buy this electric toothbrush for my gum health, and wow has it been a game-changer," shares Biggart. "It's way more powerful than other brands I've tried and now I don't dread going to the dentist." Its built-in timer goes off when you've brushed for the recommended two minutes, and its battery life lasts up to fourteen days at a time, making it great to travel with.
An extra thick yoga mat with a carrying strap
BalanceFrom Extra Thick Exercise Yoga Mat with Strap and Blocks
Amazon
Biggart loves this extra thick yoga mat for its comfortable support: "I've been using this yoga mat for three years and I really like it. I have sensitive knees so this extra-thick mat is really great for strength training, yoga, and core work. I really love it." It comes with a carrying strap, so you can easily tote it to and from class, and it's washable with soap and water when it needs a refresh (or anytime you decide to turn up the heat and opt for hot yoga).
A roll-on deodorant that's safe on sensitive skin
Real Purity Roll-On Natural Deodorant
Amazon
Editor Scarlett James raves about this roll-on deodorant: "I know paying $19 for deodorant seems like highway robbery, but once I tried this clinically-proven formula it was 'shut up and take my money'. Made with aloe, glycerin, and essential oils, it goes on clear and keeps me dry through humid New York City summers while nixing body odor... I legitimately keep a backup on hand: It's that good." Even aluminum-free deodorant skeptics will be shocked by its effectiveness and delightful fragrance.
This 24-ounce water bottle that opens with the push of a button
Thermos Tritan Hydration Bottle
Amazon
Because of her frequent workouts, James has "amassed a collection of water bottles," but says that "this [24-ounce water bottle] is my go-to. A leak-proof lid snaps open with the touch of a button that you can operate with one hand, and twists off to reveal a wide mouth if you want to add ice or a supplement." Its rotating meter helps you keep track of your hydration level, and its 24-ounce capacity is enough to last you through workout classes and workdays alike. You can pick one up in one of five colors.
These purse organizers that are available in 6 sizes
ZTUJO Purse Organizer Insert
Amazon
"These purse organizers bring order to chaos on a daily basis in my life," shares James. All 13 pockets are specially designed to fit your essentials, as they have "a long, slim sleeve to accommodate my phone, and plenty of smaller pockets that keep essentials like lip balm and hair ties corralled." As a bonus, this bag comes equipped with a long felt keychain to help you detect your keys without much hassle.
These crystal-clear refrigerator bins that'll keep you organized
HOOJO Refrigerator Organizer Bins (Set of 8)
Amazon
Editor Lisa Fogarty appreciates these clear refrigerator bins for their efficiency: "They're such a simple concept, but these fridge bins brought some much-needed organization to my fridge. They help everyone in the family find the snacks and foods they want without digging around and making a mess," she says. Their easy-grip handles mean they're an ergonomic choice that won't block you from your favorite snacks, and their high-quality polyethylene material is totally shatterproof.
A 2-piece workout set with a cool gradient design
GLAMLINE Seamless Workout Set (2-Pieces)
Amazon
This two-piece workout set is so chic, you'll be excited to show it off to your fellow gym-goers. According to Fogarty, "The leggings have a high waist and the top is cropped, but not too cropped. I love the long sleeves, which make outdoor winter workouts so much more bearable." You'll love their gradient design, which never seems to go out of style, and their nylon blend fabric moves with you while you exercise.
Available colors: 19
Available sizes: Small — X-Large
This light-up Buddha that helps soothe stress
Mindsight 'Breathing Buddha' for Guided Visual Meditation
Amazon
If you're in search of a helpful tool for managing stress or nerves, try this light-up Buddha. "Any time I feel myself starting to stress, I grab this cute Breathing Buddha and focus on it to help slow my breathing," says Fogarty. "It glows different colors to guide you through the 4-7-8 breathing technique, plus it looks all kinds of adorable." Simply charge its USB battery and place it on your desk or bedside table for stress relief that lasts. While it's great for adults, kids can also get a lot of use out of it.
A plant propagation station with 3 sturdy vases
Jkwokback Plants Propagation Station
Amazon
Editor Danielle Kraese was pleasantly surprised by this plant propagation station when it arrived: "This looks even nicer in person than I was expecting! It fits in well with my modern decor and it's a way better method of propagating plants than trying to use whatever random glass or dish I have lying around." Available with three vases or five (depending on the number of cuttings you have) its minimalist design will help liven up any area of your home. It also fits great on a windowsill.
A glass water bottle with time & milliliter markers
FIT Strong & Healthy Glass Water Bottle with Time Marker
Amazon
"I am so impressed by the quality of this bottle! And it makes drinking enough water feel like a fun challenge instead of just something annoying I do for my silly well-being," says Kraese. She has a point — this glass water bottle does, in fact, make hydration more exciting with its time and milliliter markings on the sides. It's made with leakproof borosilicate glass that also happens to be microwave and dishwasher-safe; just remove the lid before you microwave.
These bootcut yoga pants with a V-shaped high waist
TOPYOGAS Casual Bootleg Yoga Pants
Amazon
Editor Caroline Goldstein "can't stop wearing (or recommending) these bootcut yoga pants," saying that "they're beyond comfortable, and since they look more like 'real' pants than your typical leggings, I feel confident wearing them absolutely everywhere. I own three pairs and wear them all weekly." If that weren't enough, they're made with a nylon fabric blend that's super soft and stretchy, and their four-way elasticity means you can move however you want; they'll move with you.
Available colors: 11
Available sizes: XX-Small — XX-Large
This hydrating rosewater spray that doesn't contain dyes or alcohol
Heritage Store Rosewater Spray
Amazon
"Don't let anyone tell you that face mists are superfluous," says Goldstein of this hydrating rosewater spray. It "feels so hydrating and balances out my sensitive, combination skin so beautifully." In case you're new to face mists or to skin care in general, Goldstein has a couple of tips for first-time users: "I use it in both my morning and nighttime routines after cleansing and before my serums, though I also spritz my skin throughout the day for a little wake-up." With well over 10,500 five-star reviews, Goldstein isn't the only fan.
A pet feeding mat that reduces nausea & anxiety
LUKITO Feeding Mat for Dogs & Cats (2-Pack)
Amazon
According to Goldstein, who parents a rescue pup, this pet feeding mat has been "a game-changer — I paint them with peanut butter, stick them in the freezer, and plop one down for her before I leave to keep her distracted and entertained for hours on end." With four different textures per mat, you can spread any of their favorite foods or treats and let them have at it; because it slows down the feeding process, it can help reduce a pet's nausea from eating too fast and anxiety from time spent alone.
These hot-pink velvet hangers that hold up to 10 pounds each
ZOBER Space Saving Velvet Hangers
Amazon
"There's something that feels so polished about a uniform closet space," shares editor Kelsey Lawrence. "I recently swapped out my mismatched plastic and wire hangers for these hot-pink velvet [hangers], and it makes me feel, even for just a fleeting moment, like someone who really has it together." Their slim design saves valuable closet space, and each one holds up to 10 pounds at a time, so you can store even your heaviest jackets and jeans.
These high-waisted flared leggings that are unbelievably soft
SATINA High Waisted Wide Leg Pants
Amazon
When it comes to these high-waisted flared leggings, take it from Lawrence: "These pants, simply put, rule. They're kinda everything I look for in comfy pants: super-soft, satiny material, a high-waist fit, and a slight flared bottom." Their comfortable waistband provides support without digging, and their polyester blend fabric is incredibly soft; plus, you'll love the extensive color selection.
Available colors: 16
Available sizes: Small — XX-Large
These fake vines that give your space a cottagecore vibe
CQURE Artificial Ivy Garland (12-Pieces)
Amazon
Alexa, play "ivy" by Taylor Swift. Lawrence admits that her house has a lot of greenery to perk things up. "So this might not be a decor tip for everyone, but I really love these fake vines that create a retro houseplant ambiance," she says. "They look pretty authentic, aka not cheap or plastic-looking, and I used tiny pieces of wall putty to stick them on an accent wall in my apartment." The fabric leaves and plastic stems are soft and easy to position, and they're UV-resistant, so you can display them proudly on your windowsill. You can get them in pure light green, or a light and deep green mix.