How to Choose the Best Desk Chair for All Day Comfort

Working Mother
1/6/2021
If your desk is where you spend most of your days, you need a supportive chair.
Here's a staggering fact—a typical, 40-hour work week equates to approximately 1,900 hours of work time per year. Choose a desk chair that will help you stay focused and get your work done without back strain, leg problems and carpal tunnel. Here's what to look for in a desk chair so you can maximize your work time rather than spend it feeling out of sorts.
Breathable Design
The fabric your chair is made from plays a key part in overall comfort. It should be breathable, which is why a mesh back chair like this one is a great option; it keeps you from becoming too hot and therefore uncomfortable after hours of sitting in it. It's also important that the seat cushion feels supportive—without you feeling the base of the chair through it.
Lumbar Support
An essential function of a good office chair: providing lumbar support so your lower back isn't strained. Look for a chair that offers adjustable lumbar support to fit your lower back. Long hours of sitting can lead to back strain which can cause a host of long-term issues, including sciatica.
Easy Mobility
While a rolling wheel base is standard in most desk chairs, it's crucial for preventing strain that comes from reaching for something that's out of grasp. Another important feature: a swivel base, as it provides even easier access to various parts of the desk. Lacking the ability to spin your chair freely can cause arm fatigue.
More from Working Mother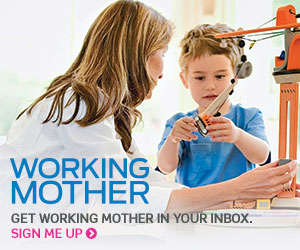 Working Mother