AirPods are so cheap right now at Amazon, it could be a mistake

BGR
4/13/2022
© Provided by BGR Apple AirPods Pro
Can you imagine seeing discounts on brand new Apple products a few years ago? Something like AirPods deals with deep discounts never would have happened.
But now that Apple works more closely with top retailers like Amazon, things have changed. We actually expect to see new Apple devices get discounts soon after release. What we never could have expected, however, is to see AirPods Pro deals and AirPods deals like the ones available right now at Amazon.
Previous-generation AirPods Pro are on sale with a discount right now. But whatever you do, don't buy them. Why not, you ask? Because instead, you can pick up a pair of Apple's hot new AirPods Pro with MagSafe for just $174.99.
That's an excellent deal on brand new AirPods and you definitely don't want to miss it. In fact, it's the lowest price of 2022 so far. What's interesting is the fact that other AirPods models have much smaller discounts than they did last week.
It almost seems like a price mistake and Amazon forgot to dial back its AirPods Pro sale, too!
You'd have to be crazy to buy AirPods Pro at the Apple Store when you can save $60 by buying them from Amazon.
Also, AirPods 3 are back on sale this week. And we have some good news on this front. Amazon has a deeper discount last week, so now they're listed at only $149.99. It's the lowest price of the year so far, but this sale definitely won't last long.
Other deals include AirPods 2 for only $99.99 and up to $70 off AirPods Max. On top of all that, the Apple Watch SE is on sale right now for $229, and the new Apple Watch Series 7 is available with discounts up to $70 off.
The only thing to keep in mind is that all these deals are definitely going to disappear soon. This is likely your last chance to save big on best-selling Apple products!
Price: $174.99
You Save: $74.01 (30%)
Best Amazon deals on Apple products
Amazon has so many great deals on Apple products, we almost don't even know where to begin. You can save hundreds on MacBook Air and MacBook Pro laptops. Plus, the Mac mini is on sale, and so are Beats headphones.
If Apple makes something, it's almost certainly on sale right now at Amazon.
We'll cover all the best Apple deals available right now on Amazon. And the most logical thing to do is start with the most popular product among our readers, and that's AirPods!
AirPods deals offer deep discounts
Among BGR Deals readers, no headphones outsell AirPods. As a matter of fact, we're not sure there are any gadgets at all that outsell Apple's AirPods.
Everyone is obsessed with AirPods Pro, and for good reason. These are the best of the best when it comes to Apple's true wireless earbuds. They were also just upgraded late last year, which makes Amazon's big sale even more surprising.
AirPods Pro cost $249 at Apple, but Amazon's normal discount slashes them all the way down to about $200. Believe it or not, that's actually the same price that Apple used to charge for AirPods 2 with Wireless Charging, so it's a solid deal.
As we said, however, today's deal is special. That's because Apple's hot new AirPods Pro with MagSafe charging are on sale for just $174.99.
Why buy another model when these best-sellers have such a huge discount?!
We seriously can't believe that Black Friday pricing is back for these popular earphones. Thousands upon thousands of our readers bought them at a discount, so this is your chance if you missed out. There's no way this deal will last much longer though, so it could be now or never.
Price: $174.99
You Save: $74.01 (30%)
Apple's AirPods 2 with Wireless Charging Case are back in stock for $200, but DO NOT buy them. Instead, upgrade to AirPods 3 and get them for $149.99 thanks to a discount at Amazon.
You'll get MagSafe wireless charging plus the new form factor, and you'll spend less money than you would have on the previous-generation model.
Price: $149.99
You Save: $29.01 (16%)
Last but certainly not least, we have Apple's beloved AirPods 2. They got a nice price cut when the newer AirPods 3 model came out. But right now, you can get a pair for only $99.99 on Amazon.
Just like AirPods Pro and AirPods 3, this deal is almost as good as what we saw on Black Friday!
Price: $99.99
You Save: $59.01 (37%)
Amazon's big Apple Watch sale
Amazon has massive discounts right now on several Apple Watch models. That includes rare discounts on the Apple Watch Series 7 and Apple Watch SE! The only problem is that it looks like these deals are on the verge of disappearing. That means it could be your last chance to save!
At the time of this writing, the Apple Watch Series 7 was down to $329 depending on which color you buy.
As for the Apple Watch SE, you can get one today starting at $229. That's exactly the same as the deal we saw on Black Friday.
Price: $249.00
You Save: $30.00 (11%)
Buy Now
© Provided by BGR Apple Watch Series 7 [GPS 41mm] Smart Watch w/ Midnight Aluminum Case with Midnight Sport Band.…
Price: $429.94
iPad
If you're in the market for a new tablet, we have some excellent news. Surprisingly, the newest 10.2-inch iPad is back in stock at Amazon for the first time since last October.
This model is still so hard to find at other retailers, so this is definitely exciting news. But if you want even better performance, there are a few discounts you should check out.
The awesome 4th-generation iPad Air is in stock with a huge $130 discount. The new version comes out soon, but not everyone needs all the new bells and whistles Apple added this time around.
On top of that, the brand new iPad Air 5 with Apple's blazing-fast M1 processor has its first discount ever at Amazon right now!
Of course, if you want even more power, the iPad Pro (11-inch) is also discounted right now.
Additionally, the iPad Pro (12.9-inch) starts at $999 today, which is a nice big $100 discount. These are all fantastic Amazon deals on best-selling Apple tablets, though the discounts aren't as impressive as Amazon's AirPods deals.
Price: $469.99
You Save: $129.01 (22%)
Buy Now
© Provided by BGR 2022 Apple iPad Air (10.9-inch, Wi-Fi, 64GB) - Space Gray (5th Generation)
Price: $569.99
You Save: $29.01 (5%)
MacBook Air
If you're in the market for a powerful new Apple laptop, there are several incredible options out there. Of course, not everyone wants to shell out big bucks for the new MacBook Pro.
Instead, check out the MacBook Air. It's powered by Apple's blazing-fast M1 chip and it's on sale right now with a solid discount at Amazon.
Price: $980.83
MacBook Pro
Amazon's big sales right now slash up to $150 off the price of the 13-inch MacBook Pro. That's a tremendous deal for one of the most powerful laptops ever made. The newest generation of 14-inch MacBook Pro is also back in stock with discounts.
Here are some key details to keep in mind:
Apple's M1 chip is a revolution in the personal computing space, offering unrivaled CPU and GPU performance
Instant wake means no more waiting for your laptop to load
The

8-core CPU delivers up to 2.8x faster performance

, while the

8-core GPU brings up to 5x faster graphics

The M1 is also Apple's most efficient chipset ever, enabling up to 20 hours of battery life on a single charge
The dedicated 16-core Neural Engine enables advanced machine learning capabilities
There has never been anything like this before on comparable notebook computers
Price: $1,258.92
Buy Now
© Provided by BGR 2021 Apple MacBook Pro (14-inch) with Apple M1 Pro Chip
Price: $1,949.99
AirTags
Believe it or not, Apple AirTag trackers are on sale right now, which is even rarer than AirPods deals! They're $29 each when you buy them individually, and 4-packs sell for $99. Unfortunately, 1-packs and 4-packs both sold out last week.
Head over to Amazon right now, however, and you'll find AirTag 4-Packs in stock again.
AirTags could sell out again at any time, so you'll need to hurry.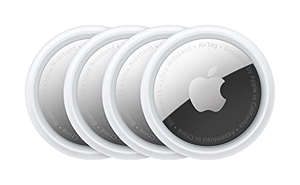 Price: $99.00
Go here to see this month's best deals online!
The post AirPods are so cheap right now at Amazon, it could be a mistake appeared first on BGR.
Video: Apple to cut iPhone, AirPods output - Nikkei (Reuters)