Breathe Easy With These Best Smokeless Fire Pits

By Rachel Klein, Bradley Ford
of Popular Mechanics
|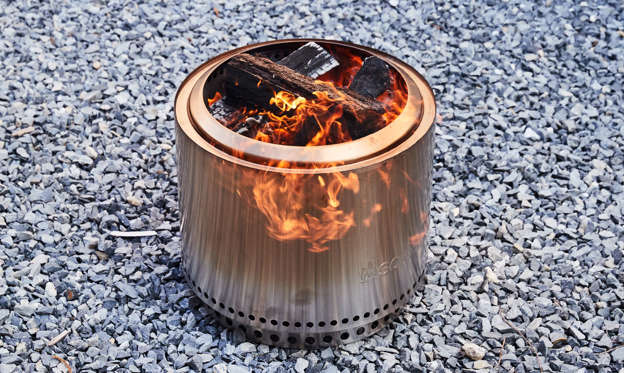 Most likely, you want a fire pit that adds ambiance to your outdoor space, provides warmth on chilly evenings, and maybe even grills up some tasty meals. What you don't want is a ton of smoke that leaves your eyes watering and your clothes smelling like a weekend camping trip. In short, what you're looking for is a smokeless fire pit. These modern appliances safely contain fire, foster complete combustion with little to no smoke, and come in a variety of sizes and styles to suit your outdoor décor.
The Best Smokeless Fire Pits
Editors' Note: We reviewed our picks of the best smokeless fire pits on May 12 and still stand behind these recommendations.
The Origin of Smokeless Fire Pits
While smokeless fire pits for your backyard are a relatively recent development, smokeless fires have been burning for years—centuries, even. As far back as the 1600s, Native Americans employed the Dakota Fire Hole to create hot fires that would burn in windy conditions and not spread to endanger their environment. It consisted of two holes in the ground, connected by a tunnel. Building a fire in one hole causes the rising heat to draw cool air through the tunnel from the other hole. This constant flow of air fueling the fire creates a hot fire that burns close to 100 percent of the available organic material, i.e. wood. Rocket stoves, developed in the early 1980s, utilize the same principle. And now so do our modern smokeless fire pits, with the addition of air being pulled into the top of the fire around the rim of the pit.
Fire Pit Fuel
Most typical smokeless fire pits burn wood. You'll want to use seasoned wood—that means it has had time to dry out over six or more months. Wood that's still green or wet will burn more slowly and may produce smoke even if you use it in a smokeless fire pit. Some models, like the Tiki we tested, are also designed to burn wood pellets.
Whatever fuel you use, you'll burn through it more quickly in a smokeless fire pit due to the constant stream of air feeding the fire. The upside of this is that, when the wood burns this hot and completely, you have less ash to clean up.
What to Consider
First, you need to manage your expectations regarding smokeless fire pits, because while good ones are nearly completely smokeless visually, they still produce exhaust gasses. So you'll still have some of that campfire smell, particularly when it's breezy. For the same reason, you might occasionally get a face full of invisible smoke if you're in the wind. Another important point to know: Not all smokeless fire pits are safe to use on decks or other combustible surfaces. For those that aren't, you can buy a heat shield or a fire pit mat. You may even want one if your fire pit is on concrete with a decorative finish or sealer to protect the surface from getting damaged by the heat.
How We Test and Select
The first thing we examines with these fire pits was how easy they are to assemble and set up. Then we loaded them with seasoned oak firewood and started fires in each. We gauged how easy they were to load and feed the fire to maintain a continuous burn. Once they were burning well, we walked toward each pit until we could feel noticeable heat, then circled them to see how even the distribution was and how much it was affected by wind. We also looked at them through a Flir infrared camera to see if there were any concerning hot spots on the fire pits' bodies. Lastly, we let the fires burn down to ash so we could determine how easy clean-up was after the blaze. We also noted things like whether or not the pits were easy to carry or move around as well as their weight and dimensions.
Some of these fire pits—the Titan, Cast Master, Dragonfire, and Blue Sky models—we haven't had the chance to test yet. But we evaluated them based on their features, reviews that customers have left on retailers' sites, and the experience and insights we've gleaned from using similar pits. They're promising enough to warrant inclusion here and give you more options for fitting the fire pit in with your home. Read on for our reviews.
© Trevor Raab