New Apple HomePod Delivers Improved Sound and More Smart Home Compatibility
Consumer Reports
2/17/2023
By reintroducing the HomePod, Apple gives fans a high-end smart speaker option
The HomePod returns as Apple's flagship smart speaker.
By Allen St. John
The Apple HomePod is back. After quietly dropping its original smart speaker in early 2021, leaving the less-expensive HomePod Mini as its sole speaker option, Apple has now introduced a revamped HomePod. It has better sound quality and more robust smart home abilities, according to Consumer Reports' testers.
At first glance, the new speaker looks almost identical to the original, which was introduced in 2018. It's housed in a vertical cylinder with rounded ends and a mesh grill cloth on all sides. But it features a larger, upgraded touchpad on top that can control the volume and music functions.
Inside, Apple says, the new HomePod uses a different speaker configuration, with five tweeters to handle the highs, a long-throw woofer for the bass, and four mics to pick up requests for Apple's Siri digital assistant. Like its predecessor, the latest HomePod analyzes the surroundings and tweaks the speaker's tone controls for the best sound, but it also adds the option to reduce the bass by a preset amount if the bottom end gets too boomy.
Apple is trying to expand the new HomePod's reach into the world of connected devices, and the model incorporates Matter, a smart home protocol that promises to let you pair and use IOT devices from a wide range of manufacturers without worrying about compatibility. The speaker also features temperature and humidity sensors. 
The new HomePod costs $299 and is available in both black and white. When the model arrived in stores, Consumer Reports purchased samples through regular retail channels for testing in our labs in Yonkers, N.Y. Here's a closer look at what we learned in our evaluation.
Apple HomePod (2nd Gen)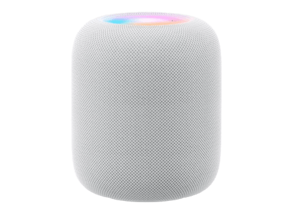 The HomePod Is a Smart Speaker With Smart Features
The setup of the HomePod is very straightforward; I put my iPhone close to the device and the speaker did the rest. But unlike other Apple products, you can't access the HomePod with an Android phone.
If you live in the Apple ecosystem, you'll probably find the HomePod to be a congenial partner. I found that it works seamlessly with the Apple Music streaming service and Apple Podcasts, as well as any iTunes content. I would just ask the Siri digital assistant for the music (or the talking head) of my choice, and a minute later my content was playing.
But if you or other members of your household use other streaming music services, you might be disappointed. The HomePod is also compatible with Pandora, Deezer, NetEase, and a few other second-tier services, and in my evaluation, Pandora worked fine. But market-leader Spotify isn't an option, not to mention Amazon Music and Google's YouTube Music from Apple's mega-rivals in the smart home market.
Which means that it's best to think of the HomePod and Apple Music as a package deal.
If Apple gets its way, you'll also be talking to your Home Pod about things that have nothing to do with music. To drive that point home, Apple also sent me a voice-controllable Eve smart plug that features the new Matter smart home standard. (Consumer Reports recently evaluated a range of smart plugs, not including the Eve.)
The setup for that was a breeze, too. I downloaded the Eve app, scanned a QR code on the plug, and plugged in a lamp. On the surface, a smart plug is a super-simple device with a binary on-off function, but other plugs I've used with smart speakers have botched those basic commands. Eve performed its tasks with aplomb. It always knew when the lamp was on or off, and while I named it "Eve plug," I could just say, "Hey Siri, turn off the plug," and it understood the command. I also found it easy to dive into Apple's Home app and set up a simple routine: Turn on the lamp at 5 p.m. and turn it off again at 6 p.m. It worked flawlessly. 
The HomePod's built-in temperature and humidity sensors also worked fine. While having Siri announce the room's humidity is a fun trick, I imagine the sensor will become more useful in conjunction with, say, a smart blind that will lower when the temperature reaches 75 degrees.
Improved Sound Quality
Like its predecessor, the new HomePod can be used as part of a stereo pair or a multiroom sound system, and that worked like a charm with the two speakers I reviewed. Using the Home app, I could sync music on speakers in different rooms or I could play Joe Henry's gorgeous new album "All the Eye Can See" in the living room and the Spike's Car Radio podcast on a HomePod speaker upstairs. You can also use HomePods in a multiroom configuration as a de facto intercom. Note, however, that you can't pair the new device in stereo with a Mini or a first-gen HomePod. When hooked up to an Apple TV, the HomePod can also play Dolby Atmos content, although it lacks rear surround sound effects that you'd get on a full multichannel home theatre setup.
Our testers report that there's a definite family resemblance between the first-generation HomePod and the new model, but the new HomePod does sound significantly better. Like its predecessor, it has a warm sound that emphasizes smoothness over the delivery of every tiny bit of sonic information. But while the older version sounded rather hazy and veiled, making it hard to hear some musical nuances, the latest HomePod is much more even in that all-important midrange. You get more of the details that make your favorite songs special. FWIW, our testers tried it both ways and decided that in our listening lab, the HomePod sounded best with the Reduce Bass option turned off. And though the speaker doesn't distort even when the volume is cranked, they suggest it's still best to place it in a medium-sized room. Our testers also report that the audio sounds even better when you pair two HomePods in stereo.
And just to be clear, while the new HomePod is a nice step forward from the old version, it represents a quantum leap from the much-less-expensive HomePod Mini. The HomePod Mini has a lot of the same functionality as the HomePod (aside from the Matter smart home capability), but its sound quality is much worse. Our testers put it on a par with that of super-cheap devices like the Amazon Echo Dot and the Google Nest Mini. Overall, it lacks the resolution to make your favorite music truly enjoyable. Consuming podcasts? Sure. Listening to Lizzo? Save up for the HomePod.
Should You Buy the New Apple HomePod?
It sounds a little like the setup for a bad joke: It was hard to appreciate the original HomePod until it went away. Before that, it was easy to focus on its shortcomings. It sounded good but not great, and at $350, it was hard to recommend over cheaper, better-sounding devices like the Sonos One and the Amazon Echo Studio.
But when the HomePod was discontinued, the Mini became the only speaker built from the ground up to work in the Apple ecosystem. And that model falls short of its primary task—sounding good while playing music. Unlike the Echo Dot and the Google Nest Mini, you can't pair Apple's baby speaker with a better-sounding wireless model using Bluetooth. So the Mini left you with the annoying choice between convenience and sound quality. 
The new HomePod fills that void nicely. It sounds really good, with a sonic personality that lets you get up close and personal with the music you love. It also works great with other Apple products and services, specifically Apple Music. If Matter enables the HomePod to become an easy-to-use smart home hub, so much the better. 
Even at its new $300 price, the HomePod isn't a bargain, but that's never been Apple's strong point. The company's latest smart speaker is an attractive, well-designed device that delivers satisfying sound and works nicely with the other Apple devices and services in your life. If your tech world resembles an Apple orchard, then the HomePod is certainly worth a look.
Consumer Reports is an independent, nonprofit organization that works side by side with consumers to create a fairer, safer, and healthier world. CR does not endorse products or services, and does not accept advertising. Copyright © 2023, Consumer Reports, Inc.