Smart Things For Your Home On Amazon You'll End Up Using 3 Times A Day

Bustle
5/20/2023
With so many home goods products out there, it can be tough to decide what's actually worth your money. After all, it's only natural to want to invest in the stuff you'll reliably use the most. Luckily, whether you're on the lookout for clever kitchen gadgets, practical storage solutions, or dependable cleaning supplies, there's something for you on this list.
Read on for tons of smart things for your home that you'll find yourself using multiple times per day. Your home says thanks in advance.
These Reusable Dish Cloths Perfect For Every Spill
Swedish Wholesale Swedish Dish Cloths (10-Pack)
Amazon
Whether you're sanitizing countertops, soaking up spills, or wiping away messes, you'll reach for these reusable dishcloths again and again. Each pack comes with 10 cloths that can be used up to 100 times each. Better yet, they're also super absorbent, since they can soak up 20 times their weight in spills.
A Compact Electric Kettle That Boils Water So Quickly
Zeppoli Electric Kettle - Glass Tea Kettle (1.7L) Fast Boiling and Cordless, Stainless Steel Finish Hot Water Kettle - Hot Water Dispenser - Glass Tea Kettle, Tea Pot Water Heater
Amazon
You'll never go back to a stovetop version once you experience how easy it is to use this electric kettle. With a 1.7-milliliter capacity, this kettle can bring water to a boil in as few as 3 minutes. Made from glass and silicone, it's also completely BPA-free and features a nonslip handle for safety and easy pouring.
The High-Tech Meat Thermometer With Bonus Features
Kizen IP100 Digital Meat Thermometer With Bottle Opener
Amazon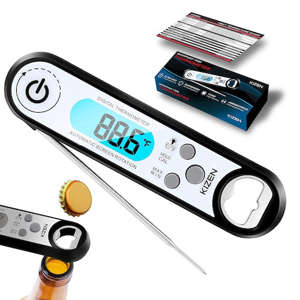 Forget analog thermometers that can be tricky to read, because this digital meat thermometer offers up a crystal-clear reading on its backlit LCD screen in just three seconds. It boasts an IP67 waterproof rating and even has a magnet in the body so you can store it on a fridge or grill when it's not in use. To make it even more practical, it also features a bottle opener on the side.
These Clear Food Containers That Keep Food Fresh & At The Ready
Simply Gourmet Airtight Food Storage Containers (Set of 3)
Amazon
Say goodbye to cereal boxes and paper bags and hello to these airtight storage containers that help keep food fresh thanks to their locking lids. The set comes with three containers, each of which can store a generous 22 cups. If you're looking to up your organization even further, you can use the included chalkboard stickers to label the bins.
A Bidet That Doesn't Require Any Complex Installation
Greenco Bidet Attachment
Amazon
Level up your at-home hygiene routine with this bidet attachment that couldn't be simpler to use. It doesn't require any tools for installation: just hook up the hose to the water supply and you're good to go. Once installed, you can adjust the level of spray and the angle of the water to your liking.
This Citrus-Scented Cleaner For Pet Messes
Angry Orange Pet Stain Remover
Amazon
If you have a pet, messes are inevitable, but stains don't have to be thanks to this pet stain remover. It's made with active enzymes that help break down various stains made by pets. It's also safe to use on lots of surfaces — including carpet and tile — and even helps destroy unwanted odor, too.
The Bottle Brush Kit For Every Hard-To-Clean Vessel In Your Home
Turbo Microfiber Bottle Brush Cleaner Set (5-Pack)
Amazon
Be it water bottles, vases, straws, or any other vessel, you're sure to use this bottle brush cleaner set on the regular. It comes with five brushes of varying lengths and widths so that you have the perfect tool for every cleaning job. Made with a BPA-free plastic handle, these brushes feature a flexible metal neck and durable nylon bristles to scour with ease.
A Reusable Pet Hair Roller That Doesn't Rely On Sticky Sheets
ChomChom Pet Hair Remover
Amazon
Stop going through tons of adhesive lint roller sheets when you can switch to this pet hair remover that's totally reusable. It works by rolling back and forth against the fabric to generate static cling, which traps the fur. To empty the chamber, just push the release button and peel away the hair.
This Grippy Mat That Prevents Litter Box Messes
iPrimio Cat Litter Mat
Amazon
Both you and your kitty are sure to appreciate this cat litter mat that sits underneath litter boxes. Made from a textured PVC material, this mat is designed to trap litter from paws so that your four-legged friend doesn't track it all over the house. Just vacuum up the litter and rinse it off to clean.
The Multi-Functional Bamboo Stand That's Both Stylish & Practical
Greenco Bamboo Foldable Recipe Book Stand
Amazon
This foldable stand is made from eco-friendly bamboo, and thanks to its neutral hue, is sure to match a variety of decors. Whether you're hoping to prop up a tablet or laptop in the office or a cookbook in the kitchen, this stand, which features four adjustable angles, gets the job done. It even folds flat when not in use to conserve space.
A Set Of Meal Prep Containers You'll Use For Everything
Brieftons Glass Meal Prep Containers: 5 Pack, 30 Oz with Airtight, Leakproof Snap Locking Lids, Perfect for Food Storage, Lunch & Portion Control, BPA-Free, Microwave, Oven, Freezer & Dishwasher Safe
Amazon
Whether it's for storing leftovers or prepping ingredients for a week of cooking, you'll reach for these meal prep containers multiple times a day. Made from borosilicate glass with airtight locking lids, they're safe to use in the microwave, freezer, oven, and dishwasher. Each set comes with five 35-ounce containers.
These Handy Vacuum Seal Bags With Lots Of Uses
Nutri-Lock Vacuum Sealer Bags (4-Pack)
Amazon
These vacuum sealer bags work with a variety of sealing machines to remove excess air, ensuring food stays fresher for longer. The set comes with four rolls of 8-by-25-inch bags that are ideal not just for freezer storage but also come in handy for sous vide cooking and marinating as well. Reviewers like them too, with over 22,000 of them weighing in to give this a 4.7-star rating.
The Spinning Gadget That Helps Keep Makeup Brushes Clean
Neeyer Makeup Brush Cleaner
Amazon
If you don't wash your makeup brushes as often as you should (who does?), this brush cleaner is here to do your dirty work. It features a rotating grip that affixes to the end of your brushes, allowing you to swirl them in the included bowl to get a deep clean. To dry, use the same function to spin out excess water.
An Attractive Essential Oil Diffuser To Bring An Aura Of Calm To Your Home
Everlasting Comfort Essential Oil Diffuser
Amazon
This essential oil diffuser couldn't be simpler to use. Simply detach the inner and outer covers to reveal the base and fill it with water and essential oils of your choosing. Return the covers and power it on to enjoy a fine, scented mist that's sure to relax. And thanks to the faux wood finish, it'll look right at home in a variety of spaces.
The Stain Removing Spray Every Wine Drinker Needs
Chateau Spill Stain Remover
Amazon
If you've ever spilled the occasional glass of wine and struggled to remove the evidence, this red wine stain remover is for you. Made without dyes, phosphates, or sulfates, this remover works best on fresh stains but can still be used on older ones, too.
This Toothpaste Dispenser That Can Help Organize Your Bathroom
iHave Toothbrush Holder
Amazon
If you're looking to organize your bathroom, this toothbrush holder is a practical addition you'll use multiple times per day. Featuring slots for four toothbrushes, it also dispenses toothpaste with the push of a button and stores two rinsing cups. There's even a drawer built in for stashing floss, skincare products, or anything else you like to keep on hand.
The HD Pet Cam That Lets You Keep An Eye On Your Furry Friends
WUUK 4MP Indoor Security Camera
Amazon
If you hate leaving your cat or dog at home, this indoor security camera helps make the separation a little more bearable. Featuring a 4MP ultra-HD camera, the system pairs with your phone so you can get alerts when it detects movement. It even comes with two-way audio so you can give your little one words of encouragement while you're away.
A Smart Plug That Lets You Control Your Devices With Your Voice
Amazon Smart Plug
Amazon
Bring your home into the 21st century with this WiFi-controlled smart plug that offers voice control. It plugs into any outlet without obscuring the top or bottom plug. Pair it with Alexa so that you can turn off the lights without leaving bed or schedule the coffee maker to go off in the morning.
This Plug-In Surge Protector That Sits Over Your Existing Outlet
Lvetek USB Wall Charger
Amazon
Keep yourself safe from surges while more than doubling your outlet capacity with this outlet extender. It features five traditional outlets, plus three USB ports and one USB-C port for charging. It's well-liked by reviewers, too, since nearly 10,000 of them have weighed in to give it a 4.7-star rating.
The Practical Dustpan Set That Helps Keep Your Broom Clean
kelamayi Broom Dustpan Set
Amazon
Make sweeping up a less arduous task with this broom and dustpan set. The long handle on both the broom and pan ensure you won't need to bend over, and both pieces clip together for easy storage. The pan also has rubber teeth to help clean out debris from in between the brush bristles so you can toss it away easily.
An Electric Mug Warmer For Piping Hot Coffee
VOBAGA Coffee Mug Warmer
Amazon
To keep your coffee just as hot as when you poured it, snag this coffee mug warmer that works with most flat-bottomed mugs. It features three settings: warm, hot, and extra hot that are activated with the push of a button. It even comes programmed to turn off automatically after 4 hours for safety, so you can rest easy as you sip.
This Air Purifier That Doubles As Aromatherapy
LEVOIT Air Purifiers for Bedroom Home, HEPA Filter Cleaner with Fragrance Sponge for Better Sleep, Filters Smoke, Allergies, Pet Dander, Odor, Dust, Office, Desktop, Portable, Core Mini, White
Amazon
Purge your home of dust, smoke, allergens, and more with this air purifier, complete with HEPA filter. Not only is it incredibly quiet, making it ideal for nighttime use, it can also be used as an aromatherapy device with the addition of essential oils. And because it's just 10 inches high, it's effective without being bulky.
The Pint-Sized Speaker That Doesn't Compromise On Sound
Echo Dot
Amazon
Even though the Echo Dot speaker is small, its sound is mighty. The Echo Dot is, of course, compatible with Alexa, allowing you to do everything from ordering groceries, listening to audiobooks, or powering smart devices that are paired with it on and off. For extra privacy, you can even mute the microphone, too.
A Multi-Level Steamer That Lets You Cook A Whole Meal At Once
Cozeemax Electric Food Steamer
Amazon
Cook up healthy meals in no time with this electric food steamer. This steamer comes with a generous 13-liter capacity, and the water tank swivels out for easy filling. It features three separate layers with removable, stackable lids, ensuring it can fit compactly in your cabinets when not in use.
This Set Of Genius Magnetic Ties With Tons Of Uses
SMART&COOL Reusable Silicone Magnetic Cable Ties (30-Pack)
Amazon
These reusable magnetic ties are so clever, you'll be reaching for them every day to keep your things organized. Whether you're wrapping up charging cables or securing electronic devices, these ties end the hassle of tying and untying knots thanks to the magnetic ends. They also double as refrigerator magnets, allowing you to suspend everyday items and keep them at the ready.
The Handy Bedside Shelf That Keeps All Your Essentials Organized
Wutub Bedside Shelf Accessories Organizer
Amazon
Whether you're storing your glasses, phone, headphones, jewelry, or anything else, this bedside shelf organizer ensures your essentials are always within reach. It mounts quickly and easily thanks to adhesive tape backing and can support up to 25 pounds of weight. It features two compartments, a headphone shelf, and two smaller hooks for storing keys or wrapping cables.
A Highly Practical Vacuum Sealer For Storing Food
NutriChef PKVS Sealer
Amazon
This vacuum sealer works with a number of bags to suck out excess air, ensuring food stays fresher for longer. It can even help reduce freezer burn on frozen foods. In addition to the device and vacuum bags, it also comes with a suction hose and a stopper so you can remove excess air from bottles and more.
The Dock That Stores & Charges 6 Devices At Once
Powstick Charging Station
Amazon
If your devices have accumulated a mess of tangled power cables, this charging station can get everything sorted. The dock comes with six shelves so tablets, phones, and more can stay safely supported as they charge. It also includes six USB ports, plus three lightning cables, two micro-USB cables, and one type-C cable so you can power a variety of devices.
This Large-Capacity Chopper That Makes Meal Prep Quicker
Fullstar Vegetable Chopper
Amazon
Forget dicing and cubing by hand because this vegetable chopper is here to get it done in far less time. Not only does it come with dicing blade plates in two different sizes, but it can also spiralize, juice, and slice. The reservoir at the bottom holds up to 5 cups, with measurement lines clearly marked.
A Set Of Simple Magnetic Screws That Can Keep Your Keys Secured
Savvy Home Magnetic Key Rack (4-Pack)
Amazon
Sometimes the simplest solutions are the most clever ones, and this magnetic key rack that consists of four magnetic screws, is one of them. Simply remove one of the existing screws from your light switch plate and replace it with the magnetic version and you'll have a place to store key rings and more that's always within your sights. It can support up to 3 pounds of weight, making it perfect for bulkier key rings, too.
An Under-Cabinet Gadget That Helps You Open Tough Jars
The Grip Jar Opener
Amazon
You're sure to reach for this jar opener every time you encounter a tough lid. It comes with both adhesive tape and screws for easy installation, and couldn't be simpler to use. Simply wedge the lid into the triangular cut-out and use the pressure and grip of the stainless steel teeth to open the jar with less force.
This Simple Rack That Helps Reduce Kitchen Messes
Zylone Lid and Spoon Rest Shelf
Amazon
Cooking can be messy, but this lid and spoon shelf helps keep things tidier. Made from durable stainless steel, the shelf has both a slot on which to rest a spoon and a rack to store a lid, making it easy to stir your dish without placing dirty utensils on clean counters. It's lightweight, too, weighing less than a pound.
The Compact Sanitizer That Cleans Your Phone In 1 Minute
HoMedics UV Clean Phone Sanitizer
Amazon
You take your phone nearly everywhere, so it's probably dirtier than you think. Thankfully, this phone sanitizer, which uses UV light to get rid of germs, is here to purge your device of bacteria and viruses. Simply put your phone in the rechargeable case and power it up: with 30 seconds on each side you'll eliminate 99.9% of germs.
A Faucet Attachment That Turns Tap Water Into Filtered Water
Brita Water Filter
Amazon
Get this Brita water filter sink attachment and bid farewell to bottled water. Once attached to your faucet, you can select from filtered water, unfiltered water, or unfiltered spray to ensure you're not wasting filtering capacity. Meanwhile, when the filter option is selected, you can feel confident you're removing lead, chlorine, and more from your drinking water.
These Eco-Friendly Reusable Bags For Food Storage
Stasher Reusable Food Bag
Amazon
If you're hoping to cut down on single-use plastic in your home, try these reusable food bags. Made from food-grade silicone, they pinch closed for a tight seal and are safe to use in the microwave, freezer, and dishwasher. While they're great for leftovers or lunches on the go, they also double as toiletry holders for travel, too.
The Hands-Free Soap Dispenser Your Bathrooms Need
Secura Automatic Soap Dispenser
Amazon
Put an end to wet, messy soap bottles with this automatic soap dispenser. It features a bottom coated in anti-slip material to ensure it stays in place and boasts a hefty 17-ounce capacity. It's battery powered and uses motion detection to dispense a small amount of soap, so you won't need to touch a pump with dirty hands.
A Classic Ottoman That Doubles As Storage
Otto & Ben Storage Ottoman
Amazon
If you're looking to increase extra seating while adding a bit of covert storage to your space, this ottoman is the perfect thing. It features two lids on hinges that swing open, revealing a hollow center where you can store throw blankets, toys, and more. As a bench, it can support up to 250 pounds.
This Rotating Organizer That Neatly Displays All Your Makeup
MISERWE Makeup Organizer
Amazon
If you think storage should also be chic, you're going to want to pounce on this makeup organizer ASAP. Made from stylish transparent acrylic, this organizer has three tiers of adjustable storage, so you can customize the height to allow for differently sized product bottles. It rotates a full 360 degrees so that you can easily access items, too.
An Air Fryer That Delivers Delish Meals In Minutes
Instant Pot Vortex Mini Air Fryer
Amazon
Snag this mini air fryer and you'll be cooking up meals in less time and with less oil. It has a 2-quart capacity and can reach temperatures of up to 400 degrees. Plus, the internal basket is dishwasher-safe, so it's easy to clean, too. As a bonus, its one-touch smart programs make it a breeze air-fry, roast, bake, or reheat.
The Rollable Dish Rack That Drains Directly Over Your Sink
Kibee Rack Dish Drying Rack
Amazon
Big, clunky dish racks can be eyesores that steal counter space, but this drying rack sits directly over your sink to save space without creating drippy messes. Made from stainless steel and silicone, the rack rolls up when not in use so that you can easily store it in a drawer or cabinet. When it needs to be cleaned, just toss it in the dishwasher.