Most and Least Reliable Dishwasher Brands
Consumer Reports
7/24/2018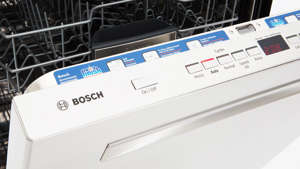 © Provided by Consumer Reports
Consumer Reports has no financial relationship with advertisers on this site.
Consumer Reports has no financial relationship with advertisers on this site.
How long should a dishwasher last? Consumer Reports members expect a dishwasher to last 10 years, on average, according to our latest survey on this appliance.
That expectation lines up with what a number of manufacturers say—that their dishwashers are built to last roughly a decade. Choosing a reliable brand may help you get past the average lifespan.
Bosch, Thermador, and Whirlpool stood out as the most reliable dishwasher brands in Consumer Reports' latest member survey, garnering an Excellent rating for predicted reliability. That means that of the 20 brands in our ratings, new dishwashers from Bosch, Thermador, and Whirlpool are the least likely to break within the first five years.
But how happy are these dishwasher owners with their purchase? Having a dishwasher that lasts 20 years isn't much solace if you don't like it, so our survey asks CR members about their satisfaction level as well. Our owner-satisfaction rating reflects the proportion of CR members who are extremely likely to recommend the dishwasher they bought.
Bosch and Thermador rated Excellent on this measure, whereas Whirlpool owners were only lukewarm: Whirlpool earned a Good rating for owner satisfaction, which is middle of the pack.
Our survey results are based on CR members' experiences with 74,880 dishwashers purchased between 2007 and 2017 and not covered by a service contract. 
Least Reliable Dishwasher Brands
"Our survey suggests that paying more for a dishwasher does not necessarily mean it's going to be a more reliable machine," says Simon Slater, manager of survey research at CR. "And in general, we found that consumers pay more to get expensive dishwashers repaired."
Viking, Electrolux, and Samsung dishwashers received our lowest rating for reliability—a Poor. Because of that, CR cannot recommend dishwashers from these three brands at this time.
"Consumers should use some caution when considering dishwashers from Blomberg and Beko, given that they rated only Fair in reliability," Slater says. CR cannot recommend these brands at this time, either. 
Of the 20 brands in our survey, owners of Electrolux and Frigidaire dishwashers were the least satisfied (Electrolux is the parent company of Frigidaire), though Frigidaire did earn a Good rating for predicted reliability.
Choosing a Dishwasher Just Got Easier
We now incorporate lab test results, predicted reliability, and owner satisfaction into one Overall Score to make it easier for you to pick the best dishwasher for your budget. That means everything you need to make your buying decision is all in one place on the dishwasher ratings chart.
Each of the 100-plus models in our ratings features this new all-in-one rating, so check them out before you shop. 
Consumer Reports is an independent, nonprofit organization that works side by side with consumers to create a fairer, safer, and healthier world. CR does not endorse products or services, and does not accept advertising. Copyright © 2018, Consumer Reports, Inc.