Comcast sells nearly 6 million shares of its Buzzfeed stake amid sharp rally
MarketWatch
2/2/2023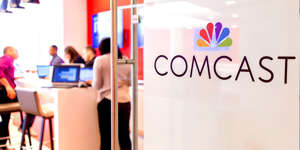 Comcast Corp. has sold part of its stake in Buzzfeed Inc., which has seen its shares surge in recent days amid enthusiasm for the publisher's artificial-intelligence efforts.
Comcast disclosed Wednesday in a filing with the Securities and Exchange Commission that it sold 5,726,385 shares of Buzzfeed in the open market between Jan. 30 and Feb. 1. The media giant noted in the filing that it owned 19.97% of Buzzfeed shares.
Buzzfeed disclosed in its last 10-Q filing that there were about 126 million shares outstanding of the company's Class A stock.
Shares of Buzzfeed closed at 95 cents Jan. 25, the day before the Wall Street Journal reported on the company's plans to use ChatGPT creator OpenAI to augment its quizzes and aid in personalization efforts. By the close of trading on Jan. 27, they had shot up nearly 300% to $3.87. They closed Wednesday at $2.18, giving Buzzfeed a market cap above $300 million.
Comcast expects to sell additional shares depending on market conditions, the company said in the filing, though there are no guarantees that it will indeed sell.
The company's NBCUniversal unit made a $200 million equity investment in Buzzfeed in 2015.
ChatGPT, a chatbot that uses artificial intelligence, has taken the tech world by storm since making its public debut toward the end of 2022. Microsoft Corp. recently announced a "multibillion-dollar" investment in the company, and an analyst commented Wednesday that the service seemed to be growing users faster than TikTok did after it first went global.
Read: ChatGPT to charge $20 a month for premium subscriptions, as chatbot grows faster than TikTok
The chatbot has impressed users with its ability to handle creative prompts, though it has also been known to make factual errors and display bias.
ChatGPT has helped kick off an AI frenzy on Wall Street. Shares of C3.ai Inc. an enterprise AI company, have rallied nearly 50% since Jan. 25.
Read next: Opinion: Microsoft's big move in AI does not mean it will challenge Google in search