Former Uber engineers say sexism and abuse were widespread

LinkedIn
2/27/2017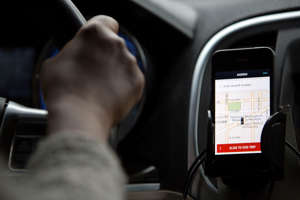 © Andrew Harrer/Bloomberg The Uber Technologies Inc. application runs on an Apple Inc. iPhone during an Uber ride in Washington, D.C., on April 8, 2015. In an explosive blog post published last week, Susan Fowler outlined a series of discriminatory and sexist episodes she experienced as an Uber employee, only to be then let down by what she describes as an inherently broken human resources department that deflected her cries for help.
Fowler resigned from Uber this past December, but she left behind hundreds of female engineering peers. In an attempt to understand how widespread Fowler's tale was, I reached out to nearly 100 former Uber software engineers, interviewed nearly a dozen and reviewed supporting documents like resignation letters.
Most of the engineers I interviewed told stories similar to Fowler's, with tales of an unrestrained "frat-like" culture of the kind described in a New York Times article. One male employee shared an account of a female colleague being ridiculed by her peers after she suggested that a t-shirt with a nude woman on it worn by a male engineer might be inappropriate for the office. Another said engineers talked openly with their managers at lunch about their latest sexual escapade or drunk adventure.
"I really wanted to believe that my experience was an exception, and that I failed at Uber because I deserved to fail, not because of factors beyond my control," said one female former engineering manager. "Every time I hear a story like [Fowler's]... I realize that this was the norm."
Everyone I spoke to agreed to talk only on the condition of anonymity — some even asking I make no reference to race, age or gender — for fear of retribution from Uber. Finding former female software engineers was challenging; Uber this week reported that only 15.1% of their technical workforce is female — low by tech standards. Out of some 500 people who list having once worked for Uber as a software engineer on their LinkedIn profile, only about 15 are female.
Responding to a request for comment, a company spokesperson said that the internal investigation — led by board member Arianna Huffington and former Attorney General Eric Holder — into the issue will focus not only on how women are treated at the company, but all underrepresented groups. Engineering teams, in particular, have been identified as demanding a deep review. And while some sites have questioned how Holder and Huffington can remain impartial, the Uber spokesperson said that the investigation will remain "thorough and independent."
In the meantime, many ex-Uber employees are nodding their head at the picture that's emerging of the fast-growing company. "If you are anything other than a straight white male preferably with heavily bro-y attitudes, you are not going to fit in," said one male former software engineer who worked for Uber several years ago. "It was very much a frat house culture where engineers felt free to make jokes about things like going to college recruiting events and hooking up with students… I wasn't interested in joining in heavy drinking and horse play and talking about [my] latest sexual conquest."
At the time, there was no HR department that he could report the incident to. He was terminated after about four months, which he blames on not conforming to his team's party-heavy ways. (I ran this engineer's allegations and all the other ones in this article by the Uber spokesperson, who said the company couldn't comment on incidents from anonymous sources.)
Five years later, Uber now has a robust human resources org, but for some employees the culture still resembles its early years. A female former software engineer was once verbally assaulted by a fellow engineer who she described as a "high performer" and "close to the manager." The engineer told her that no one on the team liked her and that she wasn't doing a good job.
When she went to her manager with the problem, she said he would address it and explicitly instructed her not to go to the HR department with the problem. She said she didn't report the incident formally out of fear that she would lose her job and when she asked if she could switch teams, her manager denied the request. Roughly a year later, she chose to leave Uber because she felt "mentally tortured" by her team. As for the "high performer" who verbally abused her, she said he is still at the company.
Instances of women being talked down to by their managers were common among the engineers I spoke to. The female former engineering manager who initially blamed herself for her bad experiences at Uber was told repeatedly by her boss that she was "not technical," despite working in technical roles for nearly 20 years. This critique was made after she left one of the biggest tech companies in the world — where she was told she was "too technical" by some managers. She was the only woman on her team, the only female manager in her organization and no females reported directly to her.
Another showed me her resignation declaring that she felt, "powerless to be at a company where women are often not recognized, respected, or appreciated if they don't fit the mold of representing a fierce, toe-stepping environment."
Not every engineer I spoke with felt, as one source put it, "dread, sadness, followed by a torrent of PTSD," over the time that they worked at Uber. One female former software engineer who now works at a fast-growing startup said she immensely enjoyed her experience working at Uber. She had a very supportive manager and worked with three other female engineers on her nine-person team.