The Florida warehouse producing 'made in America' Kalashnikovs

Bloomberg
3/8/2018
V
ideo by The Wall Street Journal
Weeks before he killed 17 students and staff at Marjory Stoneman Douglas High School in Parkland, Fla., Nikolas Cruz bought an AK-47-style rifle at a gun shop. While he didn't use it during his killing spree on Feb. 14, his purchase drew attention to civilian versions of one of the most famous Russian inventions of the 20th century, the AK-47.
In late February, shortly after the shooting, a small group of protesters gathered at a large, nondescript warehouse in Pompano Beach, about 13 miles from Marjory Stoneman Douglas. Although it bears no signs or corporate markings, this 40,000-square-foot factory is the headquarters of Kalashnikov USA, which sells semi-automatic shotguns based on the iconic AK-47 design of Kalashnikov Concern JSC, the state-owned Russian arms maker that the U.S. Department of the Treasury slapped with sanctions in July 2014. According to the U.S. company's website, you can get one of these semiautomatic shotguns from one of three dozen gun dealers across America. The price: $999.
Kalashnikov USA says it's not violating sanctions because it's cut ties to Russia and now sells guns of its own creation, assembled from parts made in the U.S. A closer look reveals an intricate web of interlocking shell companies, some set up since sanctions began, that connects Kalashnikov USA executives to top allies of Russian President Vladimir Putin. One effective result of this could be that Kalashnikov Concern keeps access to the lucrative U.S. gun market while staying on the right side of sanctions. Before sanctions, the U.S. accounted for 90 percent of the company's civilian firearms exports.
"Everything we are doing is by the book, and clearly we are not doing anything wrong"
The trail begins with RWC Group LLC, a company set up in Pennsylvania in 2011 and managed by Eldad Oz, whose brother Moshe is an Israeli commando-turned-arms manufacturer. RWC—the initials stand for Russian Weapons Co.—owns the Kalashnikov USA plant in Florida, its only known business. Michael Tiraturian, who's listed as manager of RWC and senior vice president of Kalashnikov USA, is a longtime business associate and friend of Alexey Krivoruchko, the chief executive officer and majority shareholder of Kalashnikov Concern in Russia. A second RWC manager, Peter Viskovatykh, has had business ties in Florida to an associate of billionaire rail car, transport, and mining magnates Andrei Bokarev and Iskander Makhmudov, two oligarchs close to Putin. Both men invested in Kalashnikov Concern when Putin's government started privatizing it four years ago. Late last year, Krivoruchko agreed to buy them out and purchase more shares from the government, leaving him 75 percent of the company. (Viskovatykh, Bokarev, and Makhmudov didn't respond to requests for comment.)
Krivoruchko wasn't personally targeted by the U.S. sanctions, which were imposed to punish Putin's government for supporting separatists in Ukraine. But as he's majority shareholder and CEO of Kalashnikov Concern, even indirect ties to the Florida plant could raise red flags, says Daniel Fried, a former U.S. Department of State diplomat who crafted Russia sanctions during the Obama administration. "If it appears a company has altered arrangements to avoid sanctions, then OFAC might take a dim view," says Fried, referring to the Office of Foreign Assets, the arm of the Treasury Department that executes and polices sanctions.
In a phone interview, Tiraturian, whose surname is spelled Tiraturyan in some corporate records, says he's been friends with Krivoruchko for years but insists they don't have a business relationship. Once sanctions were imposed, he says, "We were very, very, very careful about what we do." He says they spent "a fortune" on lawyers to show the U.S. government that they were complying. "Everything we are doing is by the book, and clearly we are not doing anything wrong," he says.
Krivoruchko, a career executive in Russian state companies, has enjoyed steady support from top members of Putin's government, including Sergey Chemezov, head of the Rostec State Corp. conglomerate, who was targeted by U.S. sanctions. In February 2014, Dmitry Rogozin, deputy prime minister in charge of the defense industry, approved Krivoruchko as CEO of Kalashnikov Concern and allowed him to buy a 49 percent stake with Bokarev and Makhmudov. Two years later, Krivoruchko gave Putin a tour of Kalashnikov's factory.
In 2012, two years before the Ukraine sanctions hit, RWC, then based in Tullytown, Pa., was set to be Kalashnikov Concern's conduit into the U.S. gun market, having made a deal to be its sole U.S. distributor. By January 2014, Kalashnikov had plans to export 200,000 guns a year to the U.S. via RWC. That all changed when President Obama announced the sanctions six months later.
In 2015, RWC began to move to South Florida. Krivoruchko has roots in Miami dating to 2011. He'd created a web of companies there and used them to buy a $1.3 million condo on Fisher Island in Miami, a 50-foot yacht named Atlantis, and a $200,000 Mercedes-Benz SLS AMG sports car, Florida court and real estate records show.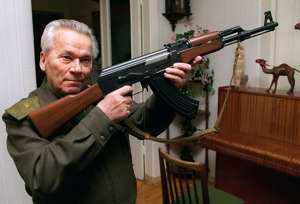 Just as Putin pushed into Crimea in early 2014, Krivoruchko made Tiraturian manager of the Florida companies that owned his condo and yacht. Krivoruchko's name disappeared from corporate documents, and there's no public record of any money changing hands. Ownership of the 2,700-square-foot condo was transferred to a company in Nevada for $100 before a Florida company managed by Tiraturian bought it less than a year later for $2.4 million, property records show.
In 2015, Tiraturian became a director of CAA Industries Ltd., an Israeli arms company founded by Moshe Oz, whose brother Eldad set up RWC. In January 2017, he first appeared as manager on RWC's corporate filings. Despite all this, Tiraturian says that he and Krivoruchko have never done business together. "I have never bought anything from him; he has never bought anything from me," he says.
Shuffling ownership of companies is a tactic some Russian businessmen have used to hide stakes in properties, says Mark Galeotti, director of Mayak Intelligence, a Prague-based research firm focused on Russia and transnational organized crime. "They choose a trusted lieutenant—technically it's now yours, but in practice you know who's in charge," says Galeotti, who specializes in untangling ownership structures of Russian businesses.
Kalashnikov USA insists that none of its parts are sourced from Russia, yet documents filed almost a year after sanctions were imposed suggest otherwise. In April 2015, documents submitted as part of an application for $162,000 in state, county, and local tax breaks stated that RWC planned to assemble guns at the plant in Pompano Beach using parts imported from Kalashnikov's factory in Russia. If true, that would violate sanctions. Although the plans were approved by local authorities, RWC failed to fulfill a commitment to create 54 jobs with an average salary of $51,266, so it never got the money.
Just how many guns Kalashnikov USA is making at its Florida plant is a mystery; the company won't say. Last May it started selling its first and only model, the KS-12 semi-automatic shotgun that mimics the AK-47 design, complete with its iconic curved magazine. Kalashnikov Concern denies any ties to the U.S. entity. "Today Kalashnikov Concern does not have any business and does not cooperate either with Kalashnikov USA, or with any other U.S. or Israeli companies," the company said in response to emailed questions. "Since the introduction of sanctions, none of company's shareholders and top-managers are affiliated with the above-mentioned foreign companies." Krivoruchko didn't respond to requests for comment.

After sanctions were imposed, Kalashnikov USA hired Brian Skinner as its CEO. Inside the Pompano Beach plant on the afternoon of March 5, Skinner exchanged pleasantries but declined to comment. In a statement sent the next day, Kalashnikov USA said it complies with all laws and sanctions programs: "Kalashnikov USA does not conduct business with the Russian company Kalashnikov Concern." The company declined to comment on ties its employees or executives might have with Krivoruchko or anyone else at Kalashnikov in Russia.
The protest in February was the first clue most people in Pompano Beach had that the gleaming white facility was making Russian-inspired weapons. On a recent afternoon, Louis Pierre, a 50-year-old immigrant from the West Indies, was taken aback when asked about the gun plant down the street from his small home. He'd seen trucks coming in and out loaded with furniture, steel, and food, but no guns. "They make that there, man?" he said, as he paused from working on the V-8 engine of his Ford F-350 pickup. "I had no idea they do that, nobody did. And what does it matter, anyway? In America, anyone can have a gun."
—With Alexander Sazonov and Alisa Odenheimer