Dow, S&P 500 futures tumble after arrest of Huawei CFO
MarketWatch
12/6/2018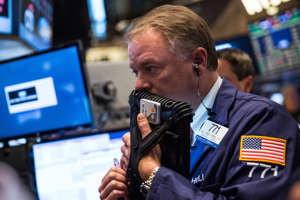 U.S. stock market futures tumbled in early trading Wednesday night, signalling potential Thursday losses on Wall Street, after Canada arrested a top executive of Chinese telecom giant Huawei Technologies at the request of the U.S., a move that is seen as exacerbating tensions between the U.S. and China.
Dow Jones Industrial Average futures were down more than 300 points Wednesday night, off more than 1.4%. S&P 500 futures and Nasdaq Composite futures were also down more than 1%.
CME Group, the world's largest futures exchange, intervened with circuit-breakers to avoid worse losses, implementing several 10-second pauses and accepting only limit orders in hopes of "preventing even harder moves."
Asian stock markets fell as well, with Hong Kong's Hang Seng Index down more than 2%.
The U.S. is seeking extradition of CFO Meng Wanzhou over alleged violations of sanctions against Iran. The move could reignite simmering trade tensions between the U.S. and China, and one expert warned China could retaliate against U.S. executives.