Oil Down Over U.S. Price Cooler Measures, Weaker Chinese Fuel Demand

Investing.com
5 days ago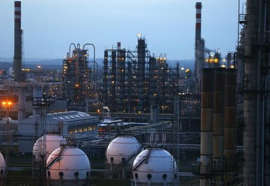 By Gina Lee
Investing.com – Oil was down on Friday morning in Asia over concerns that the U.S. would implement measures to cool prices. Investors were also concerned that the latest COVID-19 outbreaks in China could dent fuel demand in the country.
Brent oil futures were down 0.18% to $28.09 by 10:24 PM ET (3:24 AM GMT) and crude oil WTI futures were down 0.38% to $81.66. However, both Brent and WTI futures are set to climb for a fourth consecutive week, with the black liquid supported by a tight supply market in Libya and Kazakhstan as well as a fall in U.S. crude inventories to 2018 lows.
Meanwhile, China, the world's second-largest oil consumer, re-imposed stricter measures in response to the latest COVID-19 outbreaks. The omicron COVID-19 variant has already spread from the city of Tianjin to Dalian.
Many cities, including Beijing, are urging people to stay home during the upcoming Chinese New Year holidays. Given that this is normally a peak travel season, some investors were concerned about fuel demand.
"The market is a bit toppish," Phillip Futures commodities manager Avtar Sandu said to Reuters. He added that the COVID-19 situation in China and the sale of strategic petroleum reserves (SPR) in the U.S. were a concern.
Meanwhile, the U.S. Energy Department said it had sold 18 million barrels of strategic crude oil reserves to six companies, including Exxon Mobil (NYSE:XOM).
Other investors are optimistic that the impact of omicron on the global economy could be short-lived.
"The short-term outlook still has many risks, but optimism is high that it will be short-lived," OANDA's analyst Edward Moya said in a note. But when oil prices were above $80 a barrel, the pressure for the White House to act and lobby Organization of the Petroleum Exporting Countries and allies (OPEC+) to meet their production quota, he added.
"U.S. President Joe Biden may resort to another SPR release and while that won't solve any problems, it could send WTI crude down to the $80 level," said Moya.