Oil Up as Supply Tightens and Demand Grows

Investing.com
5/23/2022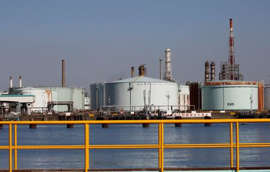 By Gina Lee
Investing.com – Oil was up on Monday morning in Asia as the upcoming U.S. peak driving season could see higher fuel demand.
Brent oil futures gained 0.63% to $110.71 by 12:26 AM ET (4:26 AM GMT) and crude oil WTI futures jumped 0.54% to $110.88.
"Oil prices are supported as gasoline markets remain tight amid solid demand heading into the peak U.S. driving season," SPI Asset Management managing partner Stephen Innes told Reuters.
"Refineries are typically in ramp-up mode to feed U.S. drivers' unquenching thirst at the pump."
The U.S. peak driving season usually begins on Memorial Day weekend on May 30 and ends on Labor Day in September.
Despite concerns about soaring oil prices might dent demand, mobility data from TomTom and Google showed that more people are hitting the road in the U.S.
"High-frequency data suggests demand continues to grow," ANZ analysts said in a note.
A weakening dollar also gave the black liquid a boost because that makes crude cheaper for buyers holding other currencies.
However, gains were capped by concerns over ongoing COVID-19 lockdowns in China. The world's largest oil importer is loosening its lockdowns in Shanghai and the People's Bank of China cut its five-year loan prime rate during the previous week, signaling that the authorities are supporting a recovery.
Meanwhile, the European Union was unable to achieve an agreement on banning Russian oil for its invasion of Ukraine on Feb. 24, which also limited oil's gains.