Dow drops at open after capping off massive 3-day rally

CNBC
3/27/2020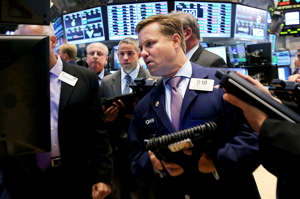 © Spencer Platt/Getty Images Traders work on the floor of the New York Stock Exchange on August 18, 2014 in New York City. Despite a number of global emergencies, the Dow shot up 175 points today, one of the largest single-day rises this year. Stocks fell sharply on Friday, giving back some of the strong gains experienced in the previous three days to cap off another volatile week on Wall Street.
The Dow Jones Industrial Average dropped more than 800 points at the open, or over 3%. The S&P 500 slid 3.2% while the Nasdaq Composite dropped 2.9%.
The Dow rallied more than 1,300 earlier on Thursday, or 6.4%, to cap off its biggest three-day gain since 1931. The 30-stock average is now up more than 20% over the past three sessions, a gain that meets the technical definition of a bull market. The S&P 500 also rallied more than 6% and is now up over 20% since Monday's close as well.
"We believe medium-term risks are skewed to the downside after this rally," Maneesh Deshpande, Barclays' chief U.S. equity strategist, said in a note on Friday. "Two other uncertainties facing investors (the length of the economic quarantine required to contain the virus and the ultimate economic damage) remain unresolved."
Global cases of the coronavirus have surged to more than 542,700 with at least 85,996 in the U.S., according to data from Johns Hopkins University. President Donald Trump held a phone call with Chinese leader Xi Jinping, saying the two countries are "working closely together" to fight the pandemic. Meanwhile, UK Prime Minister Boris Johnson has tested positive for the coronavirus.
Stocks got a boost after the Senate passed a $2 trillion economic stimulus bill aimed at mitigating the economic damage from the coronavirus outbreak. House Speaker Nancy Pelosi, D-Calif., said the bill will be passed "with strong bipartisan support." The House is expected to vote on the bill later today.
Comments from Federal Reserve Chairman Jerome Powell also gave stocks a boost Thursday.
"We still have policy room in other dimensions to support the economy," Powell said on NBC's "TODAY" show. "We're trying to create a bridge from a very strong economy to another place of economic strength."
A massive spike in weekly jobless claims could not halt the market's blistering run higher on Thursday. The Labor Department reported that jobless benefit claims had soared to 3.28 million last week, easily eclipsing the previous record of 695,000.
Thursday's rally put the Dow and S&P 500 on pace for their best weekly performances since the 1930s. However, some traders worry about the sustainability of this surge.
"Even though equities were squeezed higher into the close, credit markets continue to diverge substantially," said Ken Berman, strategist at Gorilla Trades. "You could almost smell the burning shorts on Wall Street [Thursday], but as credit spreads remain wide, one has to wonder how much 'real' buying is behind this week moves, besides the bailout-induced short-covering."
Gregory Faranello, head of U.S. rates trading at AmeriVet Securities, said he's taking the surge in equities with a grain of salt.
"I wouldn't necessarily take the price action in the risk markets right now to be a true reflection that this is over," he said. "This is going to be an economic fallout. We're seeing in two weeks what we would normally see maybe in a year and a half or two years."
The wild market swings come in a week when investors have been pulling money across the board and heading for the safety of cash.
Investors poured $259.8 billion into money market funds, a third consecutive week of record inflows, according to Refinitiv Lipper. At the same time, stock-based funds saw $13.7 billion in outflows. Taxable bond funds saw $62 billion in outflows while municipal bonds lost $13.7 billion, both records for two weeks in a row.
— CNBC's Yun Li contributed reporting.