Wall Street Opens at Record Highs; Earnings Outlook Trumps Fed Fears; Dow up 150

Investing.com
11/1/2021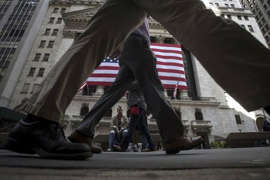 By Geoffrey Smith 
Investing.com -- U.S. stock markets opened the week at new record highs, building on the confidence given by a third-quarter earnings season that for the most part has seen companies continue to churn out cash as the global economic recovery from the pandemic continues.
By 9:45 AM ET (1345 GMT), the Dow Jones Industrial Average was up 157 points, or 0.4%, at 35,977 points, having earlier traded above 36,000 for the first time. The Dow was outperforming the two other main indices, as the S&P 500 and the NASDAQ Composite notched a gain of only 0.2% each.
The moves come at the start of a week likely to be dominated - both in the U.S. and further afield - by central banks. The Federal Reserve is widely expected to announce the phase out of its $120 billion in monthly bond purchases on Wednesday, while the central banks of Australia and the U.K. are also both expected to tighten policy at their meetings. Analysts at Goldman Sachs (NYSE:GS) GS said over the weekend that they now expect the Fed to start raising interest rates as early as July next year, a year earlier than they had previously expected. 
Similar shifts in expectations have driven two-year bond yields to their highest in 20 months, creating a flatter yield curve that typically signals an economic slowdown ahead. However, the continued momentum of many cyclical stocks, illustrated again on Monday by the Dow's outperformance, has once again underlined that the post-pandemic recovery is not a typical business cycle. 
"The Fed is walking a fine line," wrote Allianz (DE:ALVG) ALVG Global Investors chief investment officer for fixed-income Franck Dixmier in a note to clients. "The risk of the Fed making a monetary policy mistake is growing. Lifting rates too early, when inflation would eventually prove to be temporary, would put the recovery at risk, but acting too late would ultimately see the Fed forced to raise rates more than necessary."
Cyclicals were benefiting at the expense of megacap tech names in early trading, with Apple (NASDAQ:AAPL) stock, Amazon (NASDAQ:AMZN) stock and even Alphabet (NASDAQ:GOOG) stock falling by over 1% each. While the first two had produced underwhelming numbers last week for the three months through September, Alphabet had soundly beaten expectations thanks to sustained growth in advertising revenue. 
Electric vehicle makers also performed strongly, with Lucid (NASDAQ:LCID) stock rising another 2.2% at the start of a week when it expects to make its first customer deliveries. Tesla (NASDAQ:TSLA) stock rose 1.2%, underpinned by news of a long-term supply deal for lithium products, from Chinese supplier Gangfeng Lithium, while Xpeng (NYSE:XPEV) ADRs rose 3.1% to test a nine-month high after posting a sharp rise in year-on-year deliveries in October. 
Elsewhere, Moderna (NASDAQ:MRNA) stock fell 6.1% after saying at the weekend that the Food and Drug Administration needed more time to assess the suitability of its Covid-19 vaccine for adolescents. 
Elsewhere, 'meme' stocks were in focus as AMC Entertainment (NYSE:AMC) stock rose 1.9% after the movie theater operator reported its best weekend for ticket sales since the start of the pandemic. GameStop (NYSE:GME) stock also rose 2.7%, shrugging off ominous-looking news that chief operating officer Jenna Owens had left the company after only seven months. GameStop gave no explanation for her departure. 
Harley-Davidson (NYSE:HOG) stock surged 7.2% on the less ambiguous news that the U.S. and European Union had agreed to end their dispute over steel and aluminum import tariffs. The EU had imposed retaliatory tariffs on a handful of U.S. companies including the motorcycle maker in response to import duties on European metal.