AMD and Xilinx Merger Still on, Close Postponed to Q1 2022

Investing.com
12/31/2021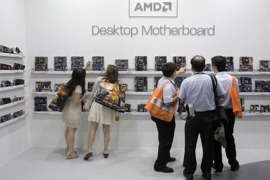 By Daniel Shvartsman
Investing.com - AMD and Xilinx (NASDAQ:XLNX) announced that the former's acquisition of the latter will now close in Q1 of 2022.
"We continue making good progress on the required regulatory approvals to close our transaction," the press release stated. "While we had previously expected that we would secure all approvals by the end of 2021, we have not yet completed the process and we now expect the transaction to close in the first quarter of 2022. Our conversations with regulators continue to progress productively, and we expect to secure all required approvals."
In pre-market trading, AMD ticked up .34% while Xilinx traded down 1.7% on the extended timeline for the deal.
AMD announced the deal in October 2020. It is an all-stock merger, with XLNX shareholders receiving 1.7234 shares of AMD for each XLNX share. At current pre-market levels, that would be worth roughly $251/share for Xilinx, vs. its current share price of $210.2, a 19% spread. It appears doubts over whether China's regulatory bodies will approve the merger are the biggest cause of the spread.
AMD continued its impressive turnaround story in 2021, rising 58% for the year as it continues to threaten Intel's market share and compete with Nvidia. Xilinx rose 51% as its value is mostly pegged to AMD's share price, spread notwithstanding.
Read also: Tech Sector Overview for 2022