Could Personal Loan Debt Stop You From Getting a Mortgage?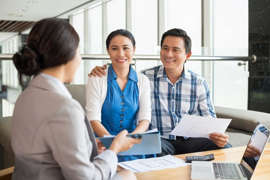 Most people who want to purchase a home don't have hundreds of thousands of dollars just sitting in their savings accounts waiting to be tapped. That's why it's so common to take out a mortgage loan to finance a home purchase.
But getting a mortgage isn't a given. To qualify for a home loan, you have to meet certain criteria.
For one thing, you need a decent credit score. It actually takes a minimum credit score of 620 to qualify for a conventional mortgage, but many lenders will want to see a higher number than that before agreeing to loan you a large sum of money. (And the higher your credit score, the lower a mortgage rate you might snag.)
You also need to show proof of income to qualify for a mortgage. And your income needs to be high enough to support the loan amount you're asking for. If you earn $40,000 a year, for example, you might have trouble qualifying for a $500,000 home loan.
But there's a third factor that mortgage lenders consider when assessing applicants -- existing debt. Specifically, lenders look at a measure known as your debt-to-income ratio. It shows how much debt you have relative to your income.
Too high a debt-to-income ratio could hurt your chances of getting a mortgage. And so if you have a large personal loan outstanding, you may want to pay down your balance before applying to borrow money for a home purchase.
Don't let a personal loan get in your way of buying a home
A modest personal loan balance relative to your income may not stop you from qualifying for a mortgage. But if you owe many thousands of dollars on a personal loan, and that sum translates into large monthly payments, then it could be a barrier to mortgage approval.
Mortgage lenders, by nature, take on a lot of risk. That's because they're lending out large sums of money over a lengthy period of time.
Let's say you sign a 30-year mortgage. A lot can change in three decades, yet your lender is giving you that much time to pay off your home.
In exchange, your lender wants reassurance that you're able to keep up with your loan payments, at least initially. And if you're already on the hook for an expensive monthly personal loan payment, it's easy to see why a mortgage lender might worry about tacking on to that debt.
Shed your debt before getting a mortgage
If you're worried that an outstanding personal loan balance will make it difficult for you to get a mortgage, then you may want to hold off on homeownership, save up some more money, and use it to pay that loan off. Doing so might make a lender more comfortable with the idea of giving you a mortgage.
Plus, when you're taking on a new monthly debt payment, shedding an existing one could make your bills easier to manage. So that's yet another reason to try to pay a personal loan off before venturing into homeownership.
Our picks for the best personal loans
Our team of independent experts pored over the fine print to find the select personal loans that offer competitive rates and low fees. Get started by reviewing our picks for the best personal loans.
We're firm believers in the Golden Rule, which is why editorial opinions are ours alone and have not been previously reviewed, approved, or endorsed by included advertisers. The Ascent does not cover all offers on the market. Editorial content from The Ascent is separate from The Motley Fool editorial content and is created by a different analyst team.The Motley Fool has a disclosure policy.