This Home Type Is Seeing Huge Price Jumps -- and You May Find That Surprising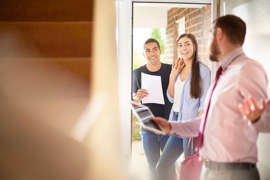 Although there's still a nice amount of buyer demand in today's real estate market, the market isn't nearly as hot as it was in 2021. Back then, mortgage rates were super competitive, so buyers were clamoring for homes at every end of the market, from the low end to the high end.
Now in 2021, a lot of buyers were interested in larger, luxury homes, and for good reason. Many people were still in isolation mode due to COVID-19 and wanted more space to spread out. And since it wasn't so expensive to take out a mortgage loan, buyers had more wiggle room in their budgets.
But the tide seems to be turning for luxury homes. Higher mortgage rates and recession fears have driven down the price of luxury homes from their mid-2021 peak, reports Realtor.com. But the price of starter homes is continuing to rise, making things difficult for buyers on a budget.
A notable shift
There's been strong demand for starter homes since mortgage rates started falling in mid-2020. But while the demand for other types of homes has waned over the past year, buyers are still interested in buying starter homes -- and their growing price reflects that.
As of the end of 2022, starter homes were seeing 15% year-over-year price increases. Luxury homes, meanwhile, only saw growth of about 2.5% for most of 2022 and closed out the year mostly flat (meaning, no annual uptick in prices).
Of course, it's easy to see why buyers may be more interested in purchasing starter homes today -- they're more affordable. And they're also a good bet for first-time home buyers because they tend to be smaller, and that means less maintenance. Many new buyers are shocked to learn how much upkeep needs to go into a home, so kicking off ownership with a smaller property can help make that transition smoother.
Starter homes tend to be less expensive than larger or luxury homes by nature. But because their prices are still elevated, buyers today may not end up getting much of a break on them -- especially when we factor in today's higher mortgage rates.
Is it a good time to buy a starter home?
It's not really such a great time to buy a home in general. It's expensive to borrow, and inventory is limited. And in the case of starter homes, prices are still up considerably.
If you're truly tired of renting or can't renew your lease, and you don't want to bounce around from rental to rental, then you may want to make an offer on a starter home if you manage to find one that's suitable for you. Otherwise, you may want to sit tight a little bit longer and see if more starter homes hit the market. If that happens, prices should start to come down.
Also, mortgage rates could drop in the course of 2023. Granted, we can't say that with certainty, but it's possible. So waiting to buy a starter home might result in a lower purchase price and a lower interest rate on a home loan.
Our picks for the best credit cards
Our experts vetted the most popular offers to land on the select picks that are worthy of a spot in your wallet. These best-in-class cards pack in rich perks, such as big sign-up bonuses, long 0% intro APR offers, and robust rewards. Get started today with our recommended credit cards.
We're firm believers in the Golden Rule, which is why editorial opinions are ours alone and have not been previously reviewed, approved, or endorsed by included advertisers. The Ascent does not cover all offers on the market. Editorial content from The Ascent is separate from The Motley Fool editorial content and is created by a different analyst team.The Motley Fool has a disclosure policy.