TikTok wants its advertisers to know the 'myths vs. facts' after its CEO's day in Congress

Business Insider
3/28/2023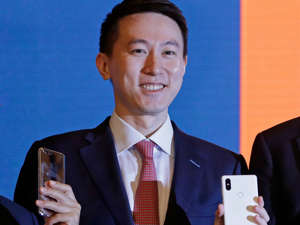 Welcome back, readers. I'm Paayal Zaveri, a reporter with Insider's Tech Analysis team, filling in for my colleague Diamond Naga Siu this week. 
One thing I keep thinking about: what's going to happen to TikTok?
After TikTok's CEO Shou Zi Chew testified in front of Congress last week, it seems like the stakes are even higher for the social media app. As a reminder: the Biden administration has demanded TikTok's US business be sold, or risk getting banned in the US.
Thursday's hearing did little to change lawmakers' minds, meaning that TikTok is dealing with the fallout. Now, it seems, TikTok wants to clear up some facts that lawmakers may have gotten wrong. 
That's what our first story is about today. Let's get started. 
If this was forwarded to you, sign up here. Download Insider's app here.
1. TikTok wants to clear up "Myth vs Fact." After the TikTok CEO's 5-hour hearing at Congress last Thursday, the company wants to reassure advertisers that it'll be fine. It sent them a "Myth vs. Fact" document, laying out some things lawmakers said that TikTok says aren't entirely accurate.  
In the document, the company tried to dispel concerns about its ties to the Chinese government. Specifically, it addressed  concerns that it could be forced to hand over US user data to the Chinese government. 
The document states: "TikTok does not permit any government to influence or change its recommendation model." 
Advertisers make up a large chunk of TikTok's user base, which the company says is now at 150 million monthly active users in the US. Most have just adopted a wait-and-see approach to the potential of a TikTok ban, and are exploring alternatives like Instagram reels and YouTube Shorts. 
Read TikTok's full "Myth vs Fact" document here.
In other news:
2. AOC is against a TikTok ban. Rep. Alexandria Ocasio-Cortez is one of the few lawmakers who has spoken out against a TikTok ban. She says it doesn't address the core issue: that social media companies collect so much personal information, and there's no regulation to protect users. 
3. Miami's crypto boom is over. During the pandemic, Miami became the de facto capital of the crypto boom, and people flocked to the city. But now that boom is over as crypto prices drop, and the crypto enthusiasts are slowly leaving, my colleague Linette Lopez reports. 
4. Tim Cook is a better role model for CEOs than Elon Musk. Tech leaders are closely watching Musk's relentless focus on shrinking Twitter while growing its ambitions. However, experts told me that long-term it's a bad strategy. Read why they say Tim Cook's slow-and-steady style yields better results.
5. Inside OpenAI's master plan. OpenAI is laying the groundwork for people to use ChatGPT in their daily lives. If it wants to keep its lead, as Google, Amazon, and everybody else get in on the generative AI gold rush, speed is key. Here's how OpenAI is staying ahead. 
6. Pharmacy startups are struggling. Pharmacy startups gained traction over the last few years, attracting tons of investment. The goal is to give patients a more personal, simple experience. But it's not easy. Here's why those startups are struggling to go up against giants like CVS and Walgreens.
7. Our online experience is getting worse. If it seems like using Google, Facebook, and Amazon is getting harder, you're not imagining it. It's all because Big Tech companies are putting their stock prices above the user experience. Here's what that means. 
8. Not everyone loves Apple's next big thing. Apple's next big product launch is likely a mixed-reality headset that it's been working on for years. The company is reportedly planning to reveal it in three months. But not everyone at the company is happy about it. 
Odds and ends:
9. Apple's new emojis. Apple iOS 16.4 came out yesterday, and with it 31 new emojis. It includes a shaking face, a donkey, and a long-awaited pink heart. See all the new emojis. 
10. Rich people's new obsession: Immortality. This new exclusive club is exploring how to live longer and healthier lives. Membership has a $100 million net-worth minimum. Read about the club's perks here.
What we're watching today:
Shoptalk is this week in Las Vegas. It's a huge conference for retailers and ecommerce. Speakers from Amazon, Target, Wayfair, and other large ecommerce companies will be there. 
In celebrity news, Selena Gomez and Zayn Malik are rumored to be dating. I'll be watching to see if it's true. 
Curated by Paayal Zaveri in San Francisco. (Feedback or tips? Email pzaveri@insider.com or tweet @paayalzaveri)  Edited by Matt Weinberger (tweet @gamoid) in San Francisco and Hallam Bullock (tweet @hallam_bullock) in London.