Tired of Hearing About the Housing Market Crash? This Wall Street Expert Doesn't Think It Will Happen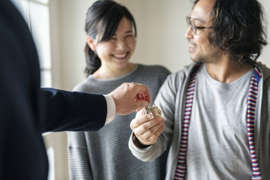 Imagine that you see two headlines. The first reads, "City Wins Award for Cleanest Parks." The other reads, "Wild Boar Loose in City Park." Which would grab your attention? Which would you read first?
Chances are, you'd read about the wild boar so you can make sure you're far away from that park.
There's a reason humans are so drawn to negative news. It's called "negativity bias." We can be confronted with a dozen stories of people doing wonderful things, but it's that one story about thieves stealing holiday gifts from front porches that we focus on. Why? Because as humans, we've evolved to react to threats. Without conscious thought, we weed out the good stuff and look for any bad news that may affect us.
That may be one of the reasons so many people are sure the housing market is about to crash. They could have read several articles explaining why it's probably not going to happen anytime soon, but it's that one article saying a crash is imminent that sticks with them and "feels true."
For some, what feels true (even though it's a figment of anxiety) becomes their truth. That's why internet sensation and former J.P. Morgan trader Vivian Tu's take on a potential housing crash may come as a surprise.
Not gonna happen
Tu -- most commonly known as Your Rich BFF -- has a knack for taking the emotion out of finances. And let's face it, when it comes to an investment so large that we have to take out a mortgage to pay for it, emotions come into play.
Tu spells it out succinctly. This is not 2008. There are not millions of homeowners sitting in expensive homes who never should have been approved for a mortgage. Federal regulations following the Great Recession changed the way lenders do business so dramatically that today's homeowners would never have been approved for a mortgage if they had not been well qualified.
Irresponsible lenders
My husband and I moved to Southern California at the tail end of the recession. We didn't plan to stay long so we opted to rent. The home we rented was in a new, beautiful area of town and the rent we paid was reasonable. It struck us as odd that approximately every third home was empty or in foreclosure. It didn't take long to figure out that the homeowners who'd abandoned those houses were approved for loans they should never have qualified for.
According to Tu, it was irresponsible lenders who caused the crisis. As house after house emptied, every home in the neighborhood (and neighborhoods across the country) lost value. There was now a glut of homes on the market and houses were selling at bargain basement prices. In fact, our landlord offered us the house we were renting for about 50% of its former value (at the time, we had several good reasons not to take him up on his offer).
Supply and demand
It's all about supply and demand, Tu says. During the Great Recession, there was a surplus of homes on the market. Today, inventory remains far lower than normal. While inventory has ticked up a bit, it's still less than half of where it should be for the housing market to normalize.
In brief:
Today's qualified buyers make foreclosures and evictions far less likely.
The number of available homes for sale is still shockingly low.
Tu sums it up by saying, "If you're waiting for a housing crash, don't hold your breath."
The Ascent's best credit cards
We've vetted the most popular offers to land on the select picks that are worthy of a spot in your wallet. These best-in-class picks pack in rich perks, such as big sign-up bonuses, long 0% intro APR offers, and robust rewards. Get started today with The Ascent's best credit cards.
We're firm believers in the Golden Rule, which is why editorial opinions are ours alone and have not been previously reviewed, approved, or endorsed by included advertisers. The Ascent does not cover all offers on the market. Editorial content from The Ascent is separate from The Motley Fool editorial content and is created by a different analyst team.The Motley Fool has a disclosure policy.