Lumen stock sinks to levels not seen since 1988 amid a 'reset'
MarketWatch
2/9/2023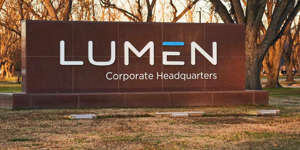 THE RATINGS GAME
Shares of Lumen Technologies Inc. tumbled to levels not seen since 1988 on Wednesday as the telecommunications company, which provides voice, broadband and other services, pressed the reset button and disappointed Wall Street with its outlook.
While Lumen's earnings and revenue for the latest quarter exceeded the consensus view, Lumen came up far short in its 2023 projections for free-cash flow and adjusted earnings before interest, taxes, depreciation and amortization (Ebitda).
"We need to do a lot of things, some basic and some quite complex, to position ourselves to take advantage of the opportunity that lies before us," Chief Executive Kathleen Johnson said on the earnings call. She also noted that "2023 will be a year of rapid change for Lumen."
The stock fell 20.8% Wednesday, for its worst single-day percentage decline since Jan. 28, 2021, when it fell 22.5%. This marks the second consecutive sharp post-earnings stock plunge for Lumen, as shares tumbled 17.7% after the company delivered results and eliminated its dividend in November.
With shares of the company formerly known as CenturyLink ending the day at $3.95, they posted their lowest close since Aug. 23, 1988, when they finished at $3.90, according to Dow Jones Market Data.
Analysts were fairly blunt with their assessments following the report, with SVB MoffettNathanson's Nick Del Deo writing that he's "hard-pressed to remember the lats time [he] spoke with a client with a positive bias" on the stock.
"The most common question we received from clients recently has been: 'Had numbers fallen enough?'" Del Deo said. "Lumen's initial 2023 outlook suggests the answer was: 'No, they had not.' It's been a while since we've seen a miss of this magnitude."
Lumen's 2023 adjusted Ebitda forecast fell short of expectations by about 10%, he noted.
While Lumen is under new leadership, Del Deo was skeptical that the company's problems could be solved by a different view from management.
The company has "significant legacy revenue streams; an intensely competitive and increasingly commoditized commercial wireline market characterized by high fixed and low variable costs; substantial accumulated debt; an increasingly hard-to-rationalize expense base; and so on," he wrote.
Del Deo rated the stock at underperform with a $4 target price.
Citi Research analyst Michael Rollins, meanwhile, downgraded the stock to sell from neutral and cut his price target to $3.50 from $6.25.
"Headwinds from inflation, divestiture dis-synergies, & new investments were well ahead of our 2023 expectations without a relief valve from greater cost-reductions for what was depicted as a reset-year," he wrote.
Though executives were "prioritizing investments to improve future revenue from greater retention and market share," he worried that the efforts may not materialize as expected or under the right timeframe.
Cowen analyst Gregory Williams wrote that Lumen's management "cleared the decks" with the forecast but said it's "too early in our view to assess if the new strategy will right the ship vs. the many prior strategies."
He'll be watching for more information coming out of the company's June 5 analyst day, and also will be looking for signs of less steep declines going forward.
Williams rates the shares at market perform, and he cut his price target to $4.50 from $8.
Lumen's stock has lost about two-thirds of its value over the past year.