Scarlett Johansson Defends Wearing Marchesa to the Met Gala: 'Their Clothes Make Women Feel Confident'

People
5/8/2018
Scarlett Johansson
 is standing by her choice
to wear a Marchesa gown
to Monday night's
Met Gala
.
The actress gave the brand, co-founded by designer Georgina Chapman, ex-wife of disgraced movie mogul Harvey Weinstein, its first high-profile red carpet moment in months since Weinstein was accused of sexual harassment and assault by dozens of women last fall.
"I wore Marchesa because their clothes make women feel confident and beautiful and it is my pleasure to support a brand created by two incredibly talented and important female designers," Johansson, 33, says in a statement to PEOPLE, who selected a romantic off-the-shoulder burgundy gown featuring a tulle skirt embellished with floral appliqués.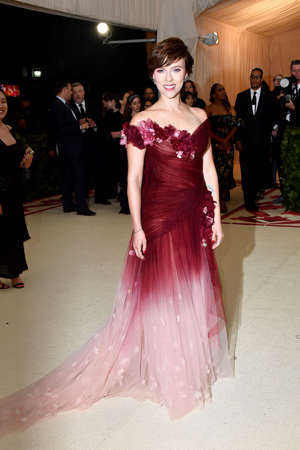 © 2018 FilmMagic Scarlett Johansson attends the Heavenly Bodies: Fashion & The Catholic Imagination Costume Institute Gala at The Metropolitan Museum of Art on May 7, 2018 in New York City. (Photo by Frazer Harrison/FilmMagic) Marchesa echoed a similar sentiment in the following statement to PEOPLE: "We are truly honored that Scarlett chose to wear Marchesa for the Met Gala. She is an amazingly talented actor who has incredible style and presence. It was wonderful to work so closely with her in creating this custom look."
Johansson has been a vocal advocate for the #MeToo movement and the Time's Up campaign, to bring awareness to harassment in all work places, which she's been working closely on since its launch. She attended the Women's March in January, where she publicly called out fellow actor James Franco, who was accused of inappropriate conduct that same month.
"In light of the recent revelations regarding abuse of power, and sexual harassment, and the question of consent versus coercion, I find myself pensive, taking time, and digging deep to understand where we are, and how we got here. My mind baffles," she said at the march.
After the news about Weinstein broke, many celebrities started questioning wearing Marchesa as Chapman and Weinstein's businesses were often linked.
According to a few stars, including Jessica Chastain, Weinstein would allegedly pressure them to wear his wife's designs on the red carpet, and in Chastain's case, she said he mocked her when she didn't do so.
After Weinstein and Chapman agreed to a divorce settlement in January (they haven't yet publicly filed for divorce), Marchesa canceled its runway show at New York Fashion Week. However, the brand is continuing its business: Chapman and co-founder Keren Craig released a lookbook of pre-fall 2018 designs and announced it would be debuting a Fall 2018 line in a new format.
The Best Dressed Stars at the Met Gala's 'Heavenly Bodies' Red Carpet: