Disney Movies' First Ever 'Exclusively Gay Moment' In New 'Beauty and the Beast'
The Daily Beast
3/1/2017
Disney has long rejoiced in scenes of high camp, and its scripts have often been peppered with gay references, however they have never featured an openly gay character in one of their children's movies.
Until now.
According to an interview with the movie's director in the British magazine Attitude, the increasingly progressive Disney will introduce what the magazine says is the first "exclusively gay moment" in the movie studio's storied history in the new, hotly anticipated, live-action version of Beauty and the Beast, which will star Emma Watson as its heroine.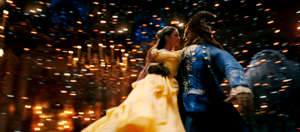 © Disney Belle (Emma Watson) comes to realize that underneath the hideous exterior of the Beast (Dan Stevens) there is the kind heart of a Prince in Disney's BEAUTY AND THE BEAST, a live-action adaptation of the studio's animated classic directed by Bill Condon.
The "gay moment" will come during a scene in which Gaston's manservant LeFou explores his sexuality. 
Luke Evans plays Gaston and Josh Gad takes the role of LeFou.
© Moviestore/REX/Shutterstock Josh Gad (LeFou) and Luke Evans (Gaston) in Beauty and the Beast
The revelation will serve to increase expectations that the new movie will represent a significant shakeup of traditional Disney values.

Watson has already told how Belle has been given a modern, feminist outlook—she is an inventor and wears riding boots instead of ballet shoes—but in the interview with Attitude magazine, director Bill Condon said that one character, LeFou, will experience what is believed to be the first ever "exclusively gay moment" in a Disney movie (there has been a gay kiss in a Disney TV cartoon) as he struggles with his feelings for the story's leading man, Gaston.
Condon said: "LeFou is somebody who on one day wants to be Gaston and on another day wants to kiss Gaston.
 "He's confused about what he wants. It's somebody who's just realizing that he has these feelings. And Josh makes something really subtle and delicious out of it. And that's what has its payoff at the end, which I don't want to give away. But it is a nice, exclusively gay moment in a Disney movie."
Disney's star-studded live-action remake of Beauty and the Beast is being billed as a bold re-imagining of the fairytale.
Alongside Watson are former Downton Abbey star Dan Stevens as the Beast, Sir Ian McKellen as a clock, and Emma Thompson as a teapot.
Watson told Entertainment Weekly of her character Belle that her detractors "don't think women should read and it goes further than that. They are deeply suspicious of intelligence."

For more, watch below: