'It takes 10 years to become an overnight success': Hong Chau is finally getting her moment
Hong Chau is consistently the best part of whatever she's in. Now, Hollywood has finally taken notice. 
After her 2017 breakthrough in Matt Damon comedy "Downsizing," along with standout turns in HBO's "Watchmen" and Amazon's "Homecoming," the actress has steadily become one of the most in-demand stars working today. She went viral playing a mordant maître d' in last year's "The Menu," guest-starred as a sage trucker in Rian Johnson's Peacock series "Poker Face" and earned her first Oscar nomination for her supporting performance in "The Whale," as a tough-love nurse to Brendan Fraser's ailing shut-in.
This spring, she has a pair of starring roles in art-world dramedy "Showing Up," alongside Michelle Williams (in theaters April 7) and Netflix's political spy thriller "The Night Agent" (streaming Thursday). And with new movies from Wes Anderson and Yorgos Lanthimos in the pipeline, the self-described introvert is having a much-deserved moment. 
Start the day smarter. Get all the news you need in your inbox each morning.
"The saying that 'it takes 10 years to become an overnight success' is absolutely accurate in my case," Chau says. "A lot has happened in a very short amount of time. It took a long time for it to finally get going, but I'm so happy with the work I'm getting and the people I get to work with. I just feel really grateful." 
In the 10-episode "Night Agent," created by Shawn Ryan ("The Shield," "Timeless"), Chau plays the president's chief of staff Diane Farr, who delivers marching orders to a low-level FBI agent (Gabriel Basso) tasked with protecting a young woman (Luciane Buchanan). For Chau, 43, it was an opportunity to work in a new genre, portraying a woman whose motivations aren't easy to nail down. 
"Shawn would have been happy to add in something about her personal life, but I thought it was actually more interesting to get to play a female character who didn't have any personal or social entanglements other than her career," Chau says. "That felt fresh to me." 
In that sense, Chau says Diane is similar to Jo, her character in "Showing Up." In the film, she and Williams play Oregon-based sculptors preparing for their respective gallery shows. Williams' Lizzy grapples with creative insecurities, while Jo takes a more relaxed approach to her craft. 
"It's not about female artists struggling with their love lives," Chau says. Rather, it's about a dynamic "I've witnessed a lot, just being an actor: people in this industry always comparing themselves to other people (or feeling that) somebody is always doing better than you are." 
Chau was born in a refugee camp in Thailand to Vietnamese parents. They moved to New Orleans when she was young after a family volunteered to sponsor them, and with the help of Pell Grants, she attended Boston University to study creative writing. It was then that she started improv classes, as a means of overcoming shyness. She eventually landed guest roles in CBS series' such as "NCIS" and "How I Met Your Mother" in the early 2010s. 
Even now, "I wish I was a little bit more poetic, and I guess that's why I'm an actor as opposed to something else," Chau says. Having a script "really takes a lot of the pressure off. We just get to be an emotional vessel and have words already written for you." 
Chau brings a quiet intensity and no-nonsense attitude to many of her characters, and exuded confidence when she walked onto the set as Jo, recalls "Showing Up" director Kelly Reichardt. 
"I said, 'What do you need from me?' And she was like, 'Nothing, nothing.' It was very Jo," Reichardt says. "Jo just doesn't have a hard time – it comes easy to Jo – and I couldn't tell when we were filming how much of that was Hong and how much of that was (the character)." 
One of the more unexpected joys of Chau's career has been the close friendships she's maintained with filmmakers such as Reichardt. ("She's always asking for photos and videos of my daughter," Chau says.) 
The actress's daughter was just eight weeks old when she started production on "The Whale," which centers on an obese gay man (Fraser) trying to mend his relationship with his resentful, estranged daughter (Sadie Sink). Chau, who is private about her family, initially passed on the project to spend time with her newborn. 
"I had waited so long to be a parent, I just wanted to focus on that," Chau says. "But a week passed and my husband was like, 'Are you sure? If you want to throw your hat in the ring, I'll be here to support you and we'll make it work.' I don't think I would have been able to do four movies in 2021 had my husband not been very supportive and I knew that my child was being well taken care of at home." 
Chau says that she felt "a lot of empathy" for Fraser's character, Charlie, when she first read the script. 
"I was an older parent and I was already sort of lamenting that I wouldn't be around for as long as I wanted to, to see who my daughter will become," Chau says. "But then when I saw 'The Whale' a year later at Venice (Film Festival), I could appreciate that children are their own people, and there's so much heartache involved in this very loving relationship that you have with a child. I'm sure if I see the movie in 10 or 15 years, it will hit me again in a completely different way, having been a parent for much longer." 
"The Whale" took home two Oscars, including best actor (Fraser). After a flurry of awards events, Chau worried that the Oscars might feel less special, but that wasn't the case. 
"It was truly like Christmas morning," Chau says. "And it was nice because my parents got to go to the ceremony. This is definitely one of those things they will be talking about for the next five years. And to see all these incredible actors, and then Rihanna and Lady Gaga perform live – it was incredible."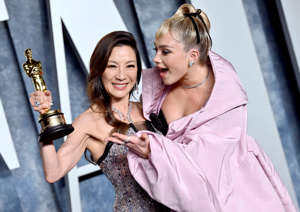 This article originally appeared on USA TODAY: 'It takes 10 years to become an overnight success': Hong Chau is finally getting her moment