Jeremy Renner And Elizabeth Olsen Reuniting For Anticipated Movie Sequel?
Giant Freakin Robot
11/10/2022
Jeremy Renner and Elizabeth Olsen may be getting back together for a sequel to the acclaimed 2017 mystery thriller Wind River. Per Variety, a sequel to the Taylor Sheridan film has been greenlit by Castle Rock Entertainment and while the two original leads (and fellow Marvel stars) of the film have not yet officially signed on to return, that could change at any moment. Of the original cast, only Martin Sensmeier has been announced to be starring in the sequel.
The sequel to Wind River has been announced to be directed by Kari Skogland, who also has a Marvel Connection: she directed six episodes of The Falcon and the Winter Soldier, though she did not work with Jeremy Renner and Elizabeth Olsen in any of them. Wind River also starred well-regarded character actor Graham Greene and the Punisher himself, Jon Bernthal, so it seems that the Marvel connections never end.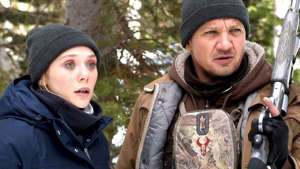 While there is a large possibility that Jeremy Renner and Elizabeth Olsen might return for Wind River: A New Chapter (as it is currently listed on IMDb), it seems original writer/director Taylor Sheridan will is not on board. While he may be indirectly involved (likely as a contractual executive producer), Sheridan is probably too busy with his rapidly expanding Yellowstone universe. As it is, the original, Kevin Costner-led show has accumulated two prequels, with several more in development.
Plus, in addition to Yellowstone, Taylor Sheridan has other worlds full of stoic people squinting at things to conquer, including the Billy Bob Thornton series Land Man, the Sylvester Stallone mob show Tulsa King, and Zoe Saldana's CIA thriller Lionness. In other words, if Taylor Sheridan does not return for the Wind River sequel, he is still bound to have his hands full for a while. 
Both Jeremy Renner and Elizabeth Olsen seem to be keeping occupied as well. While both actors may or may not have closed out their tenure at Marvel (depending on what Kevin Feige feels like), they each have television roles ahead. Jeremy Renner will be starring in the second season of Mayor of Kingstown, which was created by, you guessed it, Taylor Sheridan. For her part, Elizabeth Olsen will be starring in the true crime limited series Love and Death for HBO Max; the story of accused murderer and homemaker Candy Montgomery has already been turned into a Hulu miniseries recently, so we will just have to see what can be done with this one.
Wind River starred Jeremy Renner and Elizabeth Olsen as an U.S. Fish and Wildlife Service tracker and an FBI agent who investigate the murder of a young Native American woman in Wyoming. The movie was an unexpected commercial success and currently holds 88% on Rotten Tomatoes, so it makes sense that a studio would be interested in a sequel. The film was also praised for bringing attention to the frighteningly high rates of murder among Native American women in the United States, so hopeful a sequel will not treat that lightly.
The post Jeremy Renner And Elizabeth Olsen Reuniting For Anticipated Movie Sequel? appeared first on GIANT FREAKIN ROBOT.
Cult Favorite TV Shows That Were Canceled After One Season